When it comes to learning embroidery techniques, you can't go wrong with Country Bumpkin's A-Z series, and they've done it again! They've released another great book in the series, this time on whitework embroidery. Here's what you'll find in it…
A-Z of Whitework, recently republished by Search Press (2015), covers all the basics of whitework techniques, from candlewicking to cutwork and net embroidery. You'll find hundreds of step-by-step photos for stitch directions and finish work.
What is whitework? Basically, it's any kind of stitching technique in white threads on white cloth. Normally, it's associated with embroidering motifs in white cotton on white linen, and often includes spaces in the design that have been cut away, in a technique called cutwork. Whitework is often associated with household linens and smaller items like monogrammed handkerchiefs. The stitches used are various, but typically you see padded satin stitch, stem stitch, buttonhole stitch, lattice work over open ground, seed stitching, French knots, and a variety of filling techniques.
Some techniques of whitework, such as Mountmellick embroidery, rely on relief work, padded stitches, and stitches that provide a lot of texture, so that there's a noticeable and pleasing contrast between the fabric and the stitchwork.
I thought I'd show you some samples of my whitework pieces that are either (unfortunately) in storage boxes for lack of household space, or that I have here and there around the house.
This is a close-up of a handkerchief, which I guess passes for whitework, although some of the stitching, as you can see, is not white, but rather a pale, pale blue. Something old, something new, something borrowed, something blue – you guessed it – it's a wedding hanky! Most of the stitching is pin stitch, stem stitch, satin stitch, and eyelets. All of these techniques are covered in the A-Z book!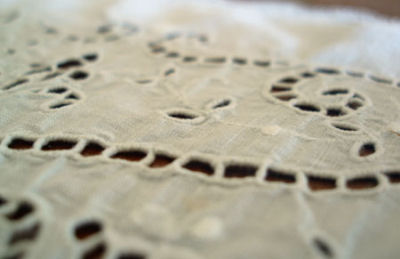 This is an angled close-up on a dresser scarf, which is on top of an old dresser. I didn't iron it too well last time, I guess. Anyway, you can see here the cutwork and the overcast stitches – all of which are covered in the A-Z book.
Here's an overhead view of the same, and you can see the embroidered net insert (filet embroidery), which is also covered in the A-Z book.
I just love this piece, which I'm keep stored for now! This one is NOT my work – I purchased it through an antique dealer. I can't take credit for something this gorgeous!! But I do love it! Here's another close-up: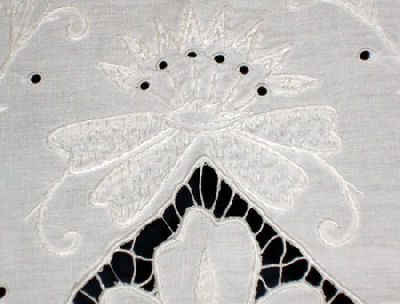 The eyelets are really well done. This is my favorite part of the motif – I love the little 'crown' look with the bow at the tip of the cutwork.
The satin stitching here is very nice, and you can see another close up of it below. The other filling is merely created with long straight stitches in some cases, and rows of stem stitching in other cases. You can see the backstitching down the center of the leaves.
Very nice satin stitching on these petals! The thread looks to me like coton a broder. There's enough shine to it, anyway, to be certain that it's mercerized.
And here's another example of a whitework tablecloth, edged in needle lace, with eyelet work and needlelace inserts. Another favorite piece unfortunately enjoying storage!
Where to Find A-Z of Whitework
So, if you want to see what whitework is all about, check out the A-Z of Whitework, which is now published by Search Press and is available through Amazon!
You can also find the book available here through Book Depository, with free shipping worldwide.
This article contains affiliate links to the book sources, which means that Needle 'n Thread receives a small commission for purchases made through those links, with no added expense to you. Thanks!