Here's a nice book to have in your library of needlework books, especially if you are interested in historic embroidery, costuming, fashion and textiles, or even ecclesiastical embroidery. Even if you're not too interested in the above "genres" related to embroidery, anyone passionate about needlework will probably like this book.
18th Century Embroidery Techniques is written by Gail Marsh and published by Guild of Master Craftsman Publications, first in 2006 and then reprinted in 2007.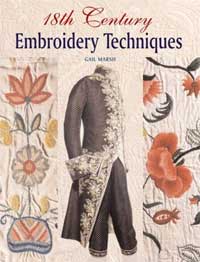 What intrigues me most about the book, which I purchased recently and have only now had a chance to give it a good look, is that it focuses on the embroidery of clothing. Not too many of us take a lot of time to embellish our wardrobes, and even if we do, no one does it to the extent that it was done in the 1700's for those who could afford it. It's not so much the subject of the clothing that grabs me – it's the answer to that ever-present question that haunts when I visit museums or see certain elaborately embellished textiles… "Hmm…now, just how did they do that?" I'm the type who would like to get behind the glass, touch the stuff, and even "pick at it" a bit to see exactly how it was put together!
Gail Marsh outlines quite clearly how embroidery on textiles was accomplished. She gives you the directions to do it yourself, if you really wanted to! There are heaps of color photos of museum pieces throughout the book, as well as line drawings of various types of fashion from this time period.
Within the book you'll also find line drawings of the designs used on the clothing so that, if you were game, you could certainly adapt them into patterns for your own use.
Obviously, this is great stuff for the costumer and the textile or fashion student. But for the every-day home-hobby embroiderer, it's still a great opportunity to have access to some really exquisite patterns that can be used as is, or even adapted and simplified.
As for the techniques in the book – right off the bat, I opened the book and my eyes fell upon the section devoted to embroidery on velvet. What could be richer than silk threads on velvet, or goldwork on velvet? But when embroidering on velvet, the embroiderer faces the problem of pile: stitches (especially for silk work) sink into the pile, and may be lost. Gail tells you how this was avoided – by using silk gauze, which was torn or cut away after the embroidery was complete. And she goes into the various details of using silk gauze or paper or anything else underneath stitches to keep them from getting lost in the pile of the fabric. Useful information!
She also includes interesting, readable stuff – this isn't a dry and boring technique book or history book (ok, admittedly, I generally don't find technique or history books boring!) but this one has some neat little lumpets of "curious" information in it…. for example:
On page 39, there's a little blurb on "drizzling, parfilage, or ravelling." This was the practice of snipping off gold threads from clothing or uniforms, separating the gold from the silk core, and hoarding it, to eventually have it weighed and sold to a gold dealer. It was a "hobby of the rich," and not performed merely on worn-out clothing. Women would even carry around with them a small bag of tools so that they could engage in their hobby during theater performances, unbeknownst to the wearer who was engrossed in the play, or during parties! "Excuse me, my dear, while I snip off your embellishment…"??? Pretty funny! She makes the statement that "it is a wonder that there is any 18th-century metal thread embroidery left for us to admire today," given this fashion for picking it apart and selling it.
So the book is instructive and entertaining!
You can also find my reviews of Gail Marsh's other books here on Needle 'n Thread: 19th Century Embroidery Techniques and Early 20th Century Embroidery Techniques.
If you're looking for a Christmas present for someone who likes historical textiles, this would probably make a good one! I'd also classify it under "interesting coffee-table books."
Where to Find
You can find 18th Century Embroidery Techniques through the following book affiliates:
In the US: 18th Century Embroidery Techniques at Amazon (Update, October, 2015: The book is now offered as a paperback – it's quite nice and very affordable)
Worldwide:: 18th Century Embroidery Techniques through Book Depository with free worldwide shipping.