Sometimes, when it comes to hand embroidery, equipment just complicates things. When you think about it, does an embroiderer need a lot of equipment? Not really – needles, a hoop, some sharp scissors, and that about covers the basic needs relating to hand embroidery.
Yet I've invested in a new piece of equipment, and although originally I had no intention of writing about it, the Inordinate Infatuation I have with it compels me to write about it.
I'm Excessively Fond of it.
And, more to the point, it's a Really Handy Piece of Equipment, especially if your primary way of transferring embroidery patterns is by tracing.
I do a lot of embroidery design transferring and embroidery design drawing. Over the last couple months, for example, I've transferred more than 52 monograms onto fabric by tracing. I've drawn at least a dozen different monogram combinations, too. Tracing is an essential part of the drawing process, unless I start from scratch every time.
A light box is a great aid to tracing, whether during the design process or during the whole embroidery design transfer process. Sure, there are other ways to transfer an embroidery design, but the quickest way (when it can be managed) is tracing.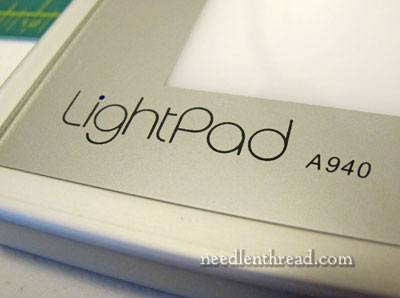 Unfortunately, the little plastic craft light box that I bought years and years ago for a whopping total of $15 doesn't always do the trick. The aspects that drove me nuts: 1. the lit surface is inconsistent, with the brightest part being right in the middle, and relatively small; 2. the height of the box (about 3″ high) made it awkward to sit and draw at it for any extended period of time; 3. the total surface area is too small – it didn't accommodate a full 8.5″ x 11″ piece of paper, even turned sideways.
So I tested different "home made" approaches, including a "light table" using plexiglass and a clamp-on utility light. And that worked better, but it has disadvantages, too: 1. It is inconvenient to set up (but ok, I can live with inconvenience); 2. it is hot – the utility light, if it's on for any extended period of time, lets off a ton of heat; 3. the lit surface is restricted to the area where the utility light is directed, so for larger projects, the design has to be shifted around to get the brightest light underneath it.
I also explored the option of real light tables – the kind you can pull a chair up to as a separate piece of furniture – but they are way out of my budget range and they would take up permanent space. I found one on Craig's List that was "only" $700, but the footprint was too large (and so was the price tag!). I considered having a real light table made, too, but again, that option was pricey, and there was the whole space consideration.
Enter: The LightPad by Art-O-Graph.
Oh, I am in Tracing Heaven! I Love this thing. I've enjoyed hours and hours of Sheer Tracing Bliss lately because of it!
The LightPad is a thoroughly wonderful, sturdily constructed, portable light table, without being a table. The lit surface area is huge (and could be huger, as it comes in different sizes), and the lighting behind the glass is LED lighting that lights up the whole lit surface area consistently and brightly.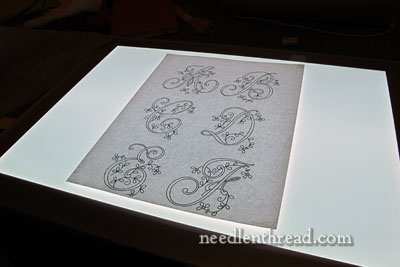 The LightPad I purchased (model A940) has a 12″ x 17″ lighted area, with a whole footprint of 14″ x 19″. It is 5/8″ thick, and sits flat on the surface of the table.
I've used it so far to trace patterns onto lightweight, medium, and medium-heavy linens, in white, colors, and natural.
I've also used it to trace a pattern onto a deep blue silk.
It worked great!
But the most incredible asset of all (for me, anyway!) is the fact that I can trace easily on "natural" colored linen – this oaty-brown color – even when medium-heavy in weight.
This is a scrap of Montrose 1750 linen, which is relative heavy stuff. It's an un-ironed scrap laid on top of a pattern on the LightPad to demonstrate that the pattern is visible, even without the linen being stretched and flat over the pattern.
I can definitely see the pattern well enough to trace it easily. And that makes me … giddy!
Like all of the more pricey purchases for the workroom, I budgeted for the LightPad and purchased it as soon as I had saved for it. At first, I was greedy and budgeted for the larger one (17″ x 24″ lit area), but eventually changed my mind and bought the smaller one for less, and sooner.
The LightPad ranks right up there with my floor stand and my embroidery frames now – it's a Favorite!
Where to Find a LightPad
You can find the Art-O-Graph LightPad in the US through various sources, from art supply stores (Dick Blick carries it, for example), but I got mine through Amazon, which offers it for slightly less than other places, with free shipping.
Since writing this review, I've heard from several readers who have purchased different light pads that are lighter, thinner, and less expensive. Here are a couple that have been recommended to me, but I've not tried. Look at the specs carefully before purchasing – and it doesn't hurt to read the reviews, either!
Huion Light Tracer 16 x 12″ (work area) available here on Amazon.
AGPtek – (A3 size work area) available here at Amazon.
If you do a lot of tracing, this is definitely something to add to the birthday / Christmas wish list!
This article contains affiliate links to Amazon, which means that Needle 'n Thread receives a small commission for purchases made through those links at no extra cost to you. Thanks!