If you're keen to learn a variety of approaches to stumpwork embroidery – from figures to scenes to animals and flowers – you'll definitely be interested in Stumpwork Embroidery by Kay and Michael Dennis.
Stumpwork Embroidery, published just last year by Search Press, is a hefty instructional book that teaches the basics of stumpwork and how to apply them to all kinds of projects. The book is a combination of Kay & Michael Dennis's other books that are no longer in print, so if you have one or more of their previous books (like Stumpwork Figures, Beginner's Guide to Stumpwork, or Stumpwork Seasons), you'll recognize some of the content.
Let's take a look at what Stumpwork Embroidery has to offer the stumpwork enthusiast, shall we?
First of all, the book is large. It's large in size, and it's large in scope!
Kay & Michael Dennis are a husband and wife team from the UK who have been working together for a long time! You can read all about them on their website, Kay Dennis Stumpwork. While you're there, do visit the gallery – this 3-D walled garden is exquisite!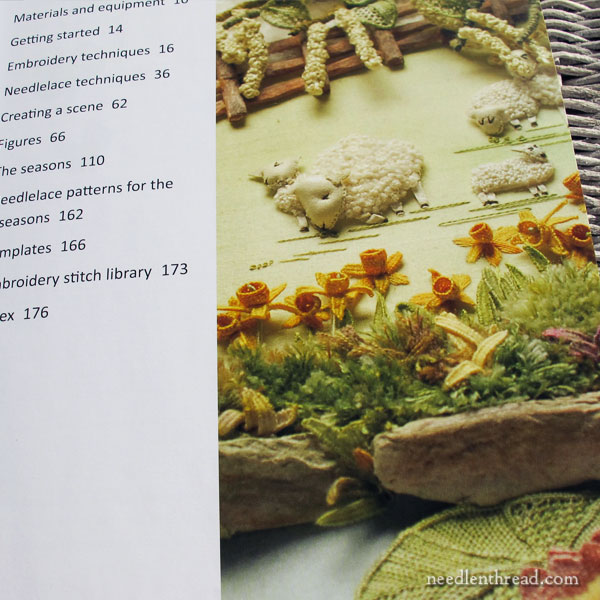 Right from the start of the book, Kay's stumpwork scenes will grab you. The flora and fauna are terrifically abundant! And this time of year, with spring approaching at a rapid clip (at least here in Kansas), there's nothing like an abundance of sunny daffodils and fluffy sheep, to set the mood!
The book begins with an introduction and a short history of stumpwork, which is nice to read. The authors present a good overview of what stumpwork is and where it comes from, and for 17th century stumpwork fans, you'll enjoy the photos.
From there, we get into the materials and equipment necessary for stumpwork, with a good overview of a variety of threads and fabrics.
I especially like this:
There's a little section pins and needles and what kinds are used for what – and why it's important to use the right needles for different jobs.
And the close up shot of Kay's pincushion endears me to the woman. It's a riot of needles and pins!
In the section on getting started, there's good discussion and information on developing designs and where to look for inspiration. This is invaluable if you've been contemplating how to go about creating your own stumpwork scenes.
Next up, using a project to demonstrate (and that you can practice on), the author teaches basic stumpwork techniques using primarily regular embroidery stitches. The instruction is presented through step by step photos, explanations and tips, and diagrams.
Padding techniques, covering 3-dimensional objects (like beads and the like) and stitch instructions are all laid out clearly. You'll see instructional samples in progress and large, clear images of the finished samples.
From embroidery, we move into needlelace. Here, you'll learn all kinds of needlelace stitches and techniques for enhancing your stumpwork projects.
Kay uses needlelace for many stumpwork elements, from flowers to animals to clothing on figures…
…and fish!
(And frogs!)
We're taken step-by-step through creating various projects that serve as practice, and that can also serve as a springboard for further stumpwork embellishment.
I love the mushrooms!
Next, Kay covers how to create a whole stumpwork scene, from designing the scene, to setting up the background, to stitching the key elements that bring the scene to life.
Then, we get people – stumpwork figures from simple to complex.
If you've ever pondered the figures on stumpwork boxes and museum pieces and wondered just how to go about replicating them on your own projects, wonder no more. Kay takes you through creating bodies, faces, hands, legs, hair, and clothing, and makes the process accessible for beginners and beyond.
After the figures, we get the Seasons project. This is a series of scenes representing the four seasons, all melding into one stumpwork project, and combining embroidery and needlelace.
The seasons project can be split into smaller vignettes or created as a whole. It's a neat way to approach a stumpwork sampler, with a theme that holds the sampler together (the four seasons), and full of great opportunities for stitching flowers, animals, trees, insects, and scenery.
In the back of the book, you'll find all the line patterns for the various projects and stumpwork elements…
…plus a basic stitch dictionary with clear diagrams for all the embroidery stitches used on the projects in the book.
Pros and Cons
Pros (and lots of 'em!):
The book is packed with instructional content on various levels of stumpwork; there are plenty of opportunities for practice in the various projects presented; the instructions are clear and easy to understand; the book covers pretty much everything you'd want to know to get started in stumpwork.
Cons:
If you already own all of the previous Dennis books, you will find this book redundant in content, though you might like the idea of having everything accessible in one volume. The design style might not be for everyone, especially for those who prefer more formal stumpwork designs typical like those, for example, of Jane Nicholas. This book has definitely a more "earthy" approach and is less formal. This isn't necessarily a con, though – it just depends on your particular preferences in style.
In a nutshell:
Stumpwork Embroidery is a terrific instructional book. If you're into the whole 17th century stumpwork casket scene – or making modern stumpwork boxes, gardens, scenes and the like – you need this book! It's one of those books you'll keep on hand all the time for instructional reference and ideas while you explore stumpwork.
Where to Find Stumpwork Embroidery
Stumpwork Embroidery is available now through the following affiliate book sources:
In the US, you can find Stumpwork Embroidery through Amazon.
You can also find Stumpwork Embroidery through Book Depository, which offers free worldwide shipping.
Coming Up on Needle 'n Thread…
Yes, I'm starting a new project. It's sort of small, sort of quick (it has a deadline – ye gads!), and it'll be fun to work through (I hope). The finish is a book cover. I'm going about it with a few new approaches, especially when it comes to transferring the design. I'll be sharing it with you along the way!
Don't forget the Hand & Lock class give-away here on Needle 'n Thread. The winner will be announced next week. If you are able to attend the classes in Williamsburg and you're interested in monogramming or tambour beading, follow the guidelines on the original give-away post and leave a comment before next week!