The other day, when I was trying out a new-to-me hand embroidery thread – Aurifil's stranded embroidery floss – I had one of those strange Groundhog Day moments. Déjà vu, repeatedly.
Today I'll tell you a little bit about this stranded cotton embroidery floss from Aurifil, which is called Aurifloss.
Personally, I'm a bit torn…
Have you ever anticipated something you were determined to like?
That's how I felt about Aurifloss. A reader mentioned it to me, and my curiosity was piqued.
I've seen Aurifil's machine embroidery threads, but I didn't know they produced a stranded embroidery cotton for hand stitching. And, upon delving into the subject, I discovered that it comes on ….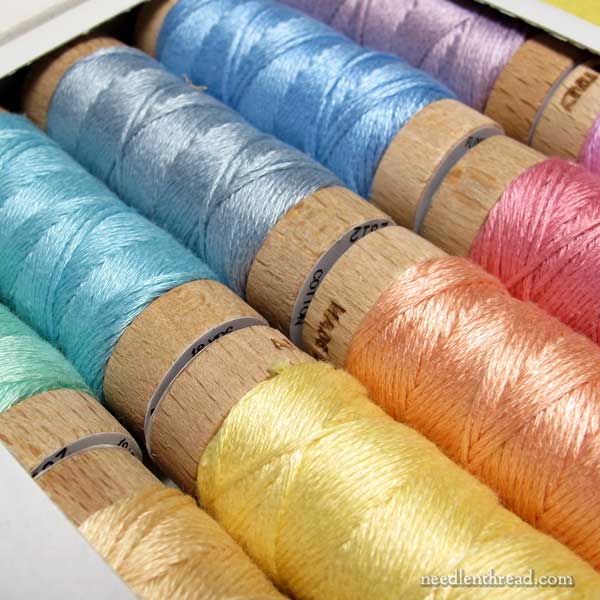 …spools.
I love it when hand embroidery threads come on spools. And I've never seen a six-stranded thread available commercially on spools. What a divinely inspired idea! No pull skein!
As I anticipated the arrival of the threads, I was already determined to like them.
And when they arrived, I was immediately besotted.
Neatly arranged spools loaded with colorful hand embroidery threads, all lined up in little white boxes – what's not to love?
But, but…. I didn't want to lose my head before I tried the threads! We might say "presentation is everything," but when it comes to threads, I tend to judge more by performance.
Aurifloss comes in 270 colors. There are 18 yards on a spool.
The spools are somewhat rustic little wooden spools, not plastic spools.
The threads are made in Italy, out of long staple cotton.
Testing 1, 2, 3, 4, 5…?
Well, like I said, performance is everything, so I set about testing the threads as far as stitchability goes. And this is when I had my Groundhog Day moment.
I was working with this bright blue thread out of what I call the Southwest Box – the box of bright colors in the first photo above.
I cut the thread and separated out a few strands to stitch with (this is called stripping the floss, and you can read about it here). I wasn't paying a lot of attention to the number of threads I was fiddling with, but more to the feel of them.
When I stripped the threads, they ran through my fingers and felt decidedly less smooth than other flosses. They felt "dry" and a little bumpy. They felt, in fact, like linen thread more than cotton thread. My thought: Oh golly, this stuff is going to pill.
I embroidered for a while with the thread, and I noticed some points while I was stitching with it.
First, I noticed that it is finer than most 6-stranded embroidery floss. I would say three strands of Aurifloss are equal to about two strands of DMC or Anchor.
I found this a bit odd, I guess, because in the floss world, there's a lot of cross-flossing.
For example, I can substitute Anchor for DMC or DMC for Anchor, or I can mix and match DMC and Anchor together very happily. If I want to throw in some over-dyed threads from somewhere, I can. And I can use two strands of all of it and be pretty sure my stitching will be consistent.
But this thread doesn't really fit into that picture. This isn't necessarily a bad thing. But it did strike me as curious that it's so noticeably finer than other standard 6-stranded cottons.
The thread did not pill after all, and I was surprised about that, but pleased. I do not like threads that pill!
Time to switch threads! So I reached for the remaining three strands to strip them. I stripped them, but there were only two strands.
Hm. I must have separated an extra strand and left it lying about….
…searching…
Nope.
Stuck to my sleeve?
…searching…
Nope.
Stuck to some other part of me?
…writhing around, searching… standing up…patting down my clothes…searching.
Nope.
Ok, getting on with it, I cut another piece of thread, separated out three strands, and kept on stitching.
I came to the end of the thread.
I reached for the remaining strands.
???!!!???
Maybe I separated four out when I cut the thread… No, you didn't. You would've noticed. Well…ok, obviously I separated four strands out and put one down.
…searching…
…writhing…
…patting down…
…and finally, cutting another length of thread.
The third time it happened, I realized it wasn't me.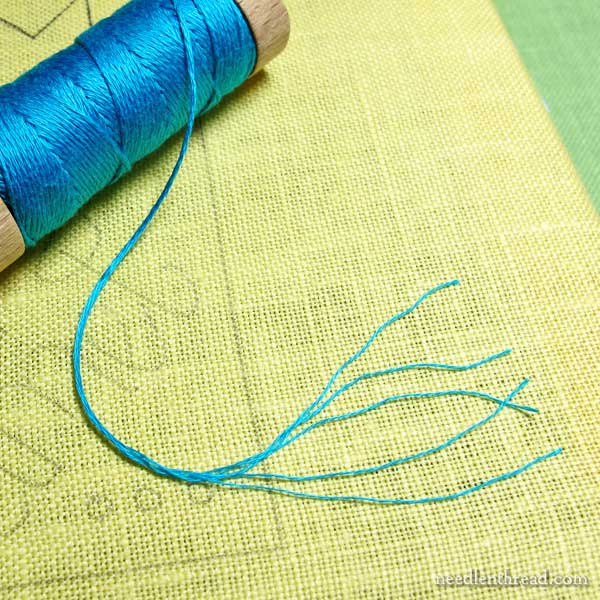 Examining the thread closely, this is what I found.
It's like a 7-shot six-shooter!
Only it's a 5-stranded six-strander!
An anomaly! An amazing phenomenon, even!
I felt like I had discovered a new species!
Then I started second-guessing. Maybe it's not really six-stranded thread. Maybe it's five-stranded.
Nooooo. It's six-stranded thread.
I would probably list this particular point about the thread – obviously a quality control issue – under cons, even though I have to admit, it was a fun discovery!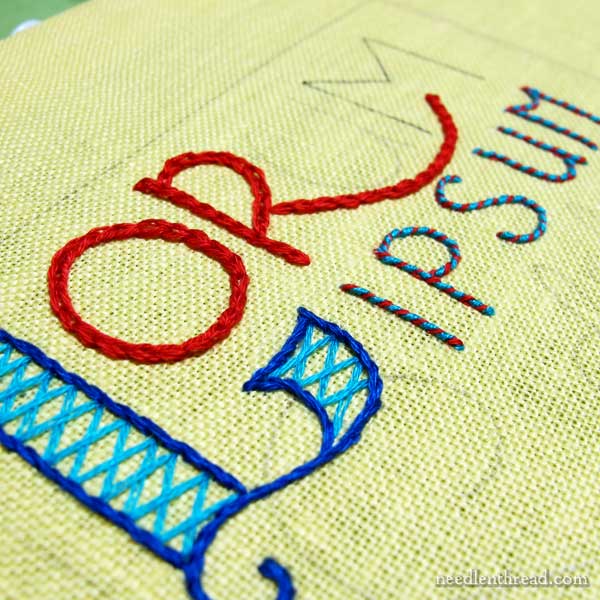 Overall, I'm not really keen on the feel of the floss. It has that "dry" feel that I associate with cheaper craft threads. If you've ever stitched with Sullivan's, it's kind of like that. It just doesn't feel like a good thread. Surprisingly, though, it didn't pill. Other craft threads usually do.
I can see where a finer cotton floss might come in handy some time, so maybe the difference in weight is a good thing. But I can also see how it could be problematic if you tend to mix brands while you're stitching.
The floss worked up pretty well. This is the one area that I was really surprised about! When I was working the chain stitch and the stem stitch, I never had any kind of twisting or knotting or anything. I didn't have to drop my needle to let the thread untwist. It just never twisted on itself.
Now, that is an anomaly! Normally, when you're working with floss – especially on stitches like stem stitch or a stabbed chain stitch – you'll get some thread twist going on, and you'll have to pause and let your thread untwist. It literally never happened with this thread. I don't know why.
The thread is more compact that DMC or Anchor. It's doesn't seem to have a soft "spread" to it, that you'll get with other stranded cottons. I haven't tried it yet with long and short stitch, but I suspect that it won't blend as well as softer threads do.
And finally, though there is a slight sheen from mercerization, it isn't as much as the sheen you see on other mercerized cottons. In fact, when stitched up, this thread almost looks matte.
In a Nutshell
It's an interesting thread to try. If you're looking for a finer stranded cotton, it might fill the bill.
But I think there are some quality control issues, and I'd not be willing to replace tried-and-true threads like DMC and Anchor with this particular floss, or trust it on a project that I'm putting lots of hours and effort into.
You can read the indications about Aurifloss here, if you want to know about washability.
What about you?
Have you tried Aurifloss? Any input on the thread? I'd love to hear your take on it! Or do you have any questions about the thread? Feel free to chime in below!