I love Dorset Buttons.
I love their history.
I love their charm.
I love their versatility.
I just love Dorset buttons!
And I love what creative people are doing with Dorset buttons these days.
So, when Anita sent in photos of her latest adventures in Dorset-buttonry (I don't really think that "buttonry" is a word, but it should be), I just knew I'd have to share them with you!
And, in case they inspire you to try some buttonry yourself, I've also included several links below to good Dorset button-related tutorials.
Dorset buttons are essentially covered rings. The rings can be wood, metal, or plastic, and they're covered with thread (pearl cotton works great, but other floss, string, or yard will do) using buttonhole stitch.
From there, they are further adorned, usually starting with a criss-cross foundation of spokes around the button, which is whipped together with a ribbed spider web stitch.
Once you start the decorative part of the button, though, you can let your imagination run wild! Beads, French knots, tiny detail stitch – anything's game, really!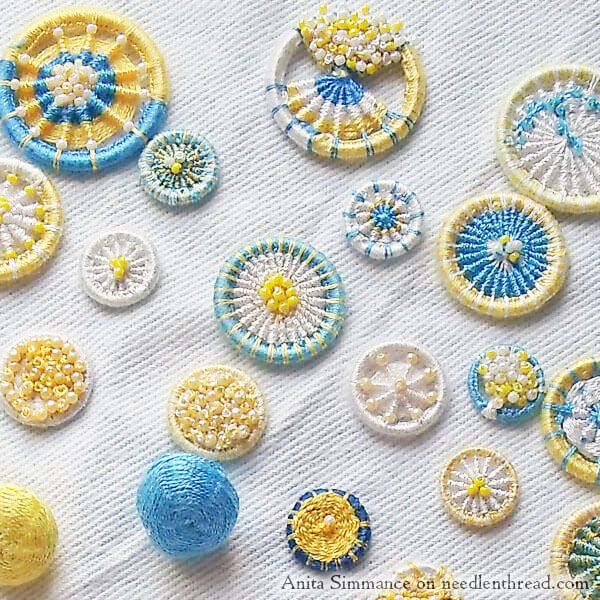 Among Anita's Dorset buttons, there are other buttons as well, including Singleton Buttons and some knobs.
I happen to love blue, yellow, and white together, too, so the color scheme here charms me completely!
You might be wondering what you'd do, if you were to indulge in a bout of Dorset-buttonry.
It would be great fun, sure! There's a lot of scope for creativity, definitely! But, in the long run, what would I do with all those buttons?!?!
Well, if you squizz about online for a bit, you'll find all kinds of uses for Dorset buttons. I've seen them made into jewelry, into refrigerator magnets, into hair accessories, used for accents on crazy quilts, used in upholstering and pillow-making. I've seen them used as window blind pulls and for decorations on curtain tie-backs. I've seen them adorning tassels and in other passementerie-related uses. I've seen them as accents on little gift packages (Dorset button gift tags!), as decorations on birthday cards, and as keychains and scissor fobs. Christmas ornaments? Absolutely!
And…I've seen them used as…. buttons!
Imagine that!
If you knit or crochet – or maybe you have a friend who knits or crochets – they're a great way to add a decorative, unique and personal touch to sweaters, shrugs, scarves, mittens, and the like!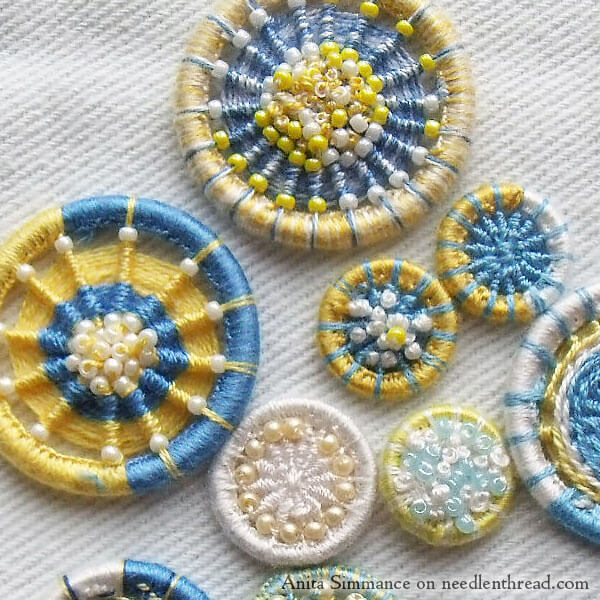 Have I mentioned yet that I just love Dorset buttons?
A terrific collection, Anita – it's so fun to look at! It reminds me of an "I Spy" book. I could keep looking and looking and looking and still discover new details.
Dorset Button-Making Tutorials
If you'd like to try your hand at Dorset (and other) button-making (I like "buttonry" better), here are a few online tutorials I rounded up for you:
Henry's Buttons – with tutorials, history, and a gallery
Singleton Buttons Tutorial on Sugarloops
Ribbed Covered Button tutorial – similar to the Dorset knob button
Those should get you started in your own buttony adventures!