Lately, I've received some interesting emails from readers, asking questions or relating experiences that have to do with embroidery kits.
And heck, who doesn't like to talk about embroidery kits? It's a topic I love, so I'm always game for a discussion!
One interesting conversational thread that has surfaced is the topic of purchasing embroidery kits as opposed to sourcing your own supplies for a project.
The topic is multi-faceted. I could never cover every detail or share every thought I have on the subject in one article. You'd be asleep by the end!
So, instead, I'm introducing the subject here, sharing a few of my thoughts and some basic principles behind them, and asking for your input and feedback.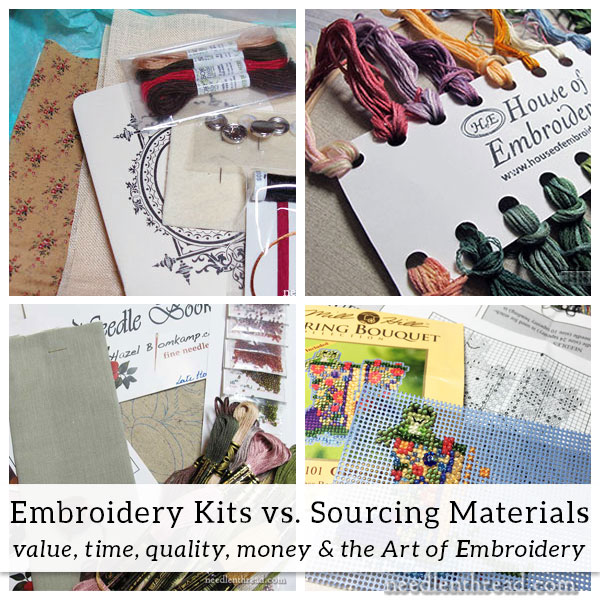 Two emails in particular prompted me to write about the notion of embroidery kits and sourcing supplies for embroidery projects.
This is email #1:
I want to work Hazel's Late Harvest along with you, but I think the kit is way overpriced. I've never paid that much for an embroidery kit, and I've worked lots of kits! I've been looking for the supplies and found some of them but not all. Can you help me find [the supplies I'm missing] online so I can order them?
This is email #2:
I thought I could save money sourcing my own supplies for Late Harvest. The only thing I could source locally was the DMC thread, which I purchased at Michael's. I don't have a local needlework shop nearby, so I had to order fabric, beads, needles and the wire for the stumpwork elements online. By the time I tracked down all the beads, they were coming from four different online suppliers. I made a mistakes with some of them because I couldn't see them in person and I had to re-order some. The fabric I ordered, a Zweigart linen, wasn't going to work for surface embroidery like this, so I ordered a different linen online and bought some muslin locally to back it. Then, to make matters worse, I made a mess with the design transfer and had to start over. Good thing I had ordered extra fabric! By the time I was ready to begin stitching, I was working on getting everything together for over six weeks and by the time I paid for everything, corrected my mistakes and paid for shipping, I ran up quite a tab of just over $70. I wish I had bought the kit in the first place.
Commercial Embroidery Kits
While there are many embroidery kits available to the stitching public these days – thanks mainly to the internet, since most people don't have local needlework shops, and if they do, the shops don't have a high concentration of surface embroidery offerings – there's an obvious distinction between the types of embroidery kits available today and how (and who) produces them.
Let's talk about commercial kits first, which are produced in bulk by a company, often one with a hand in the manufacturing or distribution of at least some of the supplies involved.
Take, for example, these tiny Mill Hill bead kits that I wrote about not too long ago. They're produced in bulk, and they contain products belonging to the producers (i.e. the Mill Hill beads and the perforated paper).
When a company like Mill Hill produces these kits, they aren't having to pay for the same levels of distribution that we (the retail shopper) would have to pay for, when it comes to the supplies involved.
They're also supplying partial amounts within the kits – enough to work the kit. So, instead of full skeins of DMC thread, you'll find a few strands of each color. Instead of the full retail container of beads, you'll find enough to complete the kit. Instead of a full sheet of perforated paper, you'll find a small piece large enough to work the design.
And so, for about $8, you can buy a little kit and complete the whole design with the supplies required. If you had to buy, retail, all the individual supplies to create the tiny object, the cost would be significantly more. Sure, you'd have left-overs (we all love stash!), but would the value of what you embroidered be comparable to the price you paid for the supplies? If you had to spend $20 or more to assemble all the supplies, would it be worth that tiny embroidery on perforated paper?
Similar principles apply to kits produced by Bucilla, Dimensions, and other commercial producers whose kits can be found in big box stores, discount craft shops, and the like. With these latter kits, you can also add other dimensions to the principle: when it comes to commercial kits like these, are you getting quality supplies that are deserving of the time you'll be putting into them? Often, no. Where are the kits produced, and what is the cost of labor in those places where the kits are produced?
So, the upshot: commercial kits are often much less expensive than if you sourced the materials yourself for the same project.
Designer Embroidery Kits
For lack of a better name for them, designer embroidery kits are kits that come straight from the designer. In most cases, the designer either works alone, or she (or he) might have one or two assistants that help with packaging and assembly.
The designer, who has already stitched the project and knows it inside and out, has sourced all the supplies and ordered them (normally wholesale, or at least with some discount from the retail price), paid shipping on them, and divided them up according to the requirements of the kit.
Designer kits often include full skeins of thread, as opposed to small quantities estimated as enough to finish the design, because a designer knows that every stitcher is different. While the designer may have only used half a skein to complete her original design, that doesn't mean every stitcher will only use exactly half a skein.
Also, when it comes down to it – and especially when it comes to most cotton threads – it's often less expensive to include the whole skein than to pay yourself or someone else an hourly wage to cut it up into small pieces.
The designer has sourced beads and needles and other similar requirements in bulk – exactly the ones needed to produce the finished design.
The designer has also sourced the ground fabric, usually bought wholesale in quite a large quantity, and has cut it down to the sizes required for each project.
Further, with many designer kits, the designer pays a screen printing service to print an accurate design on each piece of fabric or has hand-transferred the design on each piece of fabric herself.
Then there's the packaging! Packaging and printed materials must be designed and paid for. Packaging and printed materials are expensive, especially for small businesses. The smaller your business, the more expensive they are, so small businesses have to invest in advance in bulk to get reasonable and affordable prices.
Finally, the designer may have to pay an employee to help with assembly, or, in cases where she doesn't have an employee, she has to pay herself for the time she spends on all of this – from designing, to stitching, to sourcing, to packaging and mailing.
In the end, she has to make a reasonable profit, or she can't continue doing what she does. And if she can't continue doing it, designer kits will no longer be available for us.
Quality, Success, Passion, and the Art
The designer has carefully selected the best materials for you to use, to produce her design in her kit. She (or he) knows that your time deserves the best quality materials for your embroidery. And she knows what materials will work best to produce a beautiful result with her design.
The designer has a vested interest in your success. She wants you to successfully complete her kit, and to complete it well. She doesn't want you to be frustrated by lesser-quality threads or fabrics. She doesn't want your finished product to look "not quite as good" as it could, because of poor quality materials. She wants you to be thrilled and happy with the end results.
Why? She wants you to come back for more, yes, but she also has that desire to further the whole notion of the art of embroidery. She is passionate about embroidery, and she wants you to be, too. So she's going to give you the stuff that she is passionate about. She's not going to settle for less than what she would use in her own stitching.
So, the upshot: designer's kits are more expensive than commercial kits. But there's a whole lot more to them, too!
Sourcing Your Own Supplies
I think the two emails above speak pretty clearly about the difficulties of sourcing your own supplies for embroidery projects.
In the first case, the writer needs help sourcing supplies – she doesn't know where to find them, and she is already frustrated by having to spend time looking for them. And so she wants someone else to do the searching for her. It's not really a service I can afford to provide. Sure, if I know where to find something off the top of my head, I don't mind sharing that knowledge. But I can't afford to spend my time sourcing supplies for another designer's kit, so that the stitcher can save money at my expense. I know it sounds harsh and ungenerous, but that is just reality. The designer has already sourced the supplies and produced a kit.
The second email demonstrates everything that can go wrong when you do source your own supplies for a complicated project. In the end, financially, the stitcher saved herself about $20, if you consider postage on that particular kit. Was it worth it? She didn't think so.
When it Makes Financial Sense
For simple projects worked on a readily available fabric with widely available threads, it's easy enough to source your own supplies. And it makes financial sense to do it.
But with complex projects that involve harder-to-find fabrics and threads, lots of specific embellishments, special tools or the like, it is usually makes more sense – financially and emotionally! – to purchase the kit. You'll save time; you'll avoid frustration; you'll avoid individual shipping costs on retail supplies ordered from different places; and you'll avoid any mistakes you might make in ordering things online that you aren't sure about.
Supporting the Art
But there's more to it than just financial sense.
When you purchase a designer's kit, you are supporting the small business of the designer – which goes a long way to keeping the art of embroidery alive!
And What About Your Time?
Time is the one element that many stitchers don't take into consideration.
As yourself:
What is your time worth? And what is worth your time?
I've said it before and I'll say it again: the Most Valuable Element of any of your embroidery projects is your Time.
Is it worth the hours of time it would take you to source materials for a complex embroidery project, to save the money you'd save if you don't buy the designer's kit?
Maybe, in some cases – if the supplies are simple enough to find and you can get some or all of them locally.
But in many cases, is the $25 or $30 you might save, after spending ten hours looking for supplies, a reasonable return for your time?
Your Thoughts?
Like I mentioned at the beginning (and that was a long time ago!), these are just some basic thoughts about embroidery kits, sourcing supplies, the value of time, money, and quality supplies.
I'd like to know your thoughts! Do you have any points to add? Pros, cons, otherwise? Do you agree or disagree with any points I've made? Do you have any questions about the topic, or additional insights?
This is a topic I'd love to see discussed and fleshed out a bit, and especially to hear your take on!
If you'd like to join in the discussion, feel free to leave your comments below!