Ecclesiastical embroidery or embroidery for the church or religious use, is one of my interests. I'm including here some free patterns for hand embroidery.
They can be enlarged or reduced, and used for a variety of church embroidery projects, including banners, vestments, altar cloths, linens, etc. If you click on the images you will get a full-size image.
Right click on the full-sized image and save it to your desktop. You can then edit it in any graphic program.
The patterns below come from an old, out-of-print ecclesiastical pattern catalog. There is no copyright on it. To my knowledge, it has not been reprinted or digitally enhanced by anyone.
I'll be adding the patterns regulary, so check back often!
This is a nice medallion that would look great in goldwork or in silks, especially in couched designs. The whole motif could be worked in colored silks, and then outlined in a very fine gold twist (Elizabethan twist is nice and tiny). The central ring could be worked out of gold passing thread. Or the whole thing could be done in a mixture of goldwork threads – passing thread for the cross and ring, purls for the wheat, pearl purl for the stalks and lines, and rococo for the squiggles at the end of the arms of the cross. The lilies could be embroidered in a fine gold-colored silk. Click on the image for a larger version.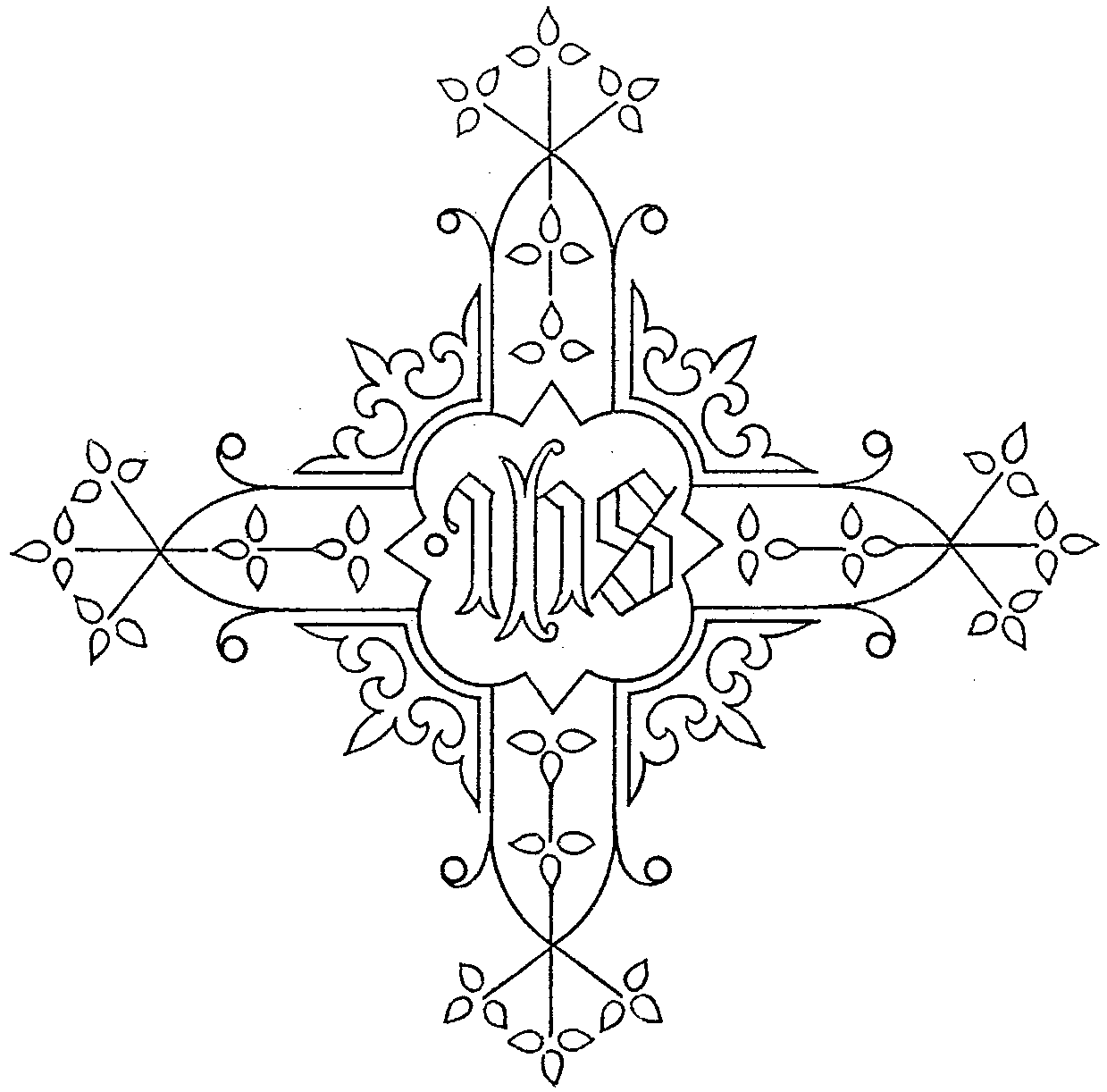 Here's another medallion for use on vestments or linens. It would look excellent on a linen pall, worked in white silk in a variety of stitches to give it some texture. Work the IHS in a slightly padded satin stitch, with the lines on the "S" worked in a whipped running stitch or whipped back stitch. Use one thread to keep the work delicate.
The crowns could be lined with a whipped back stitch, with the insides filled with evenly spaced seed stitch filling, all worked in one direction, in an alternating brick pattern. Work the remaining lines in stem stitch, and the leaves in satin stitch.
In this manner, the design would be worked very quickly, but with simple and elegant results.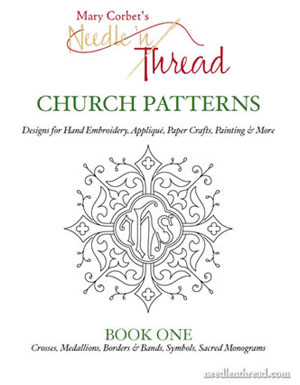 Interested in more church patterns? Check out Church Patterns: Book One – a collection of over 120 patterns in a 38-page PDF, suitable for church embroidery, and also for other arts & crafts endeavors (appliqué, paper crafts, painting – you name it!).