For my upcoming comparison of wool and wool blend threads for hand embroidery, I needed a design to embroider. I'll be working on this design, which I thought I'd share with you.
I've adapted the elements of this design from different sources – the flowers come from this embroidery pattern already posted here on Needle 'n Thread, and the rooster is a loose interpretation – crewel-fied – of a cartoony piece of clipart, for which I no longer have the source. Anyway, it's quite altered. Once I started thinking in terms of "embroidery pattern" – and especially "crewel work" – the poor bird underwent a shocking transformation.
What I'll be doing is embroidering this piece on Legacy Linen Twill, using a variety of threads, most of which will be wool or a wool / silk blend. I have a specific color range in mind for the rooster, but I don't have the color range I would like to work with in any one brand of thread. This gives me a good excuse to use a variety of threads, while at the same time allowing me to make comparisons between different threads.
Here's what the rooster looks like:
If you print the following PDF pattern, it fits inside an 8.5 x 11 sheet of paper – the height of the whole design is about 8.5 inches, and the width about 5.5″. The whole thing should fit ok in a 10″ square stretcher bar frame, which is what I'm planning to use, but I actually will reduce the pattern (from the PDF) slightly (maybe 10% smaller). Anyway, play with it to find the size you like, that you think would be manageable.
The Crewel Rooster – PDF
I'll be setting up this project today, and then I'll walk you through what I do with it in the upcoming weeks, including recommendations on threads, fabrics, needles, and so forth.
Revised Rooster:
After fiddling a bit with the design above, I made some changes, and the following rooster will actually be the one I plan to stitch: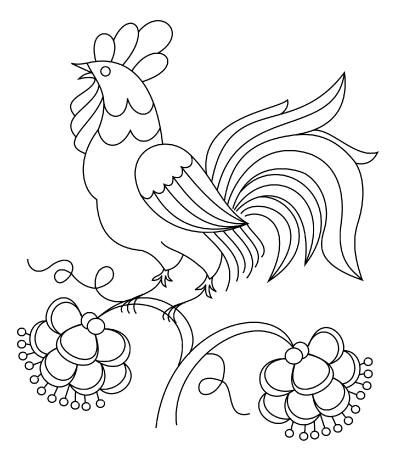 I prefer the "square" design as opposed to the elongated one.
Here's the PDF:
The Crewel Rooster Revised – PDF
If there's anything in particular you're curious about concerning this project, or if there's anything in the whole process of completing a project that you would like in-depth coverage of by way of a tutorial, leave a comment below. I'll try to accommodate requests!
Happy Last Day of 2009!!
Looking for inspiration & information on hand embroidery?
There are all kinds of reasons to sign up for the Needle 'n Thread daily newsletter! Check them out and sign up today!