Happy New Year to All! I wish you all a wonderful 2010, full of many blessings for you and yours! This morning, I'm looking back a bit on 2009, ahead a bit for 2010, and revising yesterday's rooster.
In 2009, I didn't really have any huge embroidery finishes! Looking back on the year, I managed a lot of little things mostly geared towards publishing here on Needle 'n Thread, but I didn't really finish anything big. In fact, anything big I started, I didn't finish. I wonder if this is a way to measure success? If it truly is… oh golly. I'm such a loser! Some things that transpired on Needle 'n Thread in 2009:
In January, I concentrated a lot on Goldwork, for an article in CQMag Online. (You can still find the goldwork article online at CQMag!)
In February, I focused quite a bit on drawn thread embroidery and whitework, in this embroidery sampler, which – well, yes, I admit it! – I never finished. Another project took over, and I had to use the frame, so once I unframed this piece, I never got back to it. You can find the tutorials that accompanied this project under the Tips and Tricks for Hand Embroidery.
In March, the drawn thread sampler continued, and I did actually manage a finish on something else. Whoo hoo! It's not exactly a big finish, but I enjoyed working this miniature embroidery piece, and it's one of my favorite little framed pieces in my house. Lots of free hand embroidery patterns were posted on Needle 'n Thread in March, too.
In April, I started working on this Long Dog Sampler titled Angel Pavement. It was a project that my niece and I began working on together – we set up two samplers, bought double charts, supplies, and whatnot… Neither of us have finished! But we're still working on it now and then! The sampler is stitched on 28 ct fabric, over one.
In May, besides sifting through stash stuff and starting a new project and going Needlework Shop Hopping, I did manage to post one useful tutorial on Drawn Thread Embroidery on Gingham. Oh, and this can be counted as a finish, too!
In June, I hand embroidered this pall as a gift. It counts as a finish! June was also a month full of guest articles here on Needle 'n Thread, because I went on vacation for a few weeks. That was fun!
In July, I worked my first Temari ball. That can be counted as a finish, can't it? I also reviewed the needlework shops I visited while on vacation, and spent a lot of time preparing the Long and Short Stitch Shading Lessons that got into full swing a bit later.
August saw the Long and Short Stitch Shading Lessons in full swing, though they definitely carried on past August!
In September, the Long and Short Stitch Shading Lessons continued, I didn't do a whole lot of personal embroidery, I did dig out an old embroidery project to reconsider how to finish it (and got nowhere at the time!), and I gave away a lot of good stuff in September, like Jane Nicholas's stumpwork books and some Trish Burr kits! September is always a difficult month to make progress on personal projects, since school is starting and a new routine is taking over.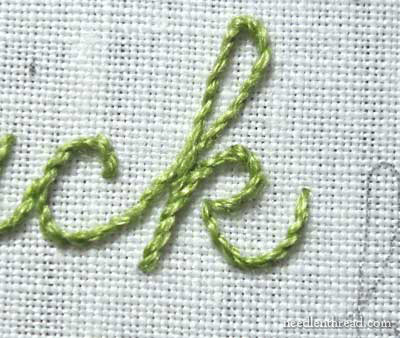 October saw the beginning of the hand embroidered lettering and text tutorials, which would last into December! It was also another month with few personal projects due to the demands of the school year.
November saw the bulk of the Lettering tutorials, as well as the beginning of a needlebook. I gave away some stuff, and started posting a new monogram alphabet, which I haven't finished yet!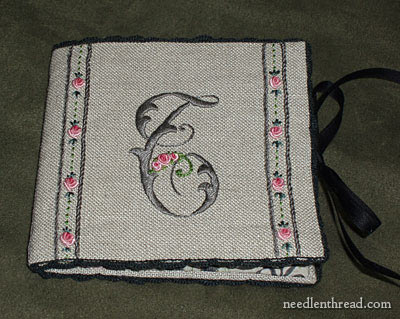 December was a fairly productive month, for being one of the busier months of the year! I finished a needlebook, the
lettering sampler, and a little crewel piece. I've gotten on a crewel kick here, so I've been writing a bit for upcoming posts on crewel work, comparing threads, and so forth. Also during December, I managed a lot of behind-the-scenes work here on Needle 'n Thread, working on a couple projects that will be launched in the early parts of 2010. December was indeed a productive month!
Resolutions and Looking Ahead
For 2010, I have some personal embroidery-related goals: use more stash, finish more projects! I also have some plans for Needle 'n Thread! I've been compiling a list of tutorials and topics that I hope you will enjoy throughout 2010. The video camera has also been occupied lately, so you can look forward to some video-related productions, too.
And the Rooster
Yesterday, I posted a rooster pattern for crewel work that will be my first "New Year" project here. I've since revised the pattern, so if it is something you were thinking of stitching along with, I thought I'd let you know there's a new version available on yesterday's post.
Happy New Year, one and all! I'm looking forward to 2010, and I hope you are, too!