After stitching all the lines on my current embroidery project, the next step was to add some seed stitching. I figured filling in certain areas in seed stitch would accomplish two things: it would add some texture and it would make the prominent parts of the design stand out. And so, I proceeded to stitch thousands of tiny seed stitches.
There's nothing at all complicated about seed stitching! Some books show seed stitch as two tiny stitches stitched as a pair perfectly parallel to each other, randomly covering an area. I only use one stitch, personally, stitching tiny single stitches randomly to fill an area.
Above, you can see clearly see how the simple seed stitches – which are just tiny straight stitches randomly worked to fill the background are – add a lot of texture to the embroidery.
By leaving the monogram part of the design voided, the texture of the seed stitching makes the smooth surface of the monogram area (outlined in whipped backstitch) really stand out.
Once you get the feel for the spacing, seed stitching is a breeze!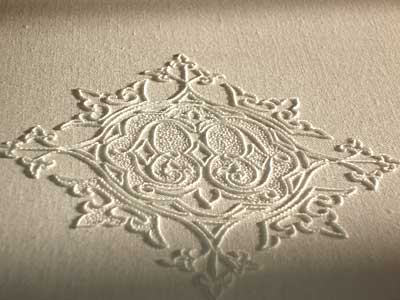 In the photo directly above, I worked my way through much of the seed stitching in the design and then managed to take a picture in "natural" light as the sun slanted in.
The shadows formed by the raised lines of the whipped backstitch help make the whitework embroidery not only beautiful, but noticeable. It's this combination of texture and contrast that really makes whitework embroidery so beautiful.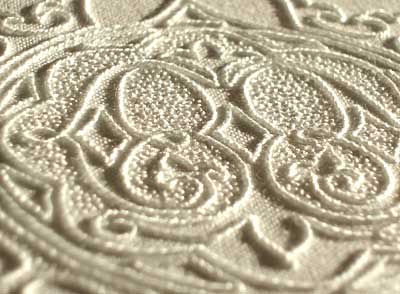 You can really see the bumpy texture of the stitching here. For the outlines on the project, you may remember that I used #20 coton a broder. For the seed stitching, I used #25 coton a broder, for two reasons: 1. I ran out of #20 (which really narrows it down to one reason, I guess – it's not as if I had a choice!) and 2. I figured the finer thread would look better. I had planned on using #25 for the seed stitching, anyway. What's funny is that I ran out of #20 coton a broder for the outline exackitackily as I finished my last few stitches of the outline. I had about 4″ of thread to spare when finished. I've never come that close to running out of thread before!
Here's the whole central medallion finished, and one crown (lower left).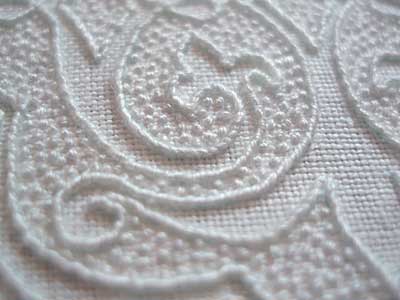 My favorite part of the design are these scrolls and fleur de lys tips surrounded by the seed stitching. I think it looks ok, don't you? I mean, I don't want to say, "Golly, am I good, or what?" because that's not what I'm thinking! I'm just glad it came out looking pretty nice. There's quite a bit of chance involved in that, you see – I really had no idea that the seed-stitched background would be successful. It was just a hunch, and once I started, I knew I was stuck in it, so I had to finish. I was glad that it worked out!
From a bit of a distance, here's the whole piece with the seed stitching done.
This is more what you see without the bright light, and here, the central M is pretty clear.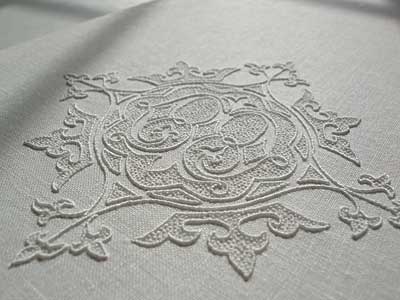 Another disadvantage of seed stitching… not to be negative here!… is the finger hole. The finger hole? Yes, the finger hole!
I ended up with one of those tiny little needle holes in my middle finger on my right hand, which is the finger I generally use to manipulate my needle. Oh boy – you know, one of those teeeny holes made by the eye of the needle, which the eye miraculously finds, no matter how hard you try to avoid it! There's nothing quite like it when the back of your needle slides on into a little hole like that.
You know what my solution is? Oh – I know you're thinking, "Wear a thimble, dummy!" But no, no…
Super glue! I put a dot of super glue over the little hole and let it dry. It works great!
Ok, so that's the seed stitching, done!
And the lesson learned: never underestimate the power of a very simple stitch to produce nice results (fairly easily!) in whitework!