Embroidered boxes fascinate me. And I suppose this isn't a unique fascination – plenty of other people have been fascinated by the embroidered box over the centuries!
Carolyn Pearce, in her new book titled Home Sweet Home: An Embroidered Workbox, creates a charming embroidered workbox that is not only lovely to behold, but functional (and fun!) as well. Today, I'd like to show you the book and share my impressions of it with you. If you love embellishment, embroidered boxes, and enticing needlework accessories, I think you're going to like this book!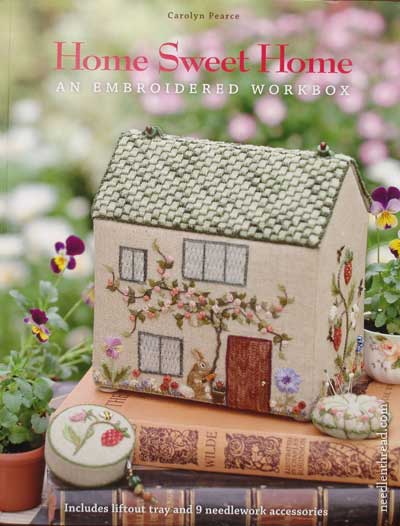 Home Sweet Home is published by Country Bumpkin, the publishers of Inspirations Magazine as well as the A-Z Series of needlework books (as well as lots of other beautiful needlework books). Typical of Country Bumpkin's books, Home Sweet Home is a combination of excellent instruction (step-by-step, with plenty of photos along the way) and delightful "eye candy." Even if you weren't out to learn from this book, you couldn't help enjoying it just for the beautiful scenery!
But the book is all about learning – and if you're going to learn, it's always more pleasurable to do so in beautiful surroundings, right?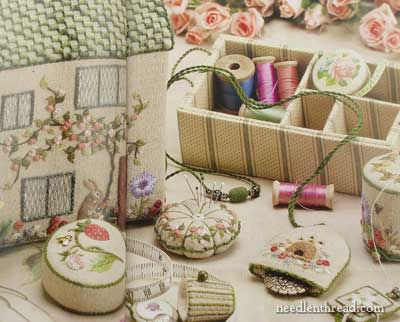 The book is a project book, and while it concentrates on a specific project – this captivating cottage workbox outfitted with nine different needlework accessories, each of which could stand alone as a needlework exercise – the book covers so many techniques both in embroidery and finishing, that it is instructive and very worthwhile, even if you aren't planning on making this particular workbox. The techniques can be applied to myriad other projects – and that's what I like about this type of project book. While it may seem to be teaching you to make only one thing (or in this case, 10 specific, related things), it's really teaching you much more! The concepts covered in the book can be applied to all kinds of needlework endeavors.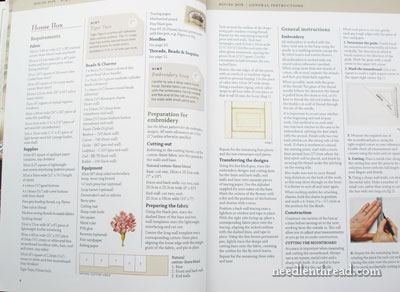 The book begins with the Needful Information for creating the cottage, including the basic information on supplies and preparation for stitching. In this section, there's information on transferring the designs and general information about embroidering the box and constructing it. This is the overview of the project – the details come later.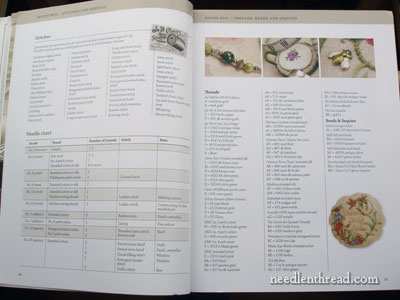 Then, we get to the specifics – stitches & threads! Oh wow! Talk about variety! There are 55 stitches on the list for the box. There are 21 different types of thread, working out to 63 skeins overall. And of course, there are diverse beads and sequins in the line-up, too! All of these elements work together to create the abundant details that make the house box so charming.
Then, we get to the nitty gritty – the instruction. Breaking the house down into its different parts, the author walks the stitcher carefully around the house, one panel at a time, teaching all the elements of embroidery and embellishment that decorate each side of the house. She follows a specific order of work, with each type of stitchery and embroidered element diagramed and explained.
Each side of the house is different! And the techniques that make up each side of the house are different, too. The whole house is like a cornucopia of variety, color, and fun technique. There's no chance (none, I tell you!) of finding yourself bored with this project! I love this little orange tree, with its fruit-filled basket beneath, the oversized bee, the various charms that accent it and add life to the scene. Sweet!
The author breaks down each scene on the box, making it into its own little sub-project. Threads and techniques are listed, followed by instruction in a specific order of stitching. I appreciate this clear, logical layout. And the whole book is arranged this way, including each of the accessories projects.
This side of the house is my favorite. I think it's the snail – though it might be the peas. Or the ladybug. Or the gecko! Oh – yes, it's the gecko!
Imagine making the whole house workbox and having it on display in your home! People would be completely besotted by it. You can't help wanting to turn it around and around and study all the little details!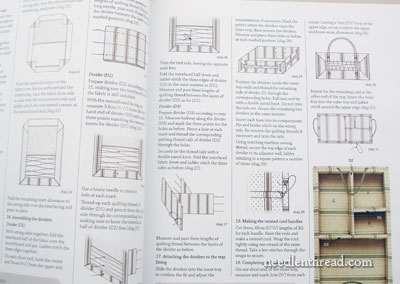 After all the embroidery is complete for the box, it's time to get into the actual construction of it. Here, you will not be disappointed! With a series of clear diagrams and explanations, Carolyn shows you how to make your work into a box and how to construct the lift-out tray that goes inside the box.
If you've got a hankering for making an embroidered box, this part of the book is invaluable whether you're making this particular box or not. There's good information in here on construction.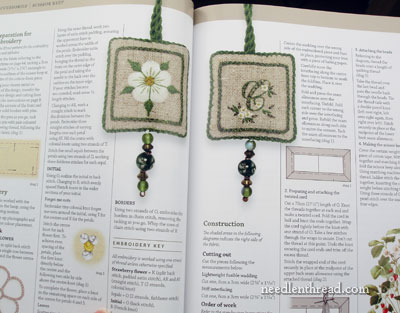 We can't forget the accessories! There are nine stitching accessories covered in the book: an emery block, a needlebook, a pincushion, a scissor keep, a spool holder, a tape measure cover, a thimble holder, a beaded thread counter, and a cover for a thread cutter.
Each accessory project unfolds in the same manner as the box: requirements, order of stitching and complete instruction, and then finishing work.
As I mentioned way up there somewhere, each accessory is a stand-alone project. Being quite a bit smaller than the box itself, they require fewer materials and they work up a lot faster. They would make gorgeous gifts!
Finally, there are two elements in the back of the book that are particularly handy. The first is the stitch dictionary. Not every stitch in the book is covered here – just the more obscure stitches and techniques. At the beginning of the book, the author suggests, if you are not familiar with the more basic stitches, having access to a good stitch dictionary (like the A-Z of Embroidery Stitches – I've reviewed the second A-Z of Embroidery Stitches here, if you're not familiar with the series). The stitch dictionary in Home Sweet Home is presented in step-by-step photos, with little hints and tips for getting each technique right.
The second element worthy of note in the back of the book is the lift-out pattern section. If you're familiar with Inspirations Magazine, you're familiar with these lift-out patterns. All the patterns are here, in an easily traceable format.
For an animated look at the cottage and accessories, you may want to check out the Home Sweet Home video on YouTube.
So, that's Home Sweet Home by Carolyn Pearce! It's quite the fascinating book – and such a lovely, fun project! I don't really have any cons to list for the book. It does what it sets out to do, well and beautifully.
Where to Find It
In Australia (and ships worldwide), you can find Home Sweet Home here through Stitchology. If you're ordering outside Australia, check the shipping rates! They're often pretty high on books. But if you have a wish list from Stitchology, or you have stitching buddies who want to order stuff from there, you can always take care of it all in one fell swoop, which will help spread out the shipping costs.
You can also find Home Sweet Home through the following book affiliates:
Worldwide with free shipping, Home Sweet Home is available here through Book Depository.
In the US, you can pick it up through Amazon, here.