At long last, here's my first "e-book" collection of church embroidery patterns!
For those of you interested in ecclesiastical embroidery, I hope you find it of interest.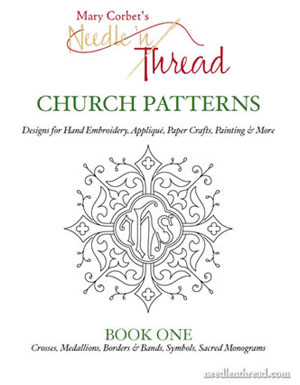 Church Patterns: Designs for Hand Embroidery, Appliqué, Paper Crafts, Painting & More is a collection of over 120 Christian designs, ranging from simple crosses to more complex patterns that include medallions, borders & bands, symbols, sacred monograms and more. The majority of the designs will translate well into any kind of surface embroidery. Some are particularly suited to whitework (there are a few designs that are specifically cutwork designs, but they could be modified to work as surface designs as well), and many are perfect for goldwork and more elaborate techniques. Many of the borders and decorative frames are adaptable as well to secular (non-religious) projects.
The book is simply a design collection – 36 pages of clear line drawings that can be enlarged or reduced and traced or printed for your projects. The designs in the book can be used for all kinds of arts & crafts, beyond hand embroidery – card-making, painting, appliqué work, wood burning, leather crafts, even fancy coloring book pages! Because it's formatted as a PDF, you can scroll through the collection, decide what design you want to, and print just that page – no wasting paper or ink for printing designs you aren't ready for yet.
If you're interested in the collection, you'll find sample pages of Church Patterns: Book One here, plus all the pertinent information for purchasing.
I hope you find it useful and inspirational!