The snowflake project I'm working on right now is really a test project in a number of ways:
First, I want to try this silver real-metal thread.
Second, I want to feel out the difficulties of stitching on a "suede" fabric (synthetic suede).
Third, I want to test my sanity: what will happen to my mental state if I add another project to the queue?
The synthetic suede that I'm embroidering on is a beautiful color of blue, but it's hard to capture it in photos. What will look right on my monitor might look perfectly ghastly on yours, so don't trust the color of the photo above – trust me instead! It's a beautiful blue.
But – it is synthetic. And it has that weird suede-y finish on both sides. So why am I stitching on it? I want to test this fabric for hand embroidery purposes, because I have it in mind for a later project. The fabric cuts well, with a clean finished edge (no unraveling or anything) and it could be quite nice in certain appliqué situations. I'll tell you more about this stuff later, if it works out, and when I've had a chance to really work with it. It's not something I'd whole-heartedly recommend for hand stitchery unless I'm really convinced it's going to work well, with a reasonable assurance of successful results. And I've not done enough on The Flake to be 100% convinced of that.
When you're looking head-on at the design transferred onto the blue, you can't really see it that well. Check out the difference between the lines you can see in the first photo, and the lines you can see in the photo immediately above. Depending on the angle at which you view the piece, the lines are more or less clear.
After pouncing the design onto the blue, I used a white ceramic Bohin pencil to draw in the lines. This works fine for getting the lines onto this kind of fabric – they're clear enough, and it's easy to draw with the ceramic pencil, but unfortunately, the ceramic lead has very little staying power on the suede. The slightest rub, and the marks are gone. I thought about painting over the lines, but on this type of design, which is meant to look airy and open in many parts, permanent lines would not be helpful.
The only thing for it: be careful of the lines!
For the main filled areas, I'll be using open, light stitches, like the fly stitch in the photo above. Stitching on pseudo-suede is perhaps not the easiest thing in the world to do. I suppose it's not as bad as it could be, but it's not "easy" – it takes some manipulation with the needle, and it definitely requires a thimble.
It's difficult to see exactly where the needle is going to come up through the fabric. Although you do get that initial "bump" of the needle pushing on the fabric from behind, this doesn't necessarily indicate precisely where the needle will emerge. Sure, it'll come up somewhere in that pressure bump, but not necessarily exactly where you want it. It makes the stitching process a little slow, but it may be just a matter of getting used to it. By the time I got halfway around the snowflake filling in these little areas, the speed was picking up a bit.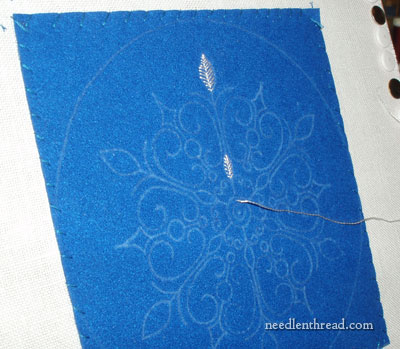 Looking from the side, the design is fairly clear, but there's not much stitching progress to behold!
I've mounted the suede on a piece of linen in an Evertite frame, so I'm stitching through both layers. The suede needs a support fabric behind it, especially for the metal threads – it's a relatively thin piece of fabric, but it's tough. Very tough!
As soon as I finish up these filled areas, I can test the silver thread on this. I'll let you know how that goes.
Oh, and as for my mental state, I find it's not much different from usual. And you can take that however you wish!
Enjoy your weekend!