Silk and gold combined – aaaaah! I love it. Two great tastes that taste great together. When Reese's came out with their 80's ad campaign about chocolate and peanut butter, they had nuthin' on silk and gold!
Time for an update on the Medallion Project. What you'll see here may not seem representative of much work, but it was a satisfactory start, and it assured me that I was on the right path.
We'll start with the flat silk. You probably remember that when I first started the Medallion Project, I began with the monogram in the middle of the design, stitching it with a stem stitch filling. On this second start, I decided to start with the background. It's normal, in Western embroidery, to begin with the background and work forward in the design. There are a couple reasons I didn't want to do this initially: 1. I don't like the idea of having a thick concentration of metal threads around an area that still requires a lot of silk embroidery. Much better to do the metal threads last, because silk floss can catch pretty easily on metal threads. 2. Stitching from the center outwards seemed like a much better approach, because it would eliminate having to work over other stitched areas.
But I've put aside those inhibitions, because I really wanted to get the background in, to see how heavy it looks. This will help me make sure that the monogram sits above the background, rather than seeming to sink into it. I'm pretty certain I will have to take some measures to lift the monogram a bit, something that I hadn't done when I started the project the first time. Once the background is in, I'll have a clearer idea of what I can do to add some height to the monogram.
So, background first this time around! The background of this design is going to be filled with flat silk, couched over with a tiny gold metal thread, in a technique called (in some old books) "Italian Stitch." This is a technique that I've used successfully before with this Agnus Dei project. In that project, I couched straight vertical lines with a tiny gold thread. In the Medallion Project, I'm going to go with a random scroll pattern in the gold thread, in a style of goldwork called "vermicelli." It's called vermicelli because it looks a lot like vermicelli – the gold thread winds and twists and covers the silk like a heap of noodles.
But before we get to the pasta, we have to prepare the plate. You have to have something suitable to put the vermicelli on, after all. It could be worked directly on the ground fabric, but I plan to cover the ground fabric (linen) completely with silk and gold, so you won't see the ground.
So, the first order of business is laying the flat silk. This silk is Soie Ovale by Au Ver a Soie – a sumptuous flat filament silk that's very beautiful, has a high sheen, and takes some getting used to work with. I'm using the color "creme." It's not stark white, but it's not got any yellowy hints of ivory, either. I'd call it a subtle egg-shell white … or I might just call it "creme."
Surface Satin Stitch
The threads of silk are laid, rather than stitched satin-stitch style. This is called "surface satin stitch" and you can read more about using it as a filling for this project here. That is, the needle comes to the front of the fabric at the beginning of the stitch, goes down into the fabric a stitch length away, and then comes up immediately to the side of where the previous stitch ended, then down right next to where the previous stitch began. This type of covering does not leave a long thread across the back of the fabric. There are two good reasons to work the silk this way: 1. it conserves the thread; 2. it avoids long stitches across the back that can snag on things or loosen up over time.
I'm filling the background of the design vertically. It's important to keep the silk threads parallel to each other and straight. To do this, when I come to an area where I have to travel quite a distance with the thread and I don't have another stitch right next door to judge the placement of my current stitch, I stretch the silk beyond the place where the stitch will end (you can see the silk stretching into the top of the photo up there), and then I stick my needle into the fabric where the silk intersects the design line.
Nice sheen, eh? What a thread!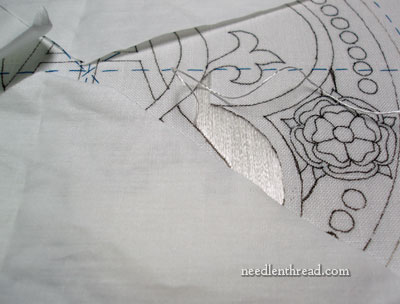 Remember the built in cover that I basted over the project? This part of the stitching is exactly why I did that. More than any other part of this project, this flat silk needs to be protected. It is so easy to snag it accidentally. I wanted something I could immediately fold down to cover the flat silk as it filled.
Even when working with a floor stand and frame – so that you have both hands free – don't rest your hands on the surface of your project! I keep my hands above my work. If I'm stitching for long bouts at a time and I need to rest my arm, I don't rest it on the surface of my work. I rest it on the edge of the table, on the edge of the frame, or in my lap when the hand isn't in use. Allowing hands or arms to rub over the surface fabric can be detrimental to good results. Besides displacement or pilling of threads or transfer of skin oil to the project, it can also ruin the tension in your frame without your really noticing it. Always better not to touch the surface of your work with your arms or hands.
You could never fill a large area with this kind of silk and just leave it there, exposed, with nothing holding it down. And this is where the gold comes in! The gold vermicelli work serves two purposes: 1. It's pretty! It's decorative and rich – it adds an incredible subtle gleam to the background (I probably don't have to sell you on this point!); 2. It secures the flat silk.
I'm using a very tiny, beautiful gold thread called Elizabethan Twist. It's a 2%, 2-ply gold thread, and it's tiny and delicate and beautiful. The twist adds a glimmer or sparkle to the thread, because the two threads twisted together catch the light differently than a plain single gold thread would.
Depending on the angle from which you view the gold, it really gleams. It makes the whole background subtly gold.
Since I've overstayed my welcome today, I save the details on vermicelli goldwork until next time. I'll also show you a lot more filling, so that you can get a real sense of what the gold thread will look like in relation to the whole project.
Any questions, comments, ideas, musings? Feel free to leave a comment below!
If you'd like access to all the tips and techniques discussed in the Medallion Project, including complete step-by-step coverage of the Tudor-Style Rose, conveniently collected in one document, interlinked, referenced, and indexed, why not add the Marian Medallion Project e-book to your library? It's packed full of all kinds of embroidery tips for undertaking a project like this, all in a convenient electronic format for easy searching.