Goldwork can be done with silver threads. In such cases, it's often called "metal thread embroidery." But I'm not persnickety – I just call it goldwork. Yes, even when it's done with silver.
Here's a silver thread I'm fiddling with these days. It's a three-ply silver twist.
Ain't it perty? And I'm not a great lover of silver under normal circumstances. But it's a beautiful thread – photos just don't do it justice.
How to describe it? The plies are somewhat like a passing thread, but not. They're somewhat like a Japanese gold thread, but not. The wraps are flat and less wiry than a passing thread. They feel more like a Japanese thread. The core is white (appropriately, since it's a silver thread) and quite soft and flexible, making it a very supple thread.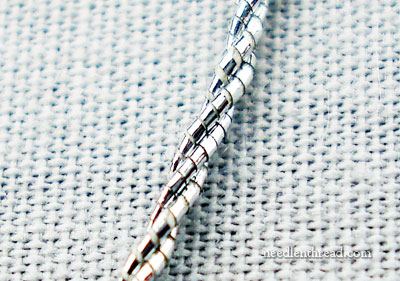 The three plies are twisted "just right" – not tight (so it's not like a braid or stiffer cord), but not too loose, either.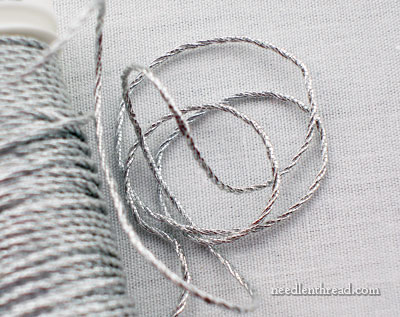 Yes. Supple! That's what I would call it. Supple.
Supple Silver.
It's also a rather fine twist – but not super fine. It will make a very visible line, but not a heavy line.
This is a perfect twisted thread for couching lines and tendrils and curls and such.
I'm playing with the silver twist in combination with a blue-blue suede, white silk, silver spangles, tiny silver passing thread, and tiny white beads. I'll give you three guesses what I'm trying to stitch up with that combination of goods.
Do you need a hint?
Here's one: "Oh the weather outside is frightful…"
I'll show you what I work up as I go. The first step – coming up with a proper design that will show off the thread in all its silver glory. When the thread's available on the market, I'll let you know where you can find it. If you've been looking for the perfect silver thread, keep an eye out for that information in the hopefully-not-too-distant future!