When I posted this leafy corner for a hand embroidery design, folks seemed to like the fact that it is a continuous line drawing. Designs like this made from a continuous, unbroken line can be used in all kinds of applications – they work great as hand embroidery designs, of course, but they can also be used for quilting patterns, braid work (soutache embroidery), tambour work, and all kinds of other crafting purposes, such as card-making, scrapbooking, and the like. Really, the possibilities are limited only by your imagination!
Today's free hand embroidery pattern, from an old book published over 100 years ago, evokes the idea of a Christmas tree, thanks to its triangular shape, but it can also be used as an autumnal design. The leaf elements are quite fall-ish.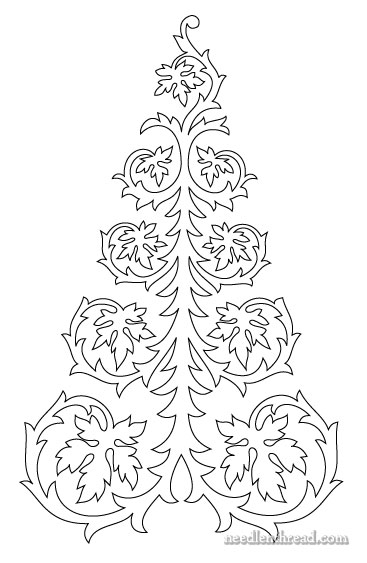 When I first saw this line drawing, I fell in love with it! I really like the shape, and I love the incorporation of the leaves. Unfortunately, in the copy of the book that I have, the design is skewed – it is not only off-center, but it slopes downwards to the right. I decided to clean it up for ease of printing, and while I was at it, I straightened it out significantly. My original plan (this was a couple years ago!) was to use it on the ends of a table linen for an autumn table. I thought the design would look particularly pretty, couched over with a fine golden cord, on a Thanksgiving table.
Though I never used it, you might! And so, here it is…
Free Hand Embroidery Pattern: Tree with Leaves (PDF)
You can easily resize the design on a photocopier or your printer.
You can find plenty more free hand embroidery patterns right here on Needle 'n Thread, if you're itching for something to stitch.
I hope you enjoy it! Feel free to share the design with your quilting buddies or your paper crafting friends, who might find a use for it, too!
Looking for inspiration & information on hand embroidery?
There are all kinds of reasons to sign up for the Needle 'n Thread daily newsletter! Check them out and sign up today!