Oh dear.
I promise this isn't shameless self-promotion here. There's nothing about this book that has to do with me, except for the fact that I love the book…and the fact that my name is on the cover.
There's a new edition to Beginner's Guide to Goldwork by Ruth Chamberlin out. I wrote the foreward. Why? Because I love the book!
I reviewed Beginner's Guide to Goldwork a long time ago, way back in 2007. It became hard to find for a while, and now it's been re-issued – a great boon to embroiderers everywhere, because now the book is widely available again, and affordably so!
There are many reasons why this book nestles deep within the cockles of my heart, but there's one reason in particular. I'll share that with you today, because if you're anything like me when it comes to your embroidery journey, you'll understand!
Besides the book being a practical instructional guide, and besides the book housing some really stunning goldwork embroidery, and besides the book featuring a drop-dead-gorgeous silk and gold embroidery sampler to work – all of these being good reasons for loving the book and wanting it on your shelf – there's a much Bigger Reason that I love it.
To understand the reason, you have to come back with me to the very beginning of my interest in the art of embroidery.
Rewind to the first half of the 1990's. I was in college. I saw stuff at museums. Goldwork. Silk. Magnificent embroideries. And I saw stuff in books, too. Mostly in old books. Sometimes, old stuff in new books.
I wanted to know about that stuff. I wanted to know how it was made. I wanted to know who made it. I wanted to know where all the people are who make the same stuff today! I wanted to know where to find the threads. I wanted to know … ! Well, I wanted to know everything I could wrap my brain around about this gold embroidery that I saw in these old books, in these history of art books, in these museum exhibits.
But you know, back in the 1990's – sooooo verrrrry loooooong ago – we didn't have easy access to the internet as we know it today. Instead, we had these buildings called libraries, that you actually walk into with your legs, and these buildings had these things in them called books.
And the research you could do in those libraries was limited in many ways. The most obvious limitation was that the library that you had easy access to was usually limited in their collections to topics that were pertinent to the patrons of the libraries. To actually find one particular book on goldwork in the 1990's in a college library in Kansas – or even in a public library – was nigh on impossible.
Enter: the interlibrary loan. I was able to get my hands on some books, but nothing that told me about the art of goldwork embroidery today.
And heck, I was in Kansas. No offense, Kansas. But cross stitch and quilting just didn't do it for me, and that's all you offered!
But I did what I could, collecting books, visiting used bookstores (we have some good ones out here), putting my name on search lists and want lists through those bookstores. And eventually, I amassed my own little collection of old books.
I began dabbling with needle and thread, using supplies that I could get ahold of locally, because I really didn't know anything about how or where to find fine embroidery supplies.
The results of my first trials at "goldwork," with cotton floss and metallic threads, were a bit underwhelming, to say the least!
In any case, during that same time, my sister subscribed to a new Australian needlework publication (called Inspirations Magazine!), and it was actually through Inspirations that I started to learn something about fine embroidery, about what I would call the art of embroidery. I also discovered that there were places you could get ahold of something other than cotton floss and metallic thread.
The years went by, and I learned stuff. And I collected more books. And I played around with my needle and thread.
But I was forever intimidated by goldwork embroidery. No matter the publication, no matter the book, it always seemed to me that goldwork (and the often-connected silk embroidery that comes along with it) was placed on a pedestal.
In practically every publication that I had access to, goldwork came across as the Inaccessible Height of the Art of Embroidery, only for Those Who Scale the Mountain and are Endowed by the Gods with The Gift.
And deep pockets.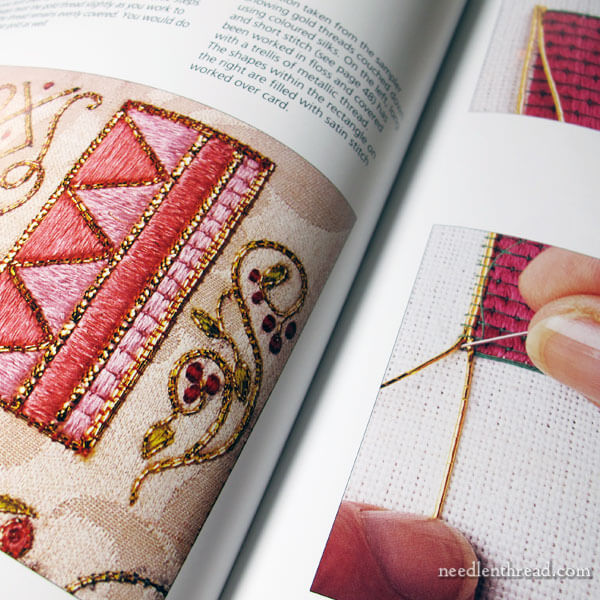 And it wasn't until I had Ruth Chamberlin's book in my hands one day – in 2007! – that I realized that my impression of goldwork – and the "intimidation factor" that hovered around goldwork – was all just bunkum.
See, goldwork is just a matter of stitching. And if you can take your needle and thread up into fabric and put it down into fabric, you can do goldwork!
Beautiful, real goldwork.
And that's what this book taught me. Not to be intimidated by goldwork. It isn't just for the Specially Endowed, the Ones who Climb the Mountain. It's accessible to anyone who has an interest in pursuing it.
And this is why Ruth Chamberlin's Beginner's Guide to Goldwork nestles deep in the cockles of my heart! And this is why I was happy and honored to write the forward for the new edition.
Where to Find It
If you'd like to add Beginner's Guide to Goldwork to your needlework library – and I think you should, if you have the slightest interest in goldwork embroidery – you can find the new edition through the following book affiliates:
In the US, you can find Beginner's Guide to Goldwork here for pre-order, through Amazon.
Worldwide with free shipping, it's available here now, through Book Depository.
It's a beautiful book. It's full of instruction. It will show you the wonders of goldwork and it will teach you – like it did me – that goldwork is accessible to anyone who has an interest in it!