Rummaging through stash stuff this afternoon, I tried to figure out what would make a good, coherent collection for a little stash-giveaway. For those of you new to the concept, each month, I give away a little package from my collection of needlework goods, in an effort to reduce my stash (ha!) and just … well, for the fun of it, to give readers the opportunity to play around with new threads, stitches, techniques, fabrics, or whathaveyou. I decided to stick with something simple, but fun.
The contents of the package this month include a white kitchen towel awaiting your embellishment, four colors of perle cotton #5, an English needle (crewel size 1), and a book – the old Anchor freestyle embroidery book.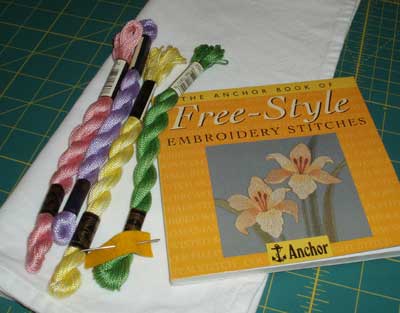 For advanced embroiderers, this might seem a mundane package, but you know what? I like the simple, fun embroidery that comes with these types of threads, a blank towel, and some new stitches and patterns from a good book. This brings embroidery to the level of ultimate relaxation for me, and the product is always something that is thoughtful, colorful, and fun as a gift.
It's true that the least exciting thing in the package is probably the needle, but by including it, you're saved a trip out, if you want to start a project right away and you don't have the right sized needle on hand!
I stuck with some brightly colored, pretty perle cottons – three are DMC, the purple is Anchor. This will give you the opportunity to feel the difference between the DMC thread and the Anchor – there is one, you know! The Anchor perle feels "dry" to me, compared to the DMC. It seems a little less soft, too. But it stitches really well! They both do.
The towel is a 100% cotton white kitchen towel. It has a tag across one corner for hanging.
The best part is the book, of course. I like this Anchor book better than the new one. This is the "old" version, which has since been republished by Anchor. In the book, you'll find stitch diagrams for a variety of stitches, and next to each new stitch, you'll find a picture of a stitched piece utilizing the stitch featured in the diagram. This is always a great feature – it's nice to see the finished stitch in a real embroidered work. The photos of the pieces featuring the stitch are also echoed in the patterns provided in the back of the book – and there are a lot of nice little, clear patterns that can be traced onto the towel (or anything else you want to embellish!).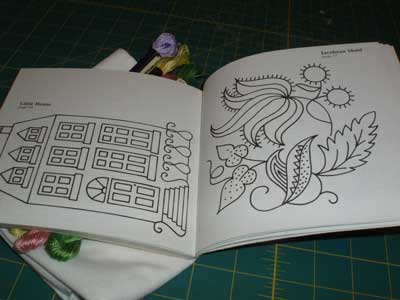 The patterns provided are in bold lines, easy for tracing, and they're mostly what I'd call "fun" patterns, that you can mix your stitches on.
And, conveniently, this is a little book – it's not a full-sized book, which means it will fit in my shipping envelopes!
So that's the give-away for July… and this is what YOU have to do!
Leave a comment below, answering the following question:
What's your favorite embroidery stitch and WHY? You can also include any tricks you have for working the stitch, that make it easier or give it a better finish. That way, everyone can learn something from your comments!
On Wednesday, July 30th, the contest ends. I'll draw a name Thursday morning and post the winner, at which time the winner can contact me with a shipping address. Overseas readers are welcome to join – if you win, I'll mail the parcel the least expensive air mail option!
So – answer away!
And even if you're not so keen on perle cotton or kitchen towels or needles or small books – think of it as an opportunity to get a postcard from me! Chuckle, chuckle….