Needlework tools and accessories are my One Weakness. I like any tool that helps the embroiderer in some way, whether it makes the embroidery process more delightful, or keeps the embroiderer more organized, or dispels confusion.
Needle I.D. Cards fall into a tool of the latter category: they help dispel confusion. And besides that, they're just nifty little things to have on hand.
Today, I'd like to show them to you. They're a new product, they're quite darling, and if you're good and you read the whole article, I'll even give you the opportunity to win a set for yourself.
This is a set of Needle I.D. Cards. They're sturdy, thick plastic-like cards devoted to needles commonly used by the hand stitcher. There are six cards in the set, covering seven types of needles: chenille, milliner, betweens, sharps, tapestry, and English crewel and French crewel embroidery needles.
Each card has the sizes and shape of the that card's needle illustrated on the front.
On the back is a description of the needle and what it is used for, along with a pleasant little blurb from Needle History.
While the outer edge of each card may seem merely decorative, in fact, it is useful, too. The lower edge of each card is measured off in 10 mm spaces…
… and the upper outer edge is measured off in 1/4″ spaces. The edges are hard and smooth, so they can be used for a small straight-edge in a pinch.
The usefulness of the Needle ID Cards can be especially seen when you apply a needle to them. Here, I have a #7 English crewel needle, and I laid it on the image of the size 7 needle on the English crewel needle ID card. Perfect fit!
Why is this so handy?
Well, here, I have two unidentified needles stuck in a piece of felt. I can tell by their shape and the sharpness of their point that they are chenille needles. If I didn't already know what a chenille needle is, I could look at the descriptions of the needles and the images until I found one that matched the unidentified needle. I placed the needle on the card, and found a match in size – it's a 22 chenille needle.
And the second unidentified needle is a size 20 chenille needle. And now both needles are identified!
All six cards fit nice and neatly into this heavy plastic folder…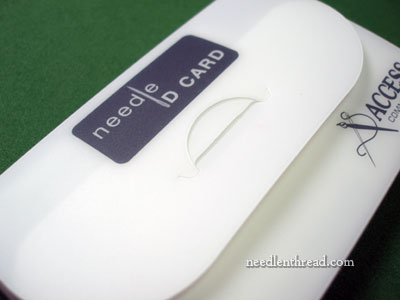 … which folds up and closes securely over the cards.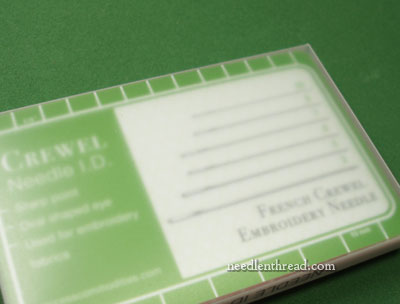 The outside of the folder is slightly opaque so that the bright colors of the cards show through.
And… the icing on the cake… the whole pack is just barely larger than a business card! Perfect for stowing in your workbox and easily toting around with your embroidery stuff!
I think these Needle ID Cards are really cute. I know that sounds like a strange word for something that almost seems entirely utilitarian, but the whole little package is compact, well made, colorful, informative, and fun.
And on top of being cute, they're smart. Fun. Cute. Smart. Neat.
I think they'd be handy for any stitcher. I can see them being useful as an on-hand needle guide in needlework classes, too. But the first thing that popped into my mind when I saw them: Gifts! I immediately thought of these making perfect door prizes for guild parties, or the perfect "little something" to give a stitching friend on a birthday or special occasion.
You can purchase the set of Needle ID Cards from any needlework shop that carries items from Access Commodities. If your local needlework shop doesn't carry them, they should be able to order them for you – just ask! Online, try Needle in a Haystack (scroll to the end of the page, under storage and identification), and other purveyors of fine needlework supplies. If they don't have them in stock yet, or haven't heard of them, ask for them!
Needle ID Cards Give-Away
Update Saturday, July 7: The Give-Away is Now Closed. Thanks for participating!
Today, courtesy of Access Commodities, I'm going to go with the "gift" angle, and give four of you the opportunity to win your own little set of Needle ID Cards.
If you'd like to win a set for you (or to give to a stitching friend as the Perfect Little Stitch-Related Something), please read the following give-away guidelines:
1. Leave a comment below. To be eligible, the comment must be left at the end of this article on today's blog post, on the website. This link will take you directly to the comment form, to help eliminate any confusion about where to leave your comment. Comments left on other blog posts, sent via e-mail, or via reply to the daily newsletter will not be eligible.
2. In your comment, please answer the following question:
What's your favorite needle-related item among your needlework tools? (Do you have special container, magnet, needle holder, needlebook, piece of felt, etc…? Or if you don't have a specific tool that's related to needles, how about telling us what your favorite needles are – brand and type?)
3. Please make sure you leave an identifiable name with your comment, either in the "name" line, or in the comment box. If your name happens to be Charlie, for example, you might want to further identify yourself with your location (Charlie in Poughkeepsie) or something to that effect.
Leave your comment by Saturday, July 7th, by 5:00 am CST (Kansas, USA). I'll draw for the four winners on Saturday and let you know who they are. Winners will need to contact me with their mailing address, so make sure you check back to see if you're one of the winners.
Comment away! And remember: your odds of winning this give-away are much better than your odds of winning the lottery.
I'm looking forward to reading your comments!