I can't help it. I love this piece of old goldwork embroidery on velvet! And I want to show it to you!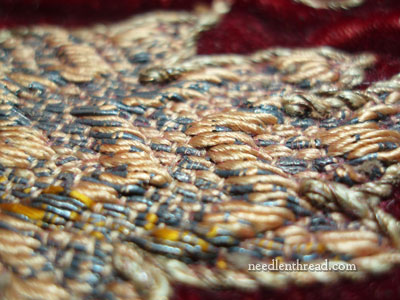 The funny thing is, I didn't start loving it truly until I started looking at it closely. The more I look at it, the more I love it! And the more I look at it, the more I think about it and want to know more about it.
Before talking nitty-gritty details, I just want to show the piece to you and point out things that are noticeable about it on the first approach. If you have any questions about it, or you have any input on it, you are welcome to join into the discuss by leaving a comment. Maybe your questions can prompt me to explore the piece in directions I wouldn't have thought of!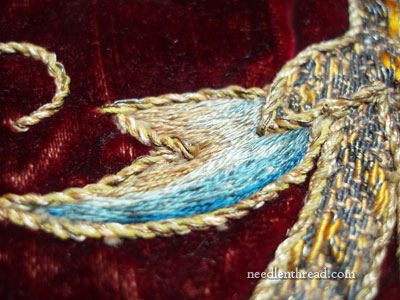 I don't know how old this piece is, and I don't know anything about the history of it.
I do know that all the goldwork threads are now a blue-ish grey, but most of the silk threads still retain their color, though perhaps not as vivid as their original color.
I know that the piece contains many well-executed examples of couched goldwork threads. I know that it doesn't feature any purl, bullion, chip work, or the like. All the metal threads are couched, even in areas where chip work with purl or bullion would have made sense.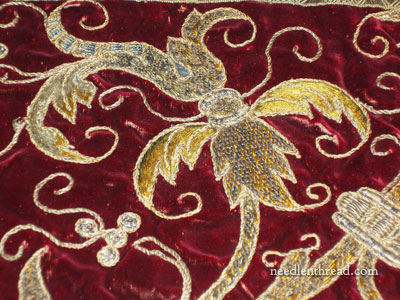 I know that, although all the threads are couched, they aren't all the same kinds of threads or the same couching techniques. Several types of metal threads have been couched in myriad ways to create contrast, texture, and interest.
And I know that, if the goldwork threads were intact now, the piece would be a-dazzle with the gleam and glitter caused by those various techniques reflecting light in different ways. The piece, in its original state, must have been sumptuous.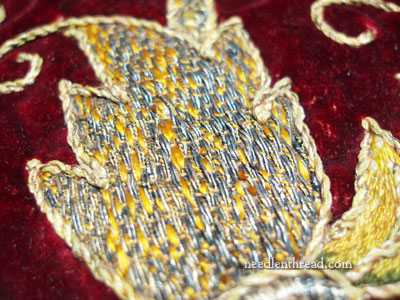 I also know that the cores of the various couched threads are silk, and that the core threads are different colors. There are bright yellow cores, pale peaches, soft greens. These are the cores of gold passing threads, rococco, and the like – the cores would not normally have been exposed, except for the age and wear on the piece. But in their exposure, a different type of beauty is revealed.
What else does a first encounter reveal about the piece? (You can click on that photo above for a slightly larger version.)
That it was (most sadly!) cut from a larger piece. It looks like a side panel or front panel of some larger textile – maybe a fancy sideboard cloth, or an altar covering, or a canopy, or something. The cut is right across the top of the piece, above the gold braid. (I since discovered it was the decorative valance on a "half tester" bed – probably 15th / 16th century or thereabouts.)
That it is trimmed with fringe made from real metal threads.
That is is very heavy for a relatively small piece (10″ x 27″).
That the design used was drawn to fit within the size of that portion of whatever larger thing the piece comes from. The embroidery hasn't been salvaged from something else and adjusted to fill up that space – it actually was drawn to fit the space and embroidered within that space.
So that's what I know about the piece after a first overview.
Does the piece prompt any questions in you? If you were looking at it up close, what would you want to find out about it? What would you want your examinations to reveal to you? Feel free to ask away, and I'll do the poking and prodding to see if I can find some answers!