If you're a fan of goldwork and silk embroidery, or if it's something you've seen and wanted to try, but didn't know how to go about starting, then this is the book for you! Beginner's Guide to Goldwork by Ruth Chamberline (published by Search Press) is a magnificent instructional book on basic goldwork techniques and silk stitching.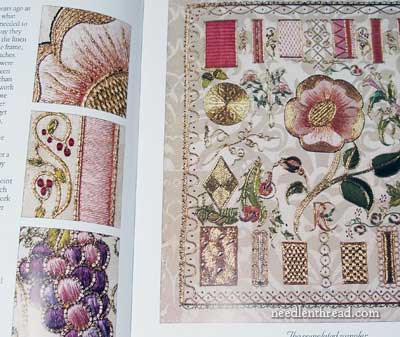 Published in December of 2006, Beginner's Guide to Goldwork is a practical guide not only for the newcomer, but also for the experienced embroiderer. Ruth's book is full of magnificent color photos of gorgeous goldwork projects – they are a real source of inspiration for any needleworker. But better than that, the step-by-step instructions are all illustrated. All kinds of goldwork techniques from simple couching to Or Nué, as well as embroidery techniques such as shading (in long and short stitch), as all worked out right before your eyes in great photo tutorials.
I've got quite a collection of goldwork books, and when I first saw that this one was coming out, I thought it would be "just another book" with the same stuff in it. But when it arrived in the mail, I couldn't put it down until I'd read through the whole book and examined every photo. I concluded that I really like this book!
The goldwork part of this book primarily concentrates on couched goldwork threads, like passing threads and so forth. The author shows you all kinds of methods of couching, to achieve different effects in your goldwork. The instruction is given by walking the embroiderer through a beautiful goldwork and silk sampler, so it's a great way to get introduced to metal thread embroidery and to enjoy making a really pretty sampler!
It's hard to say what I like best about the book. I can appreciate the instructions (including photos) on setting up a project, choosing threads, transferring the design, starting and ending threads – all those details that, when I first started stitching, I had no idea about, but which make a finished project so much more professional. All the details are here, mapped out perfectly for the beginner. But I think, overall, I like the author's direct approach and clear explanations. And, of course, the lavish photos, which are all close-up enough to see the details and get the gist of the techniques used.
If you're a fan of goldwork and silk embroidery – or of needlework in general – I think you'll like having this book in your library.
Where to Find It
You can find Beginner's Guide to Goldwork through the following book affiliates:
In the US, Beginner's Guide to Goldwork is available here through Amazon.
Those outside the US might opt to order Beginner's Guide to Goldwork through Book Depository, where you get free world-wide shipping.