Sometimes, it's hard to make a decision about what embroidery or needlework book to buy, so in my needlework book reviews, I try to give you enough information to make an informed decision so that you're not disappointed. There's nothing worse than getting all excited about a new embroidery book, then getting it and finding it lacking!
If you're looking for an embroidery stitch dictionary – one of those handy reference books on how to do this stitch or that – here's a review for The Embroidery Stitch Bible.
You can be assured, when I review an embroidery book, that it's a book I own. I try to give the pros and cons of the book, and specify what's different about it that makes it especially useful to the embroiderer.
The Embroidery Stitch Bible has several great features, the primary one being a section at the front of the book called the "Stitch Selector." This is a pictorial guide to each stitch in the book. If you don't know the name of a stitch, you can browse through the Stitch Selector to identify it.
In the Stitch Selector section, you get little photos of each stitch as it really looks – it is worked, not just sketched. The stitches are arranged by types – satin stitches, couching stitches, laid filling stitches, and so forth.
Set in each little picture is the reference number for the embroidery stitch so that you can flip right to the instructions.
Each category of stitching is pretty thoroughly covered, as you can see by this page of the Stitch Selector showing drawn thread stitches.
This pictorial "table of contents" at the front of the book is perhaps my favorite feature of the book!
When you want to learn a stitch, there are three aspects to each instructional page or spread of pages in the Embroidery Stitch Bible: 1. a photo of the stitch worked in several variations; 2. a chart of how to work the stitch (this is a drawn diagram); and 3. text that takes you through the stitch and some variations step-by-step.
Techniques besides strictly "embroidery" are covered, such as sewing on sequins and other embellishments.
You can see here on the bullion knot page the three elements of instruction – at the top, the photo of the real stitching, then the diagrams (there are two two-part diagrams), and then the text. You can also see the variation on the stitch, which, in this case, is a bullion rose.
The one element that some may consider a "disadvantage" to this book is that the stitches are demonstrated in drawn diagrams, often in two diagrams, but sometimes only in one diagram. Compared to other books such as the A-Z series on Embroidery published by Country Bumpkin, or their Embroiderer's Handbook, this can be seen as a bit chintzy in a way. Country Bumpkin generally gives you a step-by-step series of photographs of each stitch as it is being worked. But in a book that covers over 200 stitches (as the Embroidery Stitch Bible does), it would be quite a feat to fit that many stitches into one book with step-by-step photos!
So you have to weigh what you want: a lot of stitches, with a visual representation of the actual stitch worked and a diagram to show you how, OR fewer stitches, with step-by-step photos of the stitch in progress.
A word on diagrams: in this book, I think they're pretty clear. In some older pamphlets for embroidery, or in older books, the diagrams are not as well done, so don't judge "diagrams" in general by older publications. The diagrams here are clear, and if you are even just a little bit familiar with embroidery, you shouldn't have too much of a problem working them out.
Another nice feature: most embroidery books begin with a section on basic materials and setting up a piece of embroidery. This book does, too. But most books don't include finishing tips. You will find a short section on basic finishing tips in the back of the Embroidery Stitch Bible. They are illustrated, not photographed, but still very clear.
This, to me, is one of the finest features of any how-to book, whether it's needlework or any other craft: a spiral binding! I wish publishers would take this aspect into consideration more often! When you're teaching yourself from a book, it's great to have a book that rests flat on the table! So the spiral binding on the Stitch Bible is a huge plus!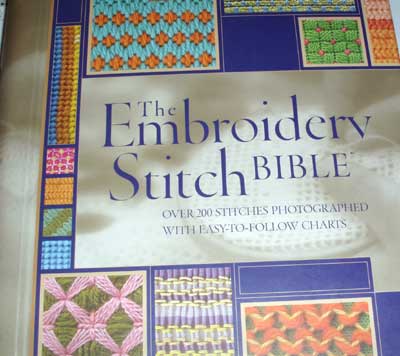 I like the cover, but don't let the background photo or the majority of stitches on the front throw you off – it looks like it focuses primarily on canvas or counted work. It's not the case, really. Yes, canvas work is covered. But so is everything else!
I like this little book, and I think it's an excellent reference for beginners and beyond. It's small enough to be easily portable, it's well-made, and thorough.
Where to Find It
Update, 2021 – there's a new edition out!
You can find the (new edition of) Embroidery Stitch Bible through the following book affiliates:
In the US, Embroidery Stitch Bible is available here through Amazon.
Worldwide with free shipping, Embroidery Stitch Bible is available here through Book Depository.
This article contains affiliate links to book sources, which means that Needle 'n Thread receives a small commission for any books purchased through those links, at no extra expense to you. Thanks!