The Mountmellick embroidery stitch is a decorative line stitch made of up little triangle-like stitches that join together like chain stitches. It's a simple stitch to work, once you get the rhythm of it down, and it's very pretty. It works well on lines and curves.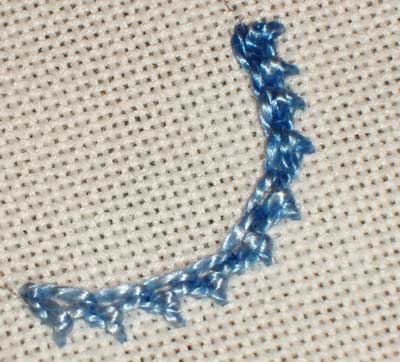 The Mountmellick stitch is named after Mountmellick embroidery, a form of whitework originating in Ireland. Mountmellick embroidery is traditionally worked on cotton sateen, a heavier cotton fabric with a nice sheen. The stitches are worked in a matte cotton thread, which contrasts with the sheen of the fabric. What characterizes Mountmellick embroidery, besides the fabric and threads, is the textured nature of the whitework. The motifs are generally taken from nature (leaves, vines, berries, flowers, etc.), and are worked in different types of textured stitches, with a good splash of satin stitching as well. For more information, you can read my previous article on Mountmellick embroidery.
Mountmellick stitch is not relegated just to Mountmellick embroidery, though. It can be used in all kinds of surface embroidery. It looks really nice in crewel work, with wool threads. It can be used to decorate crazy quilt seams. It can be used as a border stitch, and it can even be used for monogramming and the like. It's one of those versatile stitches that is really fun to play with! In the photo above, I've mirrored two lines of Mountmellick stitch to create a decorative band. You could build on that band by adding other stitches to the outside of it, or even along the inside corridor between the two rows.
Mountmellick stitch works well all types of thread.
Here's the Mountmellick Stitch Video:
Do you want more inspiration & information on hand embroidery?
There are all kinds of reasons to sign up for the Needle 'n Thread daily newsletter! Check them out and sign up today!
Feel free to check out my whole collection of hand embroidery how-to videos here on Needle 'n Thread!
If you like what you see on Needle 'n Thread, if you want to be a part of keeping the website thriving (and free of annoying network advertising), why not become a patron on Patreon? Check out my Patreon page here, where I'll occasionally add special needlework bonuses for patrons.
If you shop on Amazon, you can support Needle 'n Thread without any extra expense to you by visiting my Amazon Recommendations page here, where you'll find books and sundries for the needleworker available on Amazon.