The chain stitch is a versatile hand embroidery stitch that can be used to outline and to fill spaces. It's a fun stitch to work, and always looks great!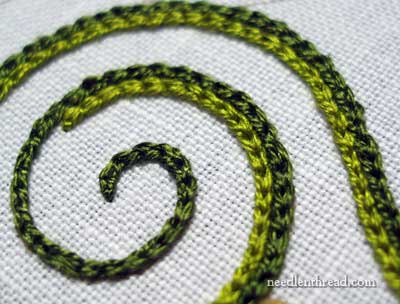 The chain stitch is probably one of the most common embroidery stitches, and adapted to all different techniques, even lace making. The chain stitch works very easily around curves, in lines, or in large spaces for filling.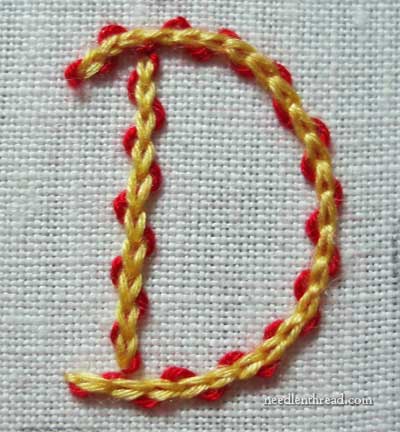 For fun and colorful effects, you can lace the chain stitch with another colored thread, as in the photo above (which comes from my Hand Embroidered Lettering Lessons).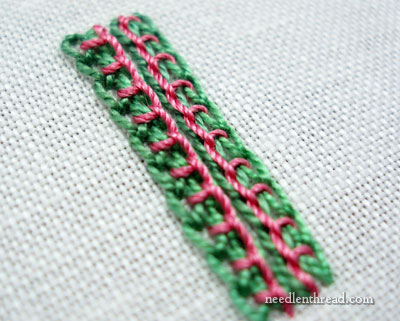 What else can you do with chain stitch? You can combine it with other stitches, as I've done in this combination of chain stitch and buttonhole stitch. Lots & lots of possibilities with chain stitch!
There are many variations on the stitch – heavy chain stitch, cable chain stitch, raised chain stitch band, checkered chain stitch, rosette chain stitch, double chain stitch, crested chain stitch – and many more! Once the basic stitch is mastered, the rest is easy!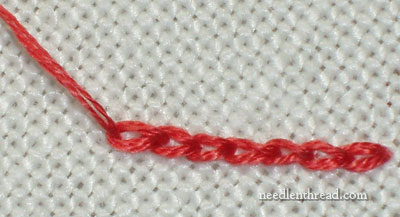 This is what the basic stitch looks like. It forms a line of interlocking loops.
In the video, I demonstrate two methods of working the chain stitch: the "stab" method, in which you take your working hand to the back of the fabric to pull your needle through, and the "sewing" method, in which you only work on the front of the fabric, "scooping" the fabric with the needle. The stab method works great if you're working on a tight frame or hoop. The sewing method works best when working "in hand" (without a frame or hoop).
After you view the video, you might want to take a look at these photo tutorials for further tips on chain stitch:
Working Chain Stitch in a Circle
Starting a New Thread with Chain Stitch
Stitch Play: Combining Chain Stitch & Buttonhole Stitch
Here's the video:
Enjoy!
You can find more How-To Videos for hand embroidery stitches here on Needle 'n Thread. Feel free to browse through them and add some fun stitches to your stitching repertoire!
Looking for inspiration & information on hand embroidery?
There are all kinds of reasons to sign up for the Needle 'n Thread daily newsletter! Check them out and sign up today!
If you like what you see on Needle 'n Thread, if you want to be a part of keeping the website thriving (and free of annoying network advertising), why not become a patron on Patreon? Check out my Patreon page here, where I'll occasionally add special needlework bonuses for patrons.
If you shop on Amazon, you can support Needle 'n Thread without any extra expense to you by visiting my Amazon Recommendations page here, where you'll find books and sundries for the needleworker available on Amazon.