The Cable Chain Stitch is one of the many, many variations of chain stitch – but this one differs a little bit from the rest, because it really does look like a real chain.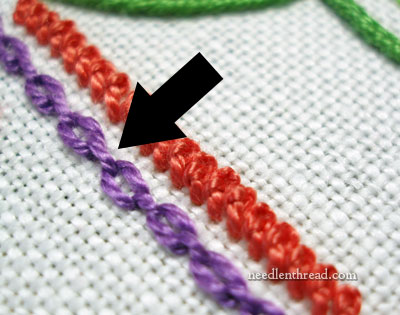 You can see in the photo above, worked in purple perle cotton, the cable chain stitch. The stitch is made up of round links (actually chain stitches) joined by small straight stitches.
The cable chain stitch can be worked practically anywhere a chain stitch can be worked along a line. It takes straight lines, curves, and tight curves well, though admittedly, it's a little more fiddly to work around tight curves.
Here's the video for the cable chain stitch. I hope you find it helpful!
If you're looking for more hand embroidery stitches, feel free to check out my collection of embroidery how-to videos here on Needle 'n Thread!
Looking for inspiration & information on hand embroidery?
There are all kinds of reasons to sign up for the Needle 'n Thread daily newsletter! Check them out and sign up today!
If you like what you see on Needle 'n Thread, if you want to be a part of keeping the website thriving (and free of annoying network advertising), why not become a patron on Patreon? Check out my Patreon page here, where I'll occasionally add special needlework bonuses for patrons.
If you shop on Amazon, you can support Needle 'n Thread without any extra expense to you by visiting my Amazon Recommendations page here, where you'll find books and sundries for the needleworker available on Amazon.