The crested chain stitch! It's pretty, it's fairly simple, and it's a neat little stitch to add to your repertoire!
What I like best about this stitch is that it can be made large or small, with just about any thread, on any fabric, and the look can be varied quite a bit, depending on how you work the stitch. You can use a heavier thread and increase the height of the stitch between the chain stitch and the top knot, and come up with something completely different looking when compared to the stitch worked small and compact with a finer thread. My favorite look of the stitch, though, is a bit more compact, used as an edge or border stitch.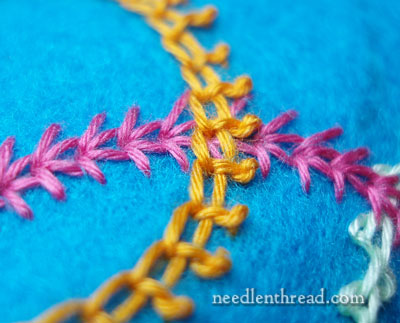 In the above photo, I worked the stitch with orange floche on a turquoise-blueish felt, and I kept the distance between the chain stitch and the knot on the crest of the stitch rather short, but still long enough to see the "bridge" between the knot and the chain stitch.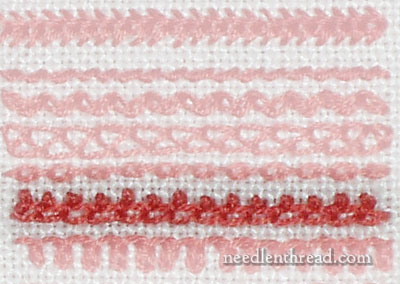 I also worked a short line of crested chain stitch on my spot sampler, using two strands of stranded cotton, and working the knot practically right on top of the chain. When you work the knot close to the chain, it looks a lot like a little line of picots sitting on top of chain stitches…. either that, or a little line of swimming ducks. (For some reason, that's what it reminds me of!)
The stitch makes a great border (as mentioned above), and looks good outlining anywhere you want a slightly textured line. It works well around tight curves, too – just like a chain stitch.
Here's the video:
I hope you like the stitch! If you have any inspiring ideas on how you would use it, feel free to leave a comment below!
Enjoy!
Looking for inspiration & information on hand embroidery?
There are all kinds of reasons to sign up for the Needle 'n Thread daily newsletter! Check them out and sign up today!
If you like what you see on Needle 'n Thread, if you want to be a part of keeping the website thriving (and free of annoying network advertising), why not become a patron on Patreon? Check out my Patreon page here, where I'll occasionally add special needlework bonuses for patrons.
If you shop on Amazon, you can support Needle 'n Thread without any extra expense to you by visiting my Amazon Recommendations page here, where you'll find books and sundries for the needleworker available on Amazon.