Here's a video tutorial for another hand embroidery stitch – the rosette chain stitch.
This is one of those embroidery stitches that I have always thought looks complicated in diagrams. It's a whole lot easier when you see someone work it!
The rosette chain stitch is much like the oyster stitch, but it's worked in a line, around curves, etc. The oyster stitch is more often seen individually.
You can curve this stitch really nicely around borders. You can work it close together, so that your line comes out looking like a tight, textured braiding, or you can space them out, to get a bumpy, scalloped-looking line. You can work it in circles: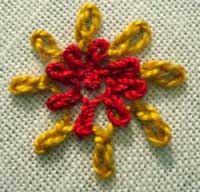 However you decide to work it, the rosette chain is a nice stitch – and once you get the hang of it, it's quick, too.
In the video, I'm using Trebizond (twisted silk). Perle cotton works great for this stitch, but really, you can use any thread – the finer the thread, the more delicate the effect.
For more embroidery stitch videos, please visit my collection of how-to videos for hand embroidery.
Have fun with it!
Looking for inspiration & information on hand embroidery?
There are all kinds of reasons to sign up for the Needle 'n Thread daily newsletter! Check them out and sign up today!
If you like what you see on Needle 'n Thread, if you want to be a part of keeping the website thriving (and free of annoying network advertising), why not become a patron on Patreon? Check out my Patreon page here, where I'll occasionally add special needlework bonuses for patrons.
If you shop on Amazon, you can support Needle 'n Thread without any extra expense to you by visiting my Amazon Recommendations page here, where you'll find books and sundries for the needleworker available on Amazon.