Today, I'm very excited to start a little series here on Needle 'n Thread that features some Hungarian designs suitable for embroidery and other artistic pursuits. There's a little background story here about the artist's legacy, so I'd like to share that with you, along with a pattern that has lots of possibilities for stitching.
First, the immediate history! Last autumn, I was contacted by Mike, a reader up in Canada, who told me the story of Lilly Baróthi Zathureczky, a Hungarian graphic artist who, from the 1930's until her death in the 1960's, designed patterns for needlework and other artistic endeavors. Mike asked if I would be interested in publishing some of her designs on Needle 'n Thread, with the hopes that the designs could be made public. I was very happy to oblige and to hear about the interesting lady behind the designs. Through the words of Guy Brassard (who has generously shared the story and Lilly's artistic legacy with us), here is Lilly's story:
Erzsébet Baróthi was born on 6 January, 1912, in Budapest, Hungary. She was christened Erzsébet [Elizabeth], but known by the diminutive "Lilly" throughout her life. Her parents were Károly Baróthi (1858-1942), a wealthy businessman and achitect, world traveller, and gifted artist, and his wife, Gizella (née Sztrókay) (1873-1944).

In 1938, Lilly married Kálmán Zathureczky (1906-1963), from an aristocratic Hungarian family, and they had two daughters, Piroska, born in 1939, and Pólina, born ca. 1942. In late 1944 or early 1945, Lilly and her two daughters fled from Hungary to a refugee camp in Reggio Emilia (Italy), to escape the ravages of World War II. Lilly's younger daughter Pólina died as a young child in Reggio Emilia (ca. 1945-1946). Lilly and her older daughter returned to Budapest ca. 1947.

In 1947 or 1948, Lilly's husband escaped from the Communist regime in Hungary, to Austria and subsequently to Canada, settling in Calgary. Lilly and her husband divorced, probably in the 1950's; he died in 1963, in New York. During the 1956 Hungarian Revolution, Lilly's daughter Piroska escaped to Austria (and subsequently also came to Canada), but Lilly had decided to remain in Hungary.

Lilly died in Budapest in 30 October, 1964, at age 52, after being hit by an automobile.

Lilly showed artistic talent by her early teens. Her father travelled widely, and in the early and mid 1930's, she accompanied him on several trips to parts of Europe and to the Canary Islands. By the early 1930's, she had also started accumulating a portfolio of graphic designs, mainly for use as embroidery patterns. She also took numerous photographs and did some watercolor paintings. Lilly continued designing even while at the refugee camp in Italy in the mid 1940's, and once she returned to Budapest, she became a professional graphic artist.

After Lilly's death, her portfolio and related materials were brought out of Hungary by her daughter Piroska, who returned for visits to Budapest in 1966 and 1970. Piroska married Guy Brassard in Canada in 1968, and died of encephalitis in 1974. She was the last descendant of Lilly and of her grandfather (Lilly's father), Károly Baróthi.

Lilly's portfolio consists of some 50 graphic designs (spanning the years 1931 – 1956) for Hungarian folk embroidery, along with transfers on vellum paper, and a few additional items: stained glass design (1928); painted silk bookmarks (1958); small watercolours (1925, 1956); and photographs (1930's and 1940's).
~ Guy Brassard, Ottawa, Ont., March 2011
Lilly's designs are quintessential folk embroidery designs, and they would obviously translate very well into the folk embroidery style seen in Hungarian needlework. I've reviewed a couple books on Hungarian folk embroidery lately – Nagyanyáink öröksege (Legacy of Our Grandmothers), and Korai Kalocsai Hímzések, both of which can give you a sense of the style and techniques used in Hungarian needlework.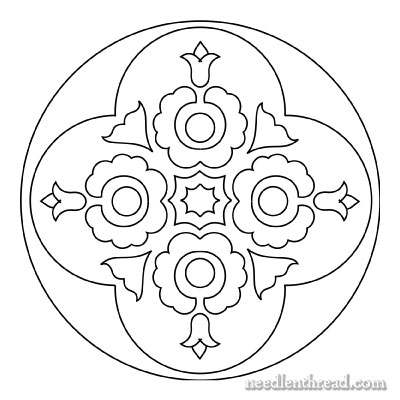 When you look at the line drawing of the design, you can see how it is definitely suitable for a wide variety of needlework techniques, and even for other craft uses. The design can be translated into Schwalm embroidery, for example, making use of areas of pulled thread embroidery for filling the different elements of the design. It could be translated into blackwork embroidery. It's even possible to picture the design worked in gold threads – a little fancier than its original folkishness, but still certainly doable. Other possibilities for use include paper crafts and card-making, toll painting, and wood craft.
Here's a PDF of the design for easy printing. I've titled the piece "Golden Circle" based on the golden circle that outlines the original painting. I'm not sure if Lilly would approve of the title, but I hope she would! Here's the PDF:
Hungarian Embroidery Design #1: Lilly's Legacy – Golden Circle (PDF). The design prints at 5″ x 5″, but it can be enlarged or reduced as desired.
I hope you enjoy it! Thanks very much to Guy Brassard and to Mike, for the privilege of sharing Lilly's Legacy with you!
Looking for inspiration & information on hand embroidery?
There are all kinds of reasons to sign up for the Needle 'n Thread daily newsletter! Check them out and sign up today!