It's always a good sign when twenty or more years can pass, and a needlework technique and instruction book is still in demand and relevant.
Needlelace: Designs and Techniques, Classic and Contemporary by Catherine Barley is just such a book. It was first published in 1993, and while you can still find copies of the book available through used book sources for a pretty penny, you can now buy a reprint of the book, new, directly from the author.
If you are interested in needlelace – or in its application to stumpwork embroidery projects, to historical needlework projects (think detached stitches in 17th century embroidery), to contemporary whitework – Catherine's book should be in your reference library.
It's "The Needlelace Book with the Strawberries on the Front." That's another sign that a needlework book is well-known and in demand, when you get emails from people saying, "Do you know where I can get that needlelace book with the strawberries on the front of it?" Or "Have you seen Catherine Barley's needlelace book? It's the one with the strawberries on the front…"
The reprint of the book is printed on good quality paper, and bound with wire, making it easy to keep open on the work table in front of you while you're learning from it.
What's in the Book?
The book is comprised of four parts: Traditional Techniques, Bridal Accessories, Contemporary Projects, and Patterns.
In the first section, Catherine teaches the reader three traditional needlelace techniques: Gros Point de Venise, Hollie Point, and Point de Gaze.
Don't think this is a very limited amount of information, just because it touches on only three types of needlelace! Any one type of needlelace is usually composed of many different elements, each element worked in different techniques, so each whole "type" of needlelace actually involves instruction in many different stitches, padding techniques, outlining techniques, edging techniques, and so forth.
In each technique section, you get an overview of the type of lace, with photos (often black and white) of examples of the lace so that you can recognize it when you see it.
Then, using diagrams, the author instructs on the various techniques used to construct this particular type of needlelace.
For each type of needlelace, a beginner's project is included, and Catherine takes the learner step-by-step through completing the project.
With the beginners project, the reader learns, in a logical, gradual progression, all the elements that comprise each type of lace. The project that unfolds in a way that is accessible to the absolute needlelace neophyte, which is nice, because needlelace can be a daunting subject.
Catherine makes it un-daunting. Have you ever seen stunning examples of antique needlelace and thought, "Oh my goodness – that is unbelievable – how did they every do that?" Well, If you progress through this book bit by bit, you'll find yourself saying, "Oh, I get it! And I can do That!"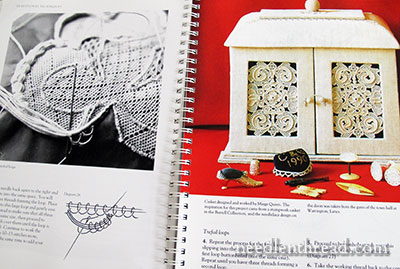 Throughout the book, too, there are great photos of finished items that incorporate needlelace. I found this really inspiring. How many times do we work up samples to learn techniques, and then have no idea what to do with them, beyond sliding them into a binder? You'll find several pictures throughout the book of finished items that generate good ideas for putting smaller samples (of needlelace or regular surface embroidery, even) to good use.
The section on Point de Gaze is my absolute favorite in the book, because this is a lace I love – it awes me every time I see examples of it. It is beautiful and captivating. The more you look at it, the more you see!
And again, through her explanations and through the projects with their clear diagrams, clear progress photos, and clear instructional text, Catherine makes even Point de Gaze accessible to the needlelace beginner.
The beginner projects are worked in a larger gauge than we would see on antique examples of Point de Gaze, but once you become proficient with the techniques involved, you can then scale down the designs and work them with finer threads.
Following the three types of needlelace, there's a great section on scrolls. The scroll is one of those design elements that figures pretty heavily in lace, and it's also just a pretty design element on its own, so Catherine devotes a good section to constructing scroll elements, and offers several scroll projects to give the learner some experience with scrolls.
Following the Traditional Techniques, there's a section on projects to use for bridal accessories, including a tissue purse and these little shoe rosettes.
And in the section on Contemporary Projects, you'll find the needlelace techniques learned in the earlier part of the book interpreted into more modern projects, all of which have a three-dimensional aspect to them.
So, again, if stumpwork is your thing, this is where you'll find nice examples of needlelace stitches worked on detached elements that can be built into three-dimensional embroidered objects.
I'm partial to the strawberries! I love the leaves and the buds – and that bee!
And at the end of the book, you'll find a section of patterns for the various projects in the book and for practicing the different types of needlelace.
In a Nutshell
If you're a needlelace, stumpwork, or whitework enthusiast, you'll want this book in your reference library! It's one of the best out there, especially when it comes to three things: 1. accessible instruction for the very beginner in needlelace; 2. inspiration for the novice; and 3. contemporary applications of needlelace techniques.
Where to Find It
The only place to find the reprint of Needlelace: Designs and Techniques, Classic and Contemporary is on Catherine Barley's website, where you'll find detailed instructions for ordering the book. Remember, the cost is in British pounds, so don't forget to calculate the currency exchange rate if you're not in Britain.
And while you're there, take time to browse! You'll find some beautiful examples of needlelace in her various galleries – like this piece, under Point de Gaze, which I think is such a lovely little sample – I love the inside filled area! Or this sweet, three-dimensional Point de Gaze butterfly. Pretty!