Have you ever been stuck in a situation where you wished you could whip out your embroidery and indulge in some stitching, but there just wasn't enough light to do it?
Think: airplanes, cars, trains, hotel rooms, lobbies, libraries, waiting rooms. Think: power outages.
I know if I don't have adequate light for embroidery, I just skip it. There's no point in straining to stitch – and subsequently stitching poorly – because I can't see my work well enough.
Sometimes, it's not feasible to travel with a full size light. Sometimes, you can't use a full size light, anyway.
There's a really easy, portable, affordable, and tiny solution for these types of situations. It's the clip-on mini light, often known as a book light.
I have a few different types of these types of lights. They get me out of all kinds of lighting binds when I want to stitch but can't use my normal light.
The light I'm going to show you today is from Mighty Bright. We'll talk about the light, see how it works, and discuss some pros and cons.
I'll also share a purchasing tip with you on how to avoid a dastardly marketing practice when shopping for mini book lights!
The type of lighting for embroidery that I'm talking about today is what I'd call temporary lighting. I wouldn't use these types of lights as your permanent lighting solution when you're stitching at home, but they're a great short-term solution in certain situations.
I've used these lights successfully for embroidery while staying in hotel rooms, in the car, on airplanes, in my living room during a power outage, and in situations where I didn't or couldn't have my regular embroidery lamp on. Some folks use them faithfully in embroidery classes and workshops, too.
An extra little boon: I can even take fairly decent photos of my embroidery progress while I'm using these lights. They light up the stitching that well!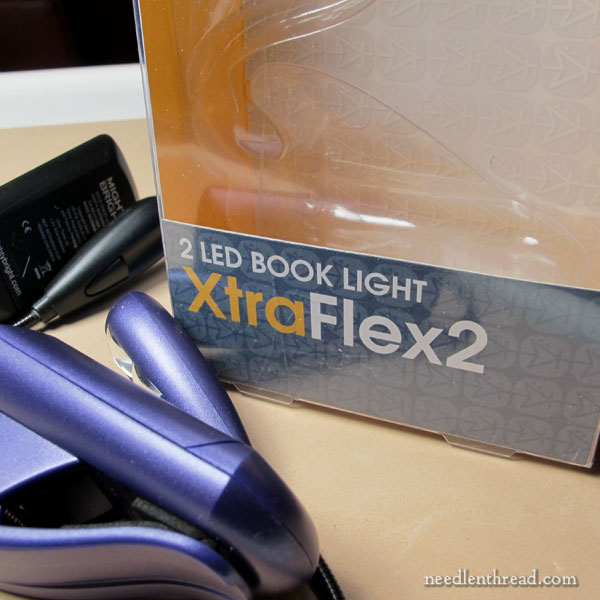 The light we're talking about today is the Mighty Bright XtraFlex2 Book Light.
It just so happens I have two of these – a black one and a purple one.
Light Overview
This is what the XtraFlex2 looks like: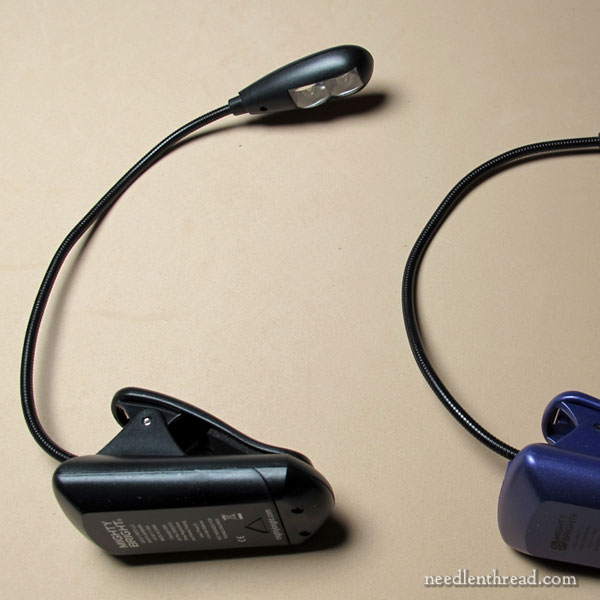 It has a base that accommodates 3 AAA batteries.
There's a clip mechanism on top of the base.
It has a short, very slim, very flexible goose neck, which is just about 7.5″ long, from where it comes out of the base, to the beginning of the lamp head.
It has a two-LED-bulb light at the end of the goose neck.
The lamp is usually battery operated (3 AAA batteries). Even with the batteries in, it's a relatively light little contraption.
The Lamp Head & Brightness
The lighting on this little thing is pretty darned bright!
The two-LED lamp head is turned on with a button on the back of the lamp head. One click (to turn the light on) turns it on to its brightest setting with both LED lights on.
A second click with turn one LED light off, and give you a slightly "dimmer" setting. The light's not any dimmer – there's just not as much of it!
Electrical Adapter
The back of the base features a jack input, so that you can use an adapter to power the light if you want.
Two things:
1. Apparently, you have to use a special adapter made for this light. It costs about half the price of the light itself. I somewhat doubt that you'd be restricted to purchasing only a special-made adapter, though. If you can find an adapter that matches the electrical specs for the light and the size of the jack, I don't see why it wouldn't work.
2. Any adapter you'd use for this would normally require a pretty long cord, and adapters are not, in general, known for having super-long cords. Think about it: are you always sitting right next to an electrical outlet when you're stitching? Probably not. And even if your chair is close to one, normally there's quite a distance between the outlet near the floor and your embroidery frame or hoop.
If I'm trying to use this light with an adapter in my living room, it's pretty much out of the question. I can use an extension cord, but the cord just pulls on the light, anyway, making it awkward and unstable.
The only time I've found the adapter useful is when I'm in a hotel room at the table, and the light on the table has a plug at the base. In cases like that, the adapter has come in handy to save battery usage.
Battery Life
The batteries are just regular AAA batteries. I haven't timed how many hours they last, but it seems to me that I've used mine for at least 8 hours so far, since the last time I put new batteries in, and they're still going.
I've heard the batteries last even longer if you're not using the brightest setting with the two lights. I haven't tried that, but so far, the battery usage hasn't been too devastating.
The Base & the Clip
When it comes to a clip-on lamp, there are two things that are really important – the light and the clip. If the clip doesn't work well, who cares how good the light is? If the light doesn't work well, who cares how good the clip is?
So let's take a look at the base of the light and the clip.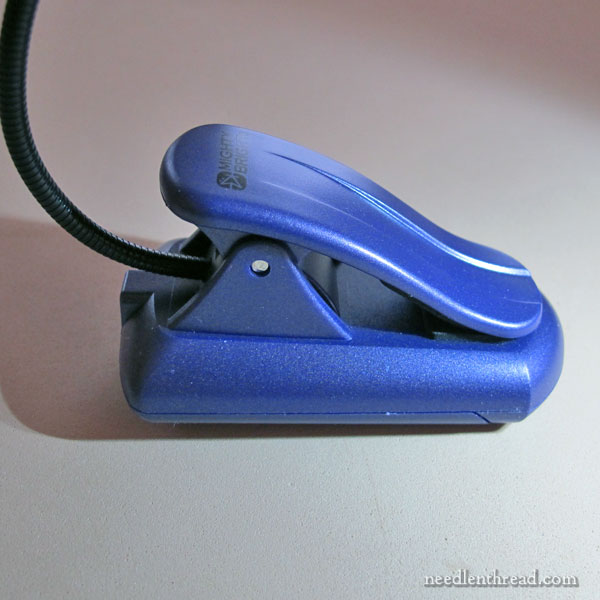 The light can stand on its own, on the flat base.
This means you can set it on a table, if you're working on really small things underneath it, reading a book under it, or what-have-you. So you don't always have to use the clip with it.
If you've got batteries in the base, it's pretty stable when used this way.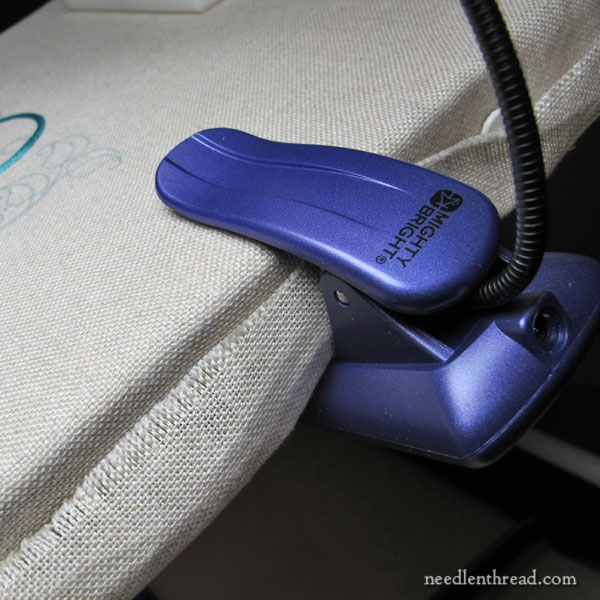 However, given the small size of the whole thing, it's more likely you'll be clipping the light onto something.
The light comes with a fairly hefty clamp. It works best when clipping onto something about 3/4″ thick or less. That said, it works on my Evertite stretcher bars just fine, which are 1″ thick. The jaws open up enough to fit on the frame, and they clamp onto the frame fiercely enough to be stable.
The clamp mechanism on this light is pretty good. Of the different types of book lights I've used over the years, this clamp is the one that's worked best on my frames.
The Size of Your Embroidery
How well the light works for you on any particular embroidery project doesn't just depend on the light, though. It also depends on the size of your embroidery project.
Because book lights are generally made to illuminate a hand-held book or tablet, they don't have super duper long necks. If you're working on a huge piece of embroidery, the light may not stretch far enough to shine on your stitching area.
It works fine on medium-sized pieces of embroidery. But on huge pieces, you'll want to do some measuring before investing in the light.
Like I said above, though, these lights shouldn't really be a permanent solution to stitching lights – they're more for travel convenience, outages, and special situations.
Purchasing Tip!
Here are the two boxes for my two Mighty Bright book lights. The purple one (in the box on the right) was a gift.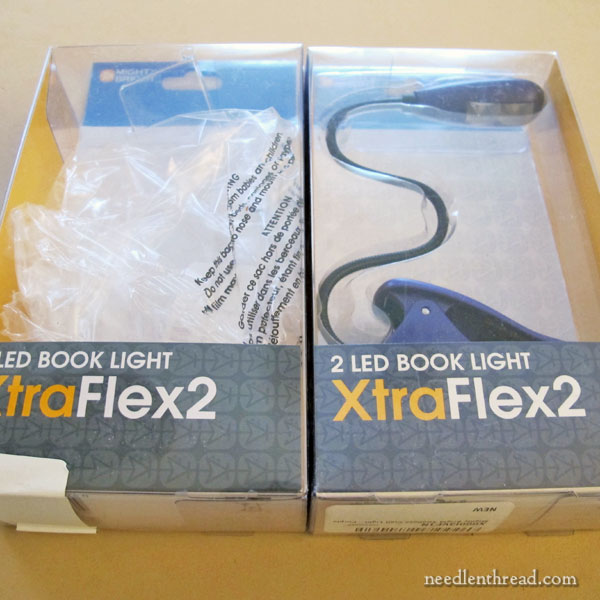 I was just rude enough to note that the tag wasn't removed from the base of the gifted box. And I noticed something very interesting on the sticker on the base of that box.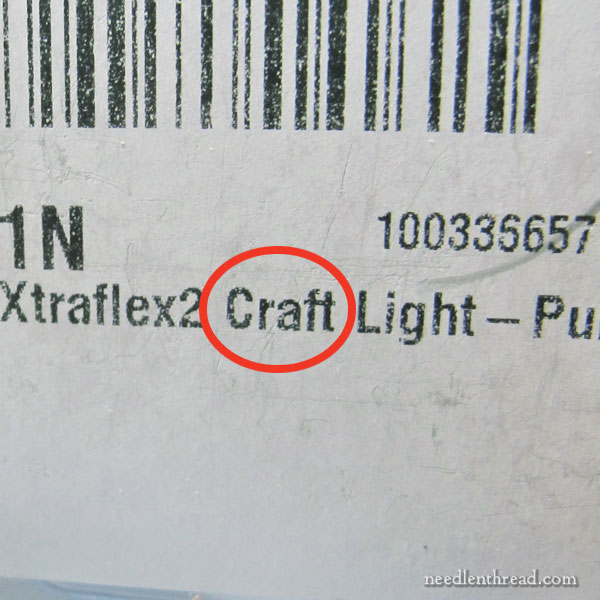 The sticker describes the product as the "Xtraflex2 Craft Light – Purple."
At first, this didn't mean too much to me. I knew it was a book light, after all.
But then I saw the price, which was significantly higher than I paid for mine.
So I decided to search around online and see how the light was listed for sale in different places.
Third-party sellers on Amazon are a great example of this, but I found it across many platforms – from craft stores to book stores to music stores. The same light, labeled as a craft light, a sewing light, a music light. And generally, priced more expensively for the narrower niche markets.
No matter what use they're labeled for, the Ultraflex2 is always the same light. Mighty Bright has different shapes and configurations of book lights, but if it's the Ultraflex2, it's the same light, whether it's labeled as a book light or a craft light.
You should expect to pay under $20 for the light. If it's labeled as a craft light or embroidery light and it's selling for $30, don't be taken in!
In a Nutshell: Pros & Cons
Remembering that we're talking about temporary lighting for travel and convenience, here's what I see for pros and cons:
Pros: It's small, it's light, it's affordable, it's bright, the clamp works, and it uses batteries, not a plug. An adapter can be purchased for it, if you want to use a plug.
Cons: The adapter doesn't come with it. The unit itself is not rechargeable. You actually have to replace the batteries or use rechargeable batteries.
In a nutshell:
I love this little light!
Down the road, I'll compare it to another book light that I have, that's rechargeable. Both have their pros and cons, but the Mighty Bright edges out the other one, thanks to its rugged clamp and very adequate bright light.
Where to Find It
You can find Mighty Bright flex lights in several shapes and configurations suitable for embroidery through the Amazon affiliate links below:
The Mighty Bright Ultraflex2 reviewed above, for under $20.
The regular Ultraflex with one LED bulb, for just over $10.
The Ultraflex Hammerhead, which illuminates a broader area, for just under $20. (I haven't tried the hammerhead, but it looks like a great configuration for lighting up an embroidery frame!)