Embroidery hoops and frames are generally thought of as necessary equipment. I recently got into a discussion with a lady on this. She's been embroidering for all her life, and she works especially on vestments and altar linens for her church. So we're talking advanced embroidery. She never uses a hoop or frame! She said she never learned on one, and never finds she needs one!
Well, for the rest of us mortals in the field, most of us probably do use a hoop or frame. And there are lots to choose from on the market…
The most commonly available hoops are probably the Susan Bates hoops found in most craft and hobby stores. These are plastic hoops with a "Super Grip Lip" on the inside ring, which is supposed to keep your fabric taut. These are very useful hoops – they are great for beginners and I use them all the time with the kids that I teach. They come in bright colors, so the kids really like them. Also, they're affordable. If you aren't sure you want to invest in this kind of hobby, you wouldn't be putting out much in purchasing this hoop. They come in a variety of sizes, from I think 3 inches to about 8 inches.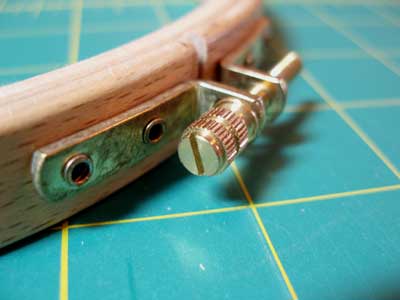 Better hoops: If you're sold on embroidery, and you like using a hoop, you might want to invest in some really good hoops. Hardwicke Manor hoops are made in Germany of birch wood, with brass hardware. The wood is polished super-smooth – no snags, no splinters. They come in three "depths" – thin (5/16″), medium (5/8″) and thick (7/8″). The medium and thick hoops are perfect for heavier fabrics such as linen twill, Mountmellick fabric, and whatnot. The thin hoops are great for fine linen, cotton, etc.
I have a variety of these hoops. The first thing I do when I get a new size is wrap the inner ring with twill tape (found in the same section as the bias tape at your local fabric store). Once this rather tedious task is done, my hoops are ready for any project that might come along.
Another perk – the hardware on these hoops is really sturdy, and has a screw eye on the bolt, so you can adjust it as tight as you want with a screw driver. These are undoubtedly the best hoops on the market.
You can find them locally or online through fine needlework shops who carry goods from Access Commodities.
Frames:
For quick set-up, I like stretcher bar frames, and specifically I love the Evertite Frames. They are great! You can read about them here.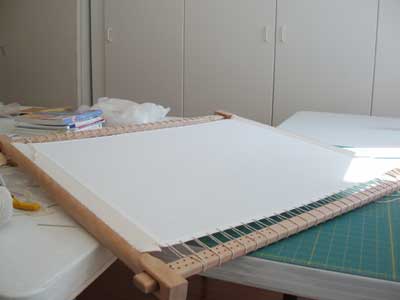 For long-term, serious embroidery projects, I use slate frames. They provide the best uniform tension without the chance of damaging the fabric in any way. The drawback to a slate frame is that, if you're eager to get on to your stitching, you might not like the set-up time. It can take an hour or two to properly set up a project on a slate frame. On the bright side – once it's done, it's done! You can read more about slate frames here. You can try Tristan Brooks – they do have them listed on their website.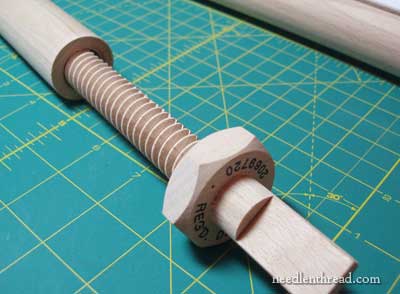 I also like the Millenium Frame, which is a kind of combination scroll frame / slate frame, but it doesn't require the same set-up as a slate frame.
What are your favorite frames and hoops? Feel free to chat about them below!