The fly stitch is a basic embroidery stitch that, when worked horizontally along a line, creates a scalloped line of stitches. You can also work the fly stitch vertically, and you can even work it as an isolated stitch, to use as leaves, foliage, scattered filling, and so forth. So it's a versatile stitch, and an easy one!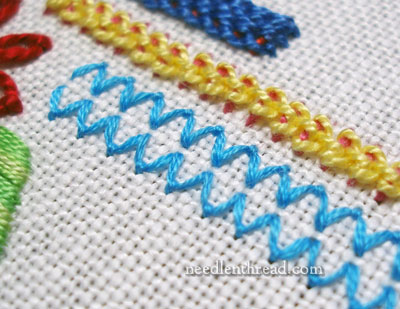 In the photo above, the fly stitch is worked in bright blue (stranded embroidery floss), and the two rows of fly stitch are arranged so that they mirror each other. You can see that this can create the foundation for a nice border or for a seam treatment in crazy quilting. You can further embellish the line with French knots or daisy stitches, or other combinations of stitches.
You can also play around with the way you mirror the lines of fly stitch, by mirroring at the anchor stitches, or by alternating the mirroring from line to line, to create a diamond filling pattern.
So there's lots you can do with the fly stitch – it's worth learning!
Here's the video:
If you'd like to practice more hand embroidery stitches, feel free to visit my collection of embroidery how-to videos here on Needle 'n Thread!
Looking for inspiration & information on hand embroidery?
There are all kinds of reasons to sign up for the Needle 'n Thread daily newsletter! Check them out and sign up today!
If you like what you see on Needle 'n Thread, if you want to be a part of keeping the website thriving (and free of annoying network advertising), why not become a patron on Patreon? Check out my Patreon page here, where I'll occasionally add special needlework bonuses for patrons.
If you shop on Amazon, you can support Needle 'n Thread without any extra expense to you by visiting my Amazon Recommendations page here, where you'll find books and sundries for the needleworker available on Amazon.