Ahhhh. My search for the nonpareil of floor stands for embroidery frames and hoops has come to a stand still. I am a happy and comfy two-hander once again! I saved until I could afford the Needlework System 4 floor stand, hoping that I had finally found the "perfect" embroidery stand, the cadillac of hoop holders, the dream tool for two-handed stitchers. Finally, after several months of tucking away the funds, I could justify the purchase. So here's my review of it, and a few photos…
The Needlework System 4 is everything I hoped it would be: it's uncomplicated, durable, easy to use, versatile, and provides firm "hold" on my embroidery frames.
When I began to consider a new floor stand, I asked myself some questions:
1. Where do I plan to use it?
2. What do I want it to do?
3. How long do I expect it to last?
#1 – Where do I plan to use it?
If I'm going to invest in a floor stand, I want to be able to use it ANYWHERE (with the exception of the car!) For in-home use (or to take to guild meetings and so forth), a floor stand should be portable and versitile – I should be able to use it wherever I would want to stitch: a living room chair, an upright table chair, or even comfy on the couch – depending on the project, these are the places I stitch.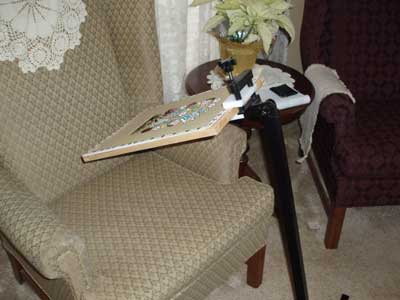 It fits easily up a living room chair. The height is adjusted by moving the main length of the stand forward. After adjusting the height, it is just a matter of adjusting the slope of the frame in the clamp.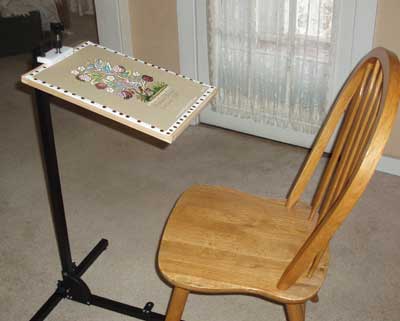 It works just as easily at a regular upright kitchen chair. When I sit in an upright chair to stitch (for those "intense" projects where I need a good-sized table close at hand), I put the main bar of the stand straight up at a 90 degree angle to the floor. The frame and clamp can be adjusted for slope, or left flat (parallel to the floor).
And at the couch, it's great. I can pull the stand forward, with the long front foot of it under the couch (the front foot is long – only about half of it showing there – and just over an inch high – so there's good balance, and it can fit under just about any furniture).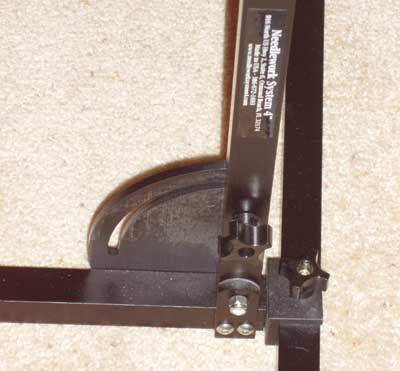 So, yep, the stand works wherever I would sit to stitch.
#2. What do I want the stand to do?
When I embroider, I use stretcher bars for the most part, so I want the stand to hold my stretcher bar frame firmly, without any instability, and without constant shifting in position while I stitch. I do not want to have to adjust the slope of the frame continually, or re-tighten the clamp on the stretcher bars! The Needlework System 4 stand is the only floor stand I've ever tried (out of many!) where, once everything is set and tightened, I don't have to readjust, even after a long time of stitching, moving, turning the frame, and so forth.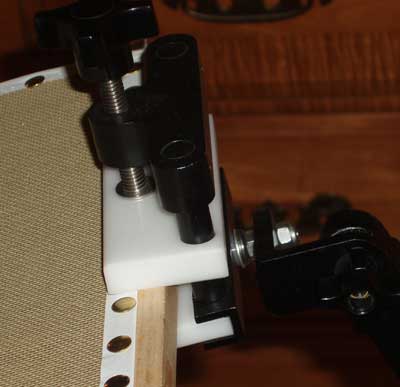 The clamp is a simple vice set-up, made out of thick plastic, with a large screw on the top. The stretcher bars fit between the two layers of thick plastic, and, to tighten, you just turn the large screw on top.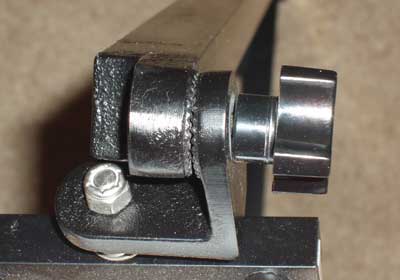 On the neck of the clamp, there's an place to adjust the slope of your frame. There are metal teeth in this adjustable joint, so that, once you tighten the clamp in the position you want, it doesn't move. In the photo, the joint where the teeth are is unscrewed, so that's why it looks uneven where the teeth meet. When the joint is screwed tight, the teeth fit together evenly.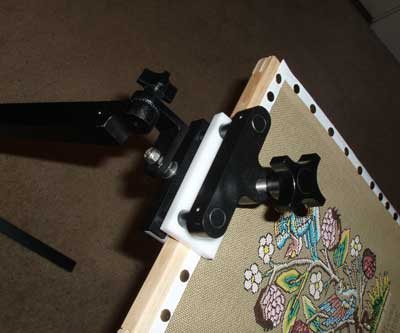 I also want to be able to turn my work while it's on the stand, without having to readjust screws or anything like that. I can!! I can turn my work 360 degrees, without any part of the stand impeding the turn. I can even turn it one-handed, while holding a camera, as you can see in this video:
The turning mechanism doesn't loosen up, either, so wherever you position your frame horizontally along that turn, it's going to stay there!
#3. How long do I expect it to last?
Well, if I'm going to invest $300 in the two components – the floor stand and the frame clamp – it better last a LOOOOOONG time! The Needlework System 4 has a lifetime guarantee. I spoke to three shop owners before selecting one to purchase from. Out of the three, all of whom have sold many of these stands, only one had a return for paint rubbing off. The company apparently replaced the stand.
Other features I like:
There's a scroll frame component available (I don't use scroll frames often, but…)
You can use the stand sideways, slipping the front foot under the side of a chair or couch, and clamping your work on the side rather than the top.
It's super-duper light, and, by unscrewing one screw, it disassembles into an easily carried package. (They also make a travel stand, which folds into a smaller package and fits in carry-on luggage).
You could buy two stands for Really Big Projects, and clamp one stand to one end of the project and the other stand to the other. But….! Well, you can use sawhorses or tressles for the same effect, and a bit cheaper!
So that's the stand. I do like it! It's been a pleasure to use, every single time I've used it. I haven't had one instance of it feeling insecure or unstable. I haven't had any problems getting it to adjust to "just the right place."
All that being said, it is a rather hefty investment as needlework stands go, but if it lasts through my stitching days, I know I'll be glad I got it!
If you have a NWS4, drop a comment and let me know if you have had equal success with it, or not! If you have a different type of floor stand, why did you select it and what do you like best about it?