Last night I finished week three of this summer's hand embroidery classes. Well, I call it week three, even though yesterday was just Wednesday. All five classes are packed into the first three days of the week. Would someone please remind me not to do that next year??!! I've got a few photos here of some of the class projects that have been finished…
With five embroidery classes going for different age levels – and different levels of ability – all crammed into the first three days of the week (Mon – Wed), by Wednesday evening's class, I'm mixing up embroidery threads, fabrics, projects… In my Wednesday evening class, for example, half the class is working with DMC stranded floss on flour sack towels, the other half is working with DMC Satin Floss (rayon) on embroidered greeting cards, and one younger youngster is working with pearl cotton on a felt bookmark.
Now, you may rightly wonder why things aren't more organized, but there are a couple little difficulties:
The first obvious one is that the children tend to work at entirely different speeds, with entirely different levels of enthusiasm. Some go home and stitch their hearts out and finish each new project before the next time we meet. These fast little stitchers – who are usually the enthusiastic and meticulous kids with real interest and talent – are ready for a new project each week practically!
Then there are what I call The Lagging Stitchers – the kids who don't do anything on their projects during the week. They come into class forgetting what they learned in the last class, because they haven't picked up their needlework at all. This requires me to "reteach" some of the students in every class, which is inconvenient for me and for the other students, and hampers the progress we could make otherwise. I haven't figured out how to handle this yet, and yet, I've faced this every year.
And finally, in some classes, there's a real disparity in age. Some of the children come from Really Rural Kansas, and to make the extra drive into town each week is a hardship on the parents. So if there's an older and younger child from the same family signed up, they often come to the same class, despite their age difference. The disparity in age is reflected in the disparity in development – there is a vast difference between the level of physical development (think fine motor skills!) of a 10 year old and that of a 7 year old. Which means I have to have the Little-Little Kids' projects going in the Medium-Little Kids' classes and in the Big-Little Kids' classes as well. Take, for example, the Wednesday class. There are 11 students, and their age range is supposed to be 12 – 14, but it's really 10 – 14, with a 7-year-old thrown in for good measure!
Whew.
But – really – it's a blast! And there's nothing better than seeing the results start to come together. Here are some needlework developments from the classes so far.
First, an embroidered dish towel. This is stitched by an 11-year-old. The towel's already been laundered, hence the wrinkles.
These are the Aunt Martha designs from the set called "Java Break." She worked the whole piece in stem stitch.
And she does a really nice job on her stem stitch!
Her stitches are even and neat.
Three embroidered cards were finished last night… the embroidery was finished on several more, but the cards haven't been assembled yet.
The pattern for these three cards was selected from one of Erica Fortgens's books on embroidered greeting cards. I've got all her books on my shelves, so the kids flip through to see what they like when it's time to delve into a project. They're super-terrific books!
And here, one of the kids from the 7-9 year olds' class is showing off her embroidered butterfly towel as it progresses.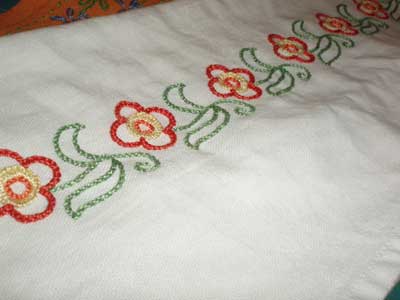 And here's another kitchen towel… actually, I stitched it. It's a project sample. A couple of the kids are working on this design right now (in the Medium-Little Kids' class – ages 10 & 11). I'm looking forward to seeing the results on this one!
So, there's progress for you!
As each summer passes, I learn something new about teaching these classes. This year, my reflection is going to include trouble-shooting the age / level disparity problem and figuring out once and for all how to handle Lagging Stitchers.
Any ideas on those subjects??