I have to admit, it's getting difficult to think of an "original" way to begin these posts for each monogram. I almost started off this one by singing the "W" song – but I thought I'd spare everyone! Here's the next monogram for hand embroidery – the W.
Oh, what is the letter we love? What sound are we extra-fond of? It's not any trouble, you know it's a "W" when you hear wuh, wuh, wuh, wuh… (or something along those lines… I couldn't resist.) I didn't grow up with Earnie and Bert, but I had a niece who used to listen to that tape over and over and over again!
I think it would be fun to embroider the "W" – lots of curves and smooth long lines.
Here's the letter:
You can find the rest of this alphabet (it's almost complete) at the Index of Monograms for Hand Embroidery.
Favorite Monograms – PDF Collection
You'll find this complete alphabet – along with 15 other decorative alphabets – all in one place in Favorite Monograms, a downloadable PDF collection of 16 monogram alphabets perfect for hand embroidery and other crafts.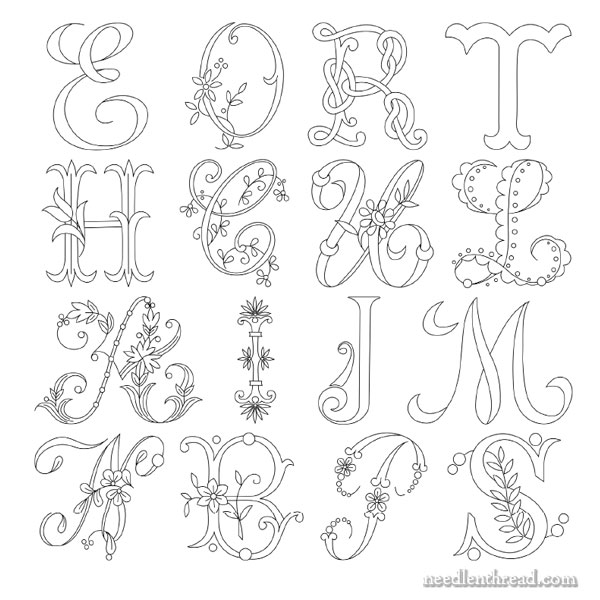 In the photo above, you can see samples of each alphabet available in Favorite Monograms.
Each letter in each alphabet in Favorite Monograms has been carefully traced into a clean line drawing that can be easily enlarged or reduced on a home printer or a photocopier.
The 16-alphabet collection is delivered as via a download link to your inbox shortly after purchase, so that you can begin creating right away! Priced at less than $1.00 per complete alphabet, monogram lovers can't go wrong with this collection!
Favorite Monograms is available in my shop, here.