Heirloom Embroidery by Jan Constantine is a pretty book, and it's packed full of projects for the hand embroiderer. Here's your opportunity to add this book to your collection for free, with my book give-away. Let me tell you a little about the book and show you some photos…
Heirloom Embroidery isn't quite the book you might think it is when you read the title. When I hear "heirloom embroidery," I think of vintage linens, Victorian whitework and lace, embroidered christening gowns, and so forth – embroidery projects that are certainly gorgeous, but technically more difficult and time consuming.
When you see the cover of the book, you'll realize this isn't quite the type of heirloom embroidery we're talking about!
The book is full of great little (and some big) projects taht are accessible to any level of embroiderer.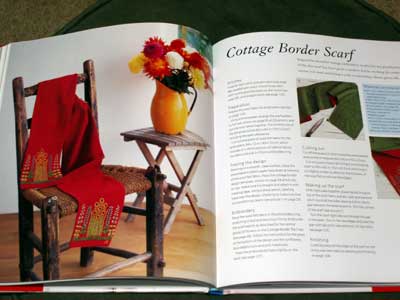 For example, here's a colorful fleece scarf pattern – what a great gift this would make for the upcoming holidays! The author provides a list of materials, clear instructions, and all the finishing techniques.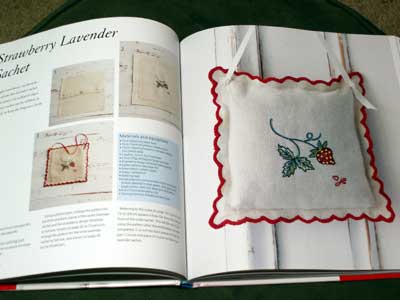 Inside the book, you'll find the instructions for the strawberry sachet featured on the cover.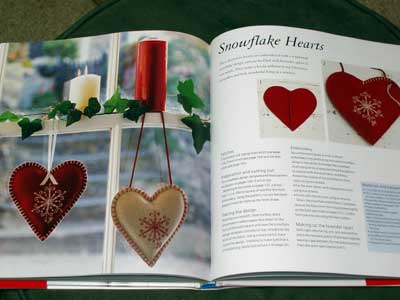 Speaking of Christmas and the holidays, you'll find several Christmas-oriented embroidery projects, from these snowflake hearts…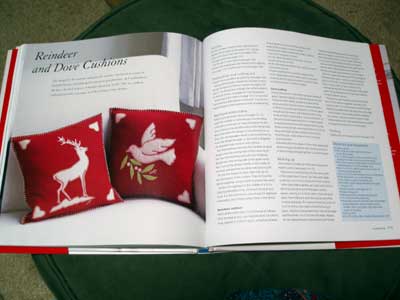 … to appliqued and embroidered reindeer and dove pillows…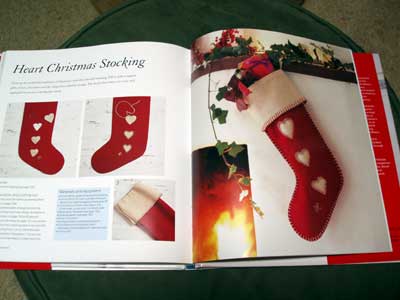 …to a cozy Christmas stocking.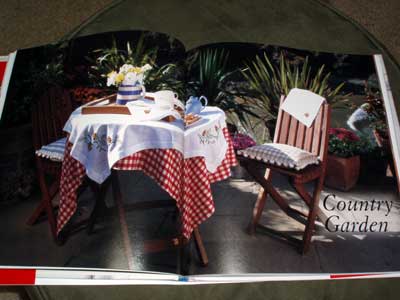 But don't think all the projects focus on winter. There are plenty of projects perfect for spring decor, like this tablecloth.
You'll also find plenty of seashore scenes – lighthouses, shells, boats. You'll find dragonflies and bugs and flowers and even a trout worked in a style reminiscent of free-style blackwork.
Besides thorough instructions for each project, a materials list, finishing techniques, and so forth, you'll find a stitch glossary in the back of the book.
In short, the book has everything you need (except the actual supplies and your own stitching time!) to create many projects that are certain to be family heirlooms.
It's a nice book – I like it a lot! And the projects are, again, accessible to all levels levels of embroiderers.
I thought I'd give you the opportunity to enjoy the book, too – so, to enter this give-away, leave a comment below! Tell me why you'd be interested in having the book, and include a name in your comment! I'll draw a winner by random number on Monday morning, October 27th, at 5:00 am CST.
The give-away is open to anyone, anywhere! Thanks for participating!