Subonnet Sue is one of those almost-iconic figures in needlework. She's shown up lots of places over time, in many different forms, sometimes sophisticated and sometimes juvenile, but always with a following. A while ago, I embroidered a square for a baby quilt using an old-fashioned Sue pattern, and I've had lots of requests since then for the pattern or similar patterns…
This is my original embroidered quilt square, which I called Sunbonnet Garden: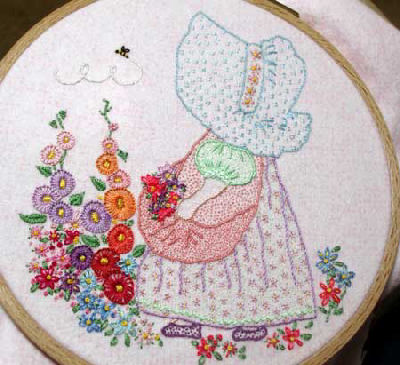 I've blogged about it previously, so if you've been around for a while, you might find this redundant. I really enjoyed doing this piece! I'm not really die-hard Sue fan, though I do like these "baby Sue" drawings better than the other Sues that have developed over the years. Still, I really enjoyed stitching this particular piece, despite the fact that I'm not that much of a Sue follower. Well, I wouldn't say I dislike Sue – I like Sue ok – but I'm not a Sue-a-holic, if you know what I mean!
These Sue patterns belong to the earliest origins of Sunbonnet Sue, drawn by Bertha Corbett who was later Bertha Corbett Melcher. She's the "mother of the sunbonnet babies." Her pictures that illustrated primers at the beginning of the 1900's have been popular every since, and they've taken on all kinds of different looks. But the characteristic thing about Sue is that generally she has a large bonnet on (sometimes a hat, as she developed later), and you can't see her face. This larger, floppier bonnet in my garden version above and the puffy sleeves and simple arms are characteristic of Mrs. Corbett-Melcher's original Sunbonnet Babies, and they're the style of Sue that I like best.
Thanks to Denise at Needlework News, I discovered another great needlework blog out there called Lace 'n Ribbon Roses, where you can find several of these Sunbonnet patterns available for free.
Right off, if you visit Lace 'n Ribbon Roses, you'll notice that CC's header is the same Sunbonnet Sue as mine above. The difference is the garden. I think in the original pattern I had, Sue's apron was actually full of chicken eggs and she had chickens scratching around her. I just made a few minor adjustments!
If you're looking for these old-fashioned Sue patterns, you might want to start, then, with CC's website. You'll find Sue and Hannah playing with a kitty, Sue and Hannah feeding the chickens, and Sue and Friends dancing in a circle. All three are sweet little patterns of this old-fashioned Sue. While there, check out her embroidered Sue pillowcases, too – really cute!
On a different note, you'll also find this old pamplet on chicken scratch embroidery (embroidery on gingham) on Lace 'n Ribbon Roses, so if you like chicken scratch, check that out, too!
News 'n Such
If you haven't signed up yet for my October Stash Give-Away, called Autumn Abundance, don't forget to do so some time today! The give-away ends tomorrow morning (Tuesday, October 14, at 5:00 am CST). All the details are on the original post.
I intend to get some serious stitching done this week! I'll keep you abreast of anything I accomplish. I hope you have a great Monday, and plenty of time this week to enjoy your needle 'n thread!