For October, I thought I'd reduce my needlework stash by foraging for some Autumn-themed colors. I came up with some great threads, trims, and embellishments for this month's stash contest! It was fun picking through things, but it made me realize I have to get out to the studio and do a little more organizing! In the meantime, though, here's this month's stash contest.
The Loot – threads, trims, and embellishments!
I found, among my thread boxes, an Autumn pack of Appleton crewel wool. I know it had a purpose when I purchased it. Since then, I've "inherited" about 300 skeins of Appleton. This little handy package, then, is just perfect for a give-away.
There are ten skeins of Appleton crewel wool here. Nice colors, aren't they? If you haven't stitched with wool before, this is a good way to try it out!
This probably doesn't look that impressive, but let me tell you about this little piece of ribbon. It's a little less than half a yard of the softest, silkiest, velvety-smooth shiny ribbon, deep golden orange on the side with the nap, and brown on the other side. It would be pretty on a crazy quilt, or it would even make nice trim, I think, on a greeting card. The ribbon is about a half inch wide. It's very limp and soft. I love this ribbon!
These are two little charms – a fox and an adorable tiny owl with big eyes.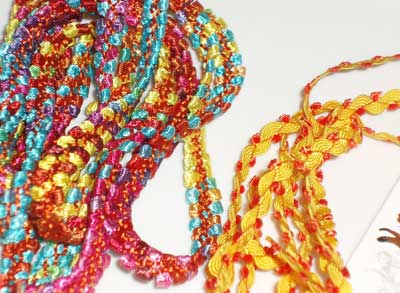 The trim on the left is a multi-colored braided trim that's kind of funky but fun. I'm pretty sure there's well over a yard there, and maybe closer to two. The ric-rac is tiny ric-rac in yellow, accented with orange – another embellishment for greeting cards, quilts, doll clothes, anything… There's half a yard.
And finally, aaaaaaaahhhhh. Silk! You know I have a thing about silk threads. I love them! On the left is almost a whole skein of Caron Collection Waterlilies. The skein has already been cut in stitchable lengths. On the right is a skein of Eterna mini twist. It's a nice soft twisted, overdyed silk.
What You Have to Do to Win
In my August stash give-away, I asked readers to give ideas for future stash contest questions. So many great ideas for contest questions were submitted!!
Su J offered three really good questions, and I'm going to use one of hers this month. So, this is what you do: read the question, click on the "click to comment" link at the bottom of this post (you have to be on the website at this post, not on the newsletter), and submit your answer as a comment at the base of this post.
I'll make a list of the comment names, shuffle them and number them, then pick a random number to choose the winner. Please make sure to sign your post with your name or nickname, if you post anonymously.
Here's the topic for your comment:
Tell me about the piece of embroidery that gave you the most pleasure to do, and why?
The contest is over on Tuesday, October 14th at 5:00 am my time (CST, USA). I'll announce the winner on Tuesday, and the winner will need to contact me with a mailing address. The contest is open to anyone, anywhere.
Have fun! Good luck! Don't be shy!