Have you ever looked at a piece of needlework in stunned silence, turned it around in your hands, looked closer, turned it over, touched it, studied it, then looked up and said to anyone willing to listen – "Oh gosh. You're just not going to believe this thing!" And then shown it off, to find that your reaction isn't an isolated one?
Well, that's exactly how things went when I opened this amazing embroidered sampler sent as a Christmas gift from a friend. You might be tempted, at first glance, to say "Oh, it's another sampler," but I think once you see it in context, you can't help but say, "WOW…!"
So here it is, for your first delightful glance:
And here's the back of the sampler, which is neat and tidy: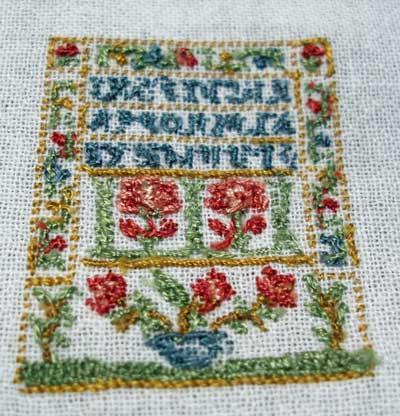 Here's a side shot: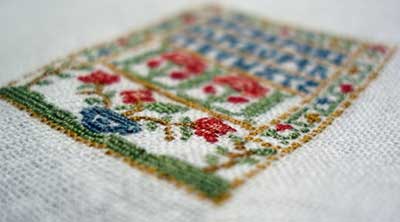 And, finally, here's the sampler in perspective, next to a postage stamp, a quarter, and an inch ruler:
That's right – this tiny little detailed sampler is 1 3/8″ x 1 3/4″ – not a whole lot bigger than a postage stamp!
Christiana embroiders miniature things. She uses kitchen towels (flour sack towels) for her ground fabric, stitching over one thread in the towel. The stitches are half cross stitches (or tent stitch), and I think she uses one strand of embroidery floss – but it's so incredibly tiny, that she might be using regular thread. She'll have to enlighten me on that!
Now can you understand my reaction? I was awe struck! I never considered doing miniature embroidery like this, but I can see how it would be perfect for a number of little applications – doll houses, for example, come to mind. But there are other uses, too: a little special pendant or to adorn the lid of a little tiny box… I haven't decided what I'm going to do with it yet. I'd like to find the perfect small frame for it, so I can display it.
I willingly and profusely admit that I love this little sampler! It was such a surprise gift! It came in a great little package:
Along with the sampler were some other treats: a spool of Tire Silk, some Japanese snippers, and a nice little package of Glorianna threads and ribbons!
Thank you, Christiana, for the sweetest of little Christmas presents!