Last weekend, I began a marathon embroidery project on short notice. In about 35hours or so from start to finish (including set-up), I hand embroidered this piece of linen. I probably didn't go about it in the most prudent way in the world, but, regardless, here 'tis…
A maniturgia is a long strip of linen that is wrapped around the hands of a priest during the ordination ceremony. The strip is often embellished – either embroidered or painted – and, after the ceremony, it's given to the priest's mother and normally buried with her.
The strip of linen can be different sizes, but customarily, it's about 3 inches in width and about 5 or 6 feet long. The embellishment is not really essential, but it's nice. At its simplest, the maniturgia can be left blank. But then it just looks like a long strip of linen…
So, after the phone call on Friday night that I already told you about, it came to pass that I undertook to make, in a weekend, a maniturgia. It shouldn't have been any big deal, really – in an hour, I could have cut the strip of linen and folded it, sewn a seam, hemmed the short ends, and called it done. But nooooo. Noooo… I just had to get into my ridiculous head that I Must Embellish. At first, I thought painting would be quicker, but actually, since I'm more familiar with the needle, I settled on embroidering it.
Often, on a maniturgia, what you will see is text – either some sort of Biblical reference, or a snippet from a prayer, or something of the sort. Often, the text is a Marian reference; that is, it refers in some way to the Blessed Virgin Mary, Mother of God. I learned all this, by the way, in the space of about an hour, consulting with people, making phone calls, and having them make phone calls. I didn't know anything about a maniturgia before the fateful phone call Friday night…
I went to bed Friday night with a clear idea of what the maniturgia is and what it looks like, but without any idea of what I would do.
Saturday morning, I started playing with texts. The quickest way to layout any text for embroidery is, without a doubt, by using the computer. Sure, it's nice to pen your own, but when you're pressed for time, All Hail the Computer! I found a font that I liked that had decorative filigree capital letters, and then I took different texts and printed them out, word by word, in letters three inches high.
I had one phrase – Ave Maria – that was two words and would've worked fine.
I had another phrase – can't remember what it was – that was about 14 words long. Um. Yes. I can't believe I even considered it.
Finally, I settled on this phrase: "O clemens, O pia, O dulcis Virgo Maria" – I liked the phrase itself, I liked the amount of coverage on the linen, and I liked the layout of the decorative capital letters.
I should've stuck with "Ave Maria."
Anyway…. first thing I did was space the words correctly, taping together the words as printed out on separate sheets of paper. You know, sometimes it's good to have to work under pressure. I took a lot of short cuts I would not normally take, and learned that some steps in working up a design can absolutely be done away with.
Then, I found, among my collections of ecclesiastical patterns, a decorative cross to go on each end of the phrase. I made photocopies and taped them onto the same sheets of paper the letters were on.
Next, I cut my linen strip 12 inches wide and 60 inches long (well, it was 60″ fabric – so I just had to cut a 12 inch strip). I made the strip 12″ wide to accommodate a hoop easily. I dampened and ironed the linen, and then I was ready to go.
I marked off the 3.25″ inch strip that would be the front of the maniturgia, using a blue dressmaker's pencil. Centering the linen over the center of the text, I pinned the linen to the paper.
You can see that the linen was sheer enough to see the pattern quite well. I used Legacy Linen's Ecclesiastical linen, which is a beautiful, fine linen with a close weave and a super-smooth hand.
This is a blue dressmaker's pencil, which I used to trace the pattern. An electric pencil sharpener comes in handy for quickly achieving a sharp tip on the pencil. It unfortunately tends to waste a bit of the pencil in the process, but time was my biggest concern, so I used the electric sharpener!
After tracing the whole design out onto the linen, I gathered together threads – two shades of gold, two shades of blue – needles, hoop, and the linen strip, and was ready to start stitching! By this time, it was around 4:00 pm on Saturday.
Stitching from left to right, this is what I finished on Saturday night. (That rhymes!)
Whoa. Not Much, in the scheme of things…
The entire piece is worked solely in stem stitch. As it worked out, I didn't use four shades of color – only the darkest blue and the darkest gold, with the exception of the middle of the crosses, where you can see the lighter blue.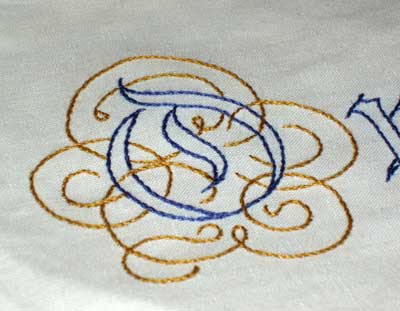 On Sunday, I stitched all day, practically…. until midnight! By the time midnight rolled around, I had finished "O clemens, O pia, O dulic Virgo…" and I only had "Maria" and one cross left. I hit the sack!
The last thing I did Sunday night was the gold filigree on the V. It was a lot of fun – I like all those little scrollies…
To start my threads on this project, I used a series of backstitches worked towards the starting point on each part of the motif, away from a knot on the top of the fabric. As I worked back towards the knot, covering up the backstitches, I snipped the knot.
But as I continued towards the last half of the project, and saw that I was running out of time, I elminated as many steps as possible – I started using (gasp, horror!) knots on the back of the fabric!
But I never carried threads from one letter to another – that would have made too obvious of a blue shadow. So, while there were some places I was willing to take shortcuts, there were other places I simply wasn't! I don't like the look of carried threads!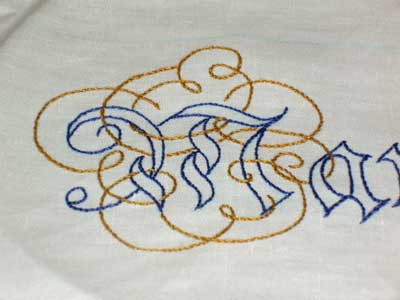 Monday morning, I got up and launched right in to the last word. My family
from Florida was going to be in town all day, arriving around 11:00, so I wanted to try to finish the whole thing before noon.
But, no luck. It took so much longer than I thought it would!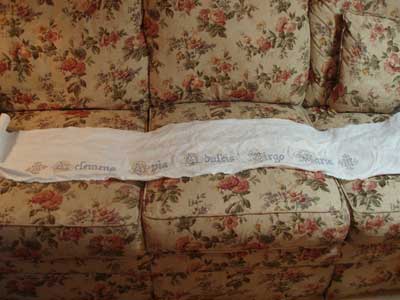 I finished embroidering the piece by 5:00 pm on Monday. Here it is, across the couch. It doesn't seem very long, does it?
Even from this angle, it still doesn't seem like much! But gosh. It seemed interminable when I was working on it!
And here it is, on the ironing board, after it's been sewn up.
And, in sequence, here's the finished piece:
"O Clemens"
"O Pia, O dulcis"
"Virgo"
"Maria"
And then I tried a side shot, to show you the gleam of the silk on the linen, but it doesn't look that great. I'm using Soie d'Alger from Au ver a Soie, by the way – it's a spun silk, so it doesn't have as high a sheen as the filament silks. Still, it's nice!
And that was my marathon embroidery project!
I'm needled out….