The other day, in an attempt to make you more comfortable with the idea of using silk thread for embroidery, we chatted about hand embroidery thread made from spun silk.
When it comes to the stitching experience, spun silk is very similar in many ways to stranded cotton embroidery floss, so it makes a great thread for beginners to start using silk.
But there's another type of silk fiber that's made into embroidery thread, called filament silk. Today, we're going to talk about twisted filament silk, and then, down the road, we'll chat about flat filament silk.
When compared to spun silk, filament silk provides a slightly different stitching experience. But the experience is not the only thing that's different about filament silk – so let's take some time to explore the stuff!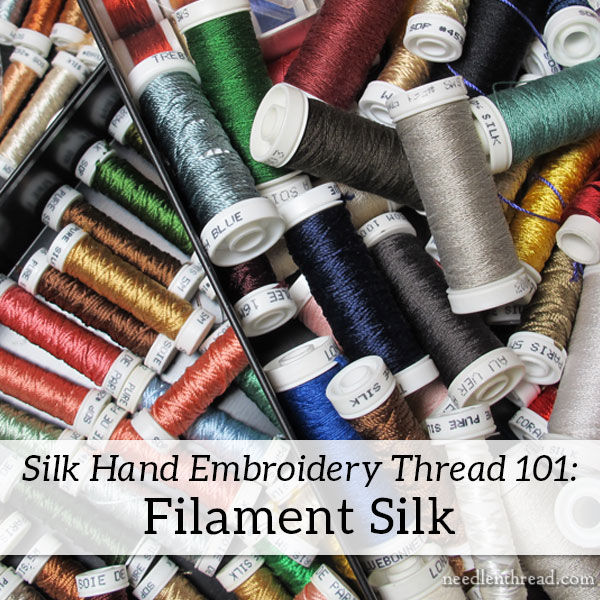 Filament silk differs from spun silk in a number of ways. Let's look at how you can tell the difference between the two.
How to Tell the Difference between Spun & Filament Silk
The most obvious way is in the look of filament silk. In general, filament silk is glossy.
Spun silk is made from broken cocoons and leftovers and spun into a thread much in the same way that wool or cotton is spun into thread. It has a luster to it – a nice, soft shine.
Filament silk, on the other hand, is not "spun" from fibers. It is the fiber itself, reeled straight off the cocoon, and hence, it's sometimes referred to as "reeled" silk.
100% filament silk has more than just a soft luster to it. It has a downright shine.
If you're trying to determine whether the silk you're using is spun or filament, the first thing to do is to look at it. Spun silk will have a soft luster, while filament silk has a high sheen. However, this isn't always a fool-proof way of knowing, with certainty, whether you're working with spun or filament silk.
Sometimes, a twisted filament silk will not have quite as a high a sheen as a flatter filament silk, or a less twisted filament silk.
So if you can't tell by looking, you can try picking. Try to pull the thread apart. Spun silk is weaker than filament silk, and will pull apart in a kind of shreddy way if you pick at it closely.
Filament silk is much stronger, and it's much more difficult to pull apart! It definitely won't pull apart easily in small pieces, because the individual strands that make up the thread are long and strong.
Filament silk embroidery threads are made up of many fine strands of reeled silk (in Japanese embroidery, these individual filaments are called "suga") that are combined into the thread weight.
Filament silks can be flat or twisted. In the scheme of things, I think flat silk is more difficult to work with, so we'll talk about twisted filament silk today and work our way up to flat silk.
Twisted Filament Silk
Twisted filament silk comes in all kinds of weights and types and twists! Many types are made for machine stitching as well as hand stitching, and some are made only for hand stitching.
The following are different types of twisted filament silk that I'm familiar with and have used. I don't know every single thread on the embroidery market, though, so I'm just mentioning the ones I have worked with. I'm sure there are others out there. If you've worked with twisted filament silks and you have a favorite that's not mentioned, you're welcome to mention it in the comments below.
1. Au Ver a Soie
Au Ver a Soie twisted filament silks include Soie de Paris, Soie de Gobelin, and Soie Perle. These silk products come on spools here in the States (in Europe, Soie de Paris comes in a twist), and in the US, you can find them through any needlework shop that carries goods from Access Commodities.
Au Ver a Soie's silks, again, are the Gold Standard on the market. You won't find thick or thin spots in the same thread or variations in the twist (i.e. some areas tightly twisted, others loosely twisted). You also won't find a lot of slubs (little bunches of silk fibers that make a bump in the thread). They are practically perfect threads, and it's obvious that they undergo careful oversight and scrutiny during the manufacturing process.
You may find this article on working with Soie de Paris and other filament silks helpful, when considering stitching with these silks.
Soie de Paris is a fine, softly twisted, 6-ply filament silk. I used it on this Tudor-style rose and on this Mission Rose project. It has a high sheen. The silk is "stranded" in the same way that cotton floss is – that is, several strands make up the whole thread that comes off the spool, and you separate the strands to use them. You can use one tiny strand or more in the needle at once. It comes in 77 colors.
Soie Perle is a more tightly twisted silk thread, about the weight of a fine buttonhole silk. It is used straight off the spool in the one thread and is not separated. It can be used for decorative stitching, line stitches, crazy quilting, quilting, and other embroidery applications where a twisted, fine perle thread is desirable. It comes in 365 colors.
Soie Gobelin is a fine, tightly twisted silk, used straight off the spool in one strand. It has many hand embroidery applications, but I use it mainly for outlining and detail work in silk embroidery. For example, I used it as the outlines in this Tudor-style rose. It can be effectively used as a couching thread. It comes in 104 colors.
If you'd like to see these threads a little closer and read more about them, this article on comparing twisted silks has a little more information on them. The pictures are old and need re-doing, but the information is still solid!
2. The Silk Mill
The Silk Mill, a company in France that dyes Chinese silk, offers a huge range of colors (700!) in softly twisted filament silk that's reminiscent of the silk floss used in the early 1900's in Society Silk embroidery and in ecclesiastical embroidery.
Because of the vast color and shade range that The Silk Mill offers, their threads are a good option for needle painting with a softly twisted filament silk.
The thread comes in twisted skeins, which require a little care when opening up and preparing for stitching. It also tends to be a little kinky and unruly. If you're only familiar with stitching cotton, this can be problematic, but with a little practice, you get used to it!
3. Needlepoint, Inc. Silk
Needlepoint Inc silk is described as being reeled silk, not spun.
I've worked with this thread a little bit, and I always thought it was a spun silk. When I was told it is a reeled silk, I was rather taken aback, so one of these days, I'm going to examine it and re-evaluate my earlier perceptions of it.
It comes in 8-ply 5 meter skeins, so you separate it into individual strands and use one or more in the needle at once.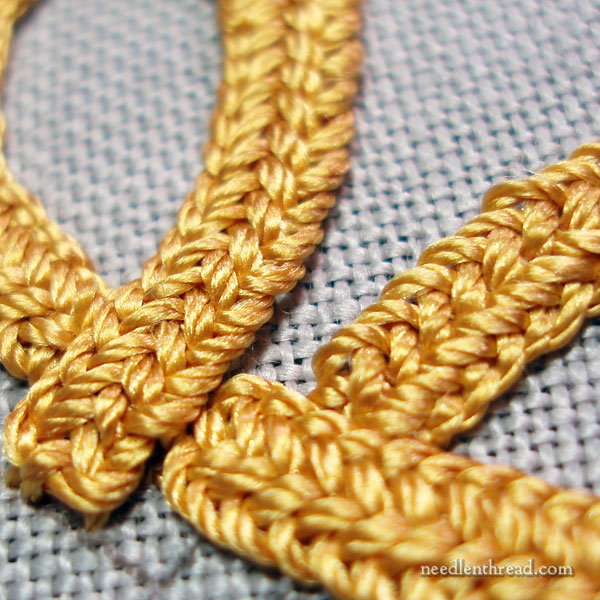 4. Trebizond
Trebizond is a tightly twisted three-ply filament silk that's quite thick and extremely lustrous, rich, buttery, and beautiful. It's probably more commonly used in needlepoint than in hand embroidery, but it can be effectively used in hand embroidery applications.
I've used Trebizond to good effect, working the plaited braid stitch. It makes a luxuriously thick, heavy braid – but the stitch is a thread hog, so it takes a lot of thread!
You can read about my experiment with plaited braid in Trebizond here.
Trebizond is not meant to be taken apart – it's used straight off the spool. But it is constructed from three plies of flat silk twisted together, and those three plies can be separated. What you'll end up with is a lustrous flat silk that's quite wavy. (I discuss this in this article comparing filament silks.)
You can actually stitch with that wavy flat silk. It makes a beautiful laid satin stitch that can be couched over, and the waves in the silk play off the light beautifully. I'll work up a sample to demonstrate this one of these days!
5. Mulberry Silks
Mulberry Silks is a company in the Cotswolds in England. They offer some amazing palettes of twisted silks – I just love their color collections!
I've not stitched with all their threads, but I've tried some, and I've written about them here.
They're one of those threads I'd like to work a little more with, but they're a bit of an investment. The ones I have tried stitch up nicely. In their connoisseur packages (which is where you'll find those gorgeous color palettes), the thread comes in three weights – fine, medium, and heavy – and in matte and shiny. I suspect the matte is a spun silk and the shiny is filament. Again, I haven't played much with them, but the ones I have tried, I liked!
Their threads can be used for hand stitchery and also for mixed media and the like. Because of the varying weights and textures, there's a lot of scope for playing!
Resources
If you're looking for any of these silk threads, here are some online resources. I'm not super familiar with which stores outside the US carry some of these threads, so if you know of any and you want to leave a comment below, feel free!
Au Ver a Soie
In the US, Au Ver a Soie's silks can be found online at Needle in a Haystack, where they stock the whole line, and anything they don't have in stock, they can special order. Their website offers an easy shopping experience, and you can actually see the individual spools and colors of threads.
Thistle Threads carries collections of historical color groupings in different Au Ver a Soie silks.
You can also special order Au Ver a Soie threads through Nordic Needle.
And of course, you can check any local needlework shop that carries extensive lines of threads. They may have it, and you can see it in person!
Silk Mill
For silk threads from The Silk Mill, visit their website! They are located in France.
Needlepoint Inc
These silks are available pretty widely in different online shops. You can find them directly through Needlepoint Inc here, or you might check here at 123-Stitch, as the prices are a bit better.
Trebizond
Trebizond is available here through Nordic Needle.
Trebizond is also available through Needle in a Haystack, here.
And, if you happen to have a local needlepoint store, check there! It's one of those threads you should see in person and maybe try first, before investing in a lot of spools. But definitely worth trying! You can do intriguing things with it!
Mulberry Silks
Mulberry Silks are available directly through their website, out of the UK.
For a very satisfying color experience, browse their connoisseur packets!
Further Discussions about Silk Coming Up!
Next, we'll talk about flat filament silk. We'll look at what it is, what you can do with it, and resources for finding it.
I'm also working up some silk samples for you, to show you how different silk threads behave and give you some ideas of how you can use them.
Questions, Comments, Input?
If you have any specific questions about using silk threads, or you know of and like a silk thread that I haven't mentioned, feel free to join in the conversation below!