We've chatted a bit, off and on, about the organization of embroidery projects, embroidery supplies, embroidery books…
And while these aspects of embroidery are important, the most precious commodity relating to your needlework – or to any hobby at all – is your time.
We often talk about "making time" for embroidery. But making time is a funny phrase, isn't it?
As we all know, time can't be made. So, in our busy 21st century lives, how can we make time for embroidery or any hobby?
Many readers have asked me (repeatedly) to tackle the subject of making time to embroider. They want to stitch, but it just seems like there's never time to really get into stitching enough to enjoy it, to develop a rhythm, to see good progress, to hone skills, or to explore techniques.
So today, let's chat about time tips. I'll share some practices that I employ to save or make time. And then I'll ask you to chime in with what works for you when it comes to time management and stitching. Hopefully, with a group effort, we can help those who are struggling to find time stitch.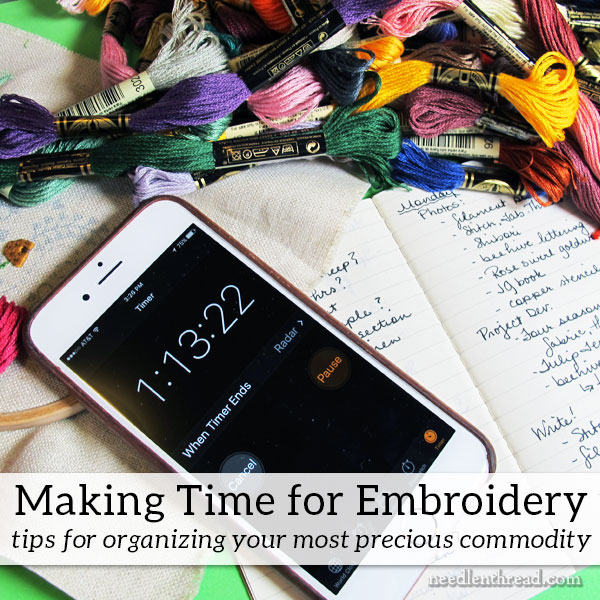 The Subjectivity of Time
While time is an objective, measurable continuum, when taken from your perspective or my perspective, time can be a very subjective notion!
The way we spend our time depends on our responsibilities, the demands that Life makes upon us, our priorities, and our likes and dislikes.
When it comes to responsibilities and duties, if we're fairly decent people trying to lead a good life, we don't really have much of a choice – we have to devote time to them! But when it comes to likes and dislikes and how we prioritize those, we have a little wiggle room.
For example, in the midst of your busy day, you might like to carve out a chunk of time to spend at the gym. Doing so may be very important to you, both physically and mentally, and so you prioritize many things in your day so that you can spend a couple hours at the gym, lifting weights, going all cardiovascular on the elliptical, and whatnot.
I, on the other hand, would rather crawl under a rock and die than subject myself to two hours of sweating and self-inflicted pain, even though I'm sure it would be good for me! For me, a twenty or thirty minute walk to get out, clear the head, and breathe a bit is terrific. But for you, that might not be enough.
And so, we prioritize our time differently, depending on what we consider important to us.
Don't Miss the Point!
I'm not telling you anything you don't already know!
Everyone's circumstances in life are different, and often we can't – or don't want to – do the same things that others do, when it comes to time management.
Consider these three points:
1. Don't measure yourself against what This Person or That Person is doing. Do what you can do, and don't let what you can't do keep you from doing what you can.
2. If thinking about your hobby – in this case, embroidery – causes you stress or anxiety because you lack time to do it, you're missing the whole point of a hobby.
3. If you really want to do something, you'll find time to do it. You might need to consider your hobby a priority and treat it that way, if it is really important to you.
With those three points in mind, then, here are some tips that will help you make time for embroidery or any other hobby or pursuit that sparks your interest.
15 Minute Policy
One time tip that I've mentioned frequently on Needle 'n Thread is my 15-Minute Policy.
There are a several parts to this policy. To sum it up in three points:
1. If you only have 15 minutes or so a day for needlework, then use it! You'd be surprised how much progress you can make on just 15 minutes a day.
2. If you think you don't have 15 minutes in the day, then carve it out. Get up earlier, so you can spend 15 or 20 minutes stitching quietly before heading out the door to work. Or use 15 or 20 minutes of your lunch break to stitch. I completed this project entirely by doing those two things.
3. Use your needlework as a carrot. "Reward" yourself with 15 minutes (or 20 or 30, depending on your circumstances), after you've accomplished things that you have to do, but don't necessarily want to do. This will help you achieve things you don't necessarily want to do and it will help you make progress on your stitching!
The Timer
Because Needle 'n Thread is my full-time job, I treat it that way, working on a schedule.
Within the time slots on my schedule, I break down tasks and work against a timer. This might sound stressful – as if I'm creating a pressured environment – but I find that, with a timer on, I get more done, and I do it with focus and drive. This is my primary method for getting computer work done, writing content, photo editing – all the background work behind Needle 'n Thread.
When I work diligently on necessary work tasks with a timer, in the evenings I have less computer work to do, and I can devote more time to stitching – or anything else!
You can do the same thing. Set a timer for necessary tasks and allot yourself a specific amount of time for that task. Do you have to finish the task in that amount of time? No! But tell yourself you're going to work on it for one hour, and you'll be surprised how much you get done!
Then go reward yourself with 15 minutes of stitching! Or know that, in the evening, since you've accomplished some key things, you can sit down and relax!
Stay Organized
Where did I put my riffemrackemfrickemfrackem scissors!!??!
If you have a place for everything and everything in its place, you'll get a lot more done in the time that you have to do it.
Now, don't get me wrong. I'm no Queen of Organization. But I prefer to use my time accomplishing something – like stitching – rather than looking for that book, this tool, those threads.
Take a minute or two at the end of every stitching session to situate things so that you can plunge right into your next stitching session.
Avoid the To-Do List Pitfall
I am a list maker. But I try to avoid the To-Do List Pitfall of creating a haphazard, unending list of things I need or want to do. Just looking at a list like that can be overwhelming and disheartening!
All my projects – and by projects, I mean any major tasks that need doing, not just needlework – get broken down into key steps. What are the key steps I need to take, to complete this project?
On the weekend, I make a list of the projects I want to focus on during the week. These are not necessarily whole projects. Often, they are simply key steps in larger projects.
On my daily to-do list, the steps are broken down again into smaller, manageable, minor steps for a given day.
On the daily list, I prioritize at least three of these minor steps that I know I can reasonably expect to complete, and those are the first things, work-wise, that I do that day.
I schedule time to do them. And, to keep me focused, I work against the timer.
If I complete those three tasks, it's a successful day! I can move on to other minor tasks, but even if I don't, I know I've completed the essential tasks I wanted to complete that day. And you can bet your little patootie that I reward myself with a little stitching time! I also have more stitching time, because I've cleared other things off my plate.
Waiting, not Wasting
Do you spend a lot of time waiting? Whether waiting for an appointment, waiting for time to leave, waiting for someone else, waiting for a bus or a plane, waiting to get here or there on a commute or a road trip, waiting for the oven timer to go off, waiting for soccer practice to end, waiting for the game to start, waiting…waiting.
Don't waste waiting time!
When it comes to needlework, small, transportable projects are a great way to use your waiting time when you're not at home. At home, when you're waiting for something, spend your waiting time stitching.
I find that I can often squeeze in at least one thread's worth of stitching whenever I'm in a brief holding pattern.
Social Media in Moderation
It is imperative that I use a timer when managing my social media stuff – Facebook, Pinterest, Instagram. If I don't, what I think is just "a few minutes" can easily morph into an hour or more.
I'm not saying get off social media, but managing social media time can open up many more hours to get other things done during the week, so that you can devote more time to a hobby.
When social media became a key part of the blogger's life, and especially when Pinterest first exploded, I found myself spending oodles of time on social media. Of course, it was all in the name of "blogging" – I saw it as "working." Making connections, posting stuff, reading interesting and creative things. It was fun! It was informative! And I told myself it was work-related, after all, so it was ok.
It wasn't until I made a conscious, honest appraisal of how much time I was spending on social media that I realized how much of a time sink it is! I couldn't just say, "This is a waste of time" and quit, because social media is a legitimate part of my work.
Instead, I consciously gauged how much time I was spending rooting around on Pinterest and Facebook. The numbers were telling. I averaged at least 45 minutes a day on social media, and on some days, I was spending up to two hours a day.
This shocked me into setting limitations and sticking to them. Now, I spend no more than 10 minutes a day on social media, except once a week, when I set aside 30 minutes (against the timer) to focus on social media stuff that I need to do.
In ten minutes a day, I can easily do what I need to do and see what I need to see. And all the rest? Well…it's not always important enough to hold me captive!
This strategy has freed up gobs of time for other things, and it is very, very freeing. In fact, I was obsessive enough to measure it. I found that I saved an average of 8 hours and 45 minutes a week with this approach to social media. That's 455 hours a year!
Make Use of Viewing Time
If you're a TV watcher, you can always pursue something creative while you indulge in viewing time!
When I was in high school, my family got rid of our TV at home. When I went off to college, I never had time for it, so, as an adult, I've never even bothered to have cable or television. I do occasionally watch movies, but I try to stitch while I watch. It doesn't always happen – I find it hard to split my attention between stitching and viewable entertainment. I get sucked in!
So when I really want to get some stitching done, I opt for different types of entertainment that will allow me to stitch with focus.
If you find that you don't get as much stitching done as you'd like while you're watching something, perhaps try changing your mode of entertainment. How about an audiobook, music, or podcasts?
Closet Yourself
Occasionally, it doesn't hurt to cut yourself off from distractions by closing yourself up in another room or away from the main hubbub of life around you, either to concentrate on stitching or to concentrate on other tasks so that you have time to stitch.
I find that closeting myself in a separate room where I can concentrate on a task helps me to work more efficiently and with much more focus and accuracy. I get more done, and it frees up time for other tasks, including stitching.
And sometimes, I closet myself up to stitch, too!
You Can Say No
Sometimes, it's ok to say no.
I don't like to say no to all invitations, spontaneous outings and the like, but I do it when I have to, because it frees me up down the road to do other (often more important) things.
Allow Time
Finally, take time for leisure.
Allow yourself time to do the things you love, that relax you and that rest your mind and body.
There are plenty of studies out there that show how hobbies – including needlework – lend to overall mental and physical well-being. There's nothing wrong with indulging in a hobby or some creative pursuit and allowing yourself the time to do it and enjoy it.
We all need to recharge our internal batteries by doing something that makes us happy.
When our batteries are recharged, we're usually able to accomplish those daily necessary tasks with much more vim and vigor! So leisure time, when understood correctly and deliberately undertaken, is always a win!
Over to You!
Now it's your turn! How do you manage your time so that you can pursue and enjoy your needlework? We can all learn from each other, so feel free to join in the conversation below!