The thread junkie in me can't resist sharing this gorgeous palette of silk embroidery threads with you.
It's just so … autumny.
I don't think "autumny" is a word. But look:
"Autumny" works!
This is a collection from Mulberry Silks, a company located in the Cotswolds in England.
This particular palette of fine weight silk (all hand wound on little paper tubes) is called "Goldwork." It's for couching metal threads. You can imagine the beautiful effects you could get in Or Nué using a palette like this for couching passing threads.
Each tube of thread holds 15 meters, and there are 7 tubes altogether.
The other day, I found myself meandering hither and yon all over the Mulberry Silks website, picking out favorite palettes. For example, in the Connoisseur category, there's a series of silks called "A Cotswold Year" – four palettes, one for each season, each comprised of 19 colors of silk in assorted weights, in both matt and shiny. I. Love. Them.
Then there's Aegean. *Sigh*
Under Christmas Packs, you'll find quite a selection of beautiful palettes, perfectly named. I put every single one of them on my Wish List! I'm not sure if it was the names, the colors, the correlation between the names and the colors – for some reason, these palettes charmed me.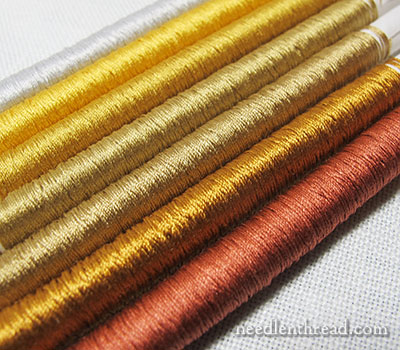 But, back to my warm, lovely little thread palette here – a happy gift from a friend! These are relatively fine silks, tightly twisted (I've only seen the fine weight up close), and suitable, yes, for couching, but also for all kinds of surface embroidery, crazy quilting, and the like.
I'm getting ready to test it out for tambour work. I suspect these threads will work very nicely with the tambour needle!
There's a collection at Mulberry Silks (Antique Linen in both fine and medium weights) that I think would make a glorious "not quite whitework" project on a combination of tulle and fabric, using a combination of tambour stitching and regular surface stitching. My mind is a-whir with the possibilities!
Well, I'm a thread junkie. I admit it.
I'm not convinced I want to recover from the addiction, though!
I hope your week is going well so far!