Iron-on embroidery design transfers fall into a love-hate category for me.
I love the idea of being able to iron an embroidery design straight onto a piece of fabric, without having to go through the rigmarole of transferring an embroidery design in various, nefarious, laborious ways.
And yet, and yet… when it comes to iron-on designs, I generally don't like the selections widely available today.
Oh, don't get me wrong! They're fun for quick projects. I use many of the vintage-look iron-ons, Aunt Martha iron-ons, Sublime Stitching iron-ons, and the like especially when I'm setting up projects for kids to learn on, or when I'm stitching up something quick and fun as a gift for a specific person.
But, to be blunt about it, the majority of iron-on transfers available today can't really be taken seriously for embroidery. Space men, pin-up girls, bleeding hearts, goofy looking birds, flower-power blossoms – these are not designs you'd be putting quality time and quality materials into, to create a family heirloom that, ten or twenty years from now, will still be admired and appreciated for its beauty, art, skill, style.
These fun, fad designs serve a purpose – they make embroidery fun. They make embroidery trendy. And they attract a new generation of embroiderers. So, in that regard, they're great.
But for those looking for the ease of an iron-on transfer with a little sophistication in design, they don't usually fill the bill.
Do such iron-ons still exist? They do! You just have to know where to find them. And since I've had this very question come into the inbox several times in the last few weeks (in essence: where can I find iron-on transfers that are not cartoony?), I thought I'd talk about the subject a little bit.
If you're looking for embroidery design transfers that are not quite as cartoony as the popular transfers on the market today, you have to look towards Europe to find them.
And most abundantly, you'll find them produced in Italy. This means that the instructions in the book are in Italian, but they are profusely illustrated with photos, so that you can see how to use the transfers with an iron or with other methods, like tracing or prick-and-pounce.
Here in the States, you can find these imported transfers available through Lacis, in California. Use the search feature and type in "Mani di Fata" for a good list of Italian iron-on transfers available for all kinds of embroidery techniques, or you can type in "transfer" for other iron-on designs that are not specifically produced by Mani di Fata. You'll have to browse through several pages, but it's worth the browse.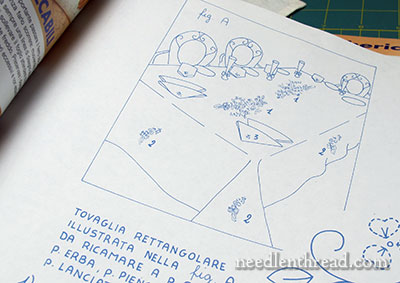 Besides the designs themselves, most of the transfers that focus on household decorative items will include clear instructions for laying out the designs on table linens, bed linens, kitchen towels, and the like.
So, if you're looking for iron-on transfers for hand embroidery – if you're held back from embroidery because you just can't stand the transfer process – then you might look into some of the iron-on transfer packets and books available at Lacis.
If you're looking for the cutesy-vintage iron-on transfers available today or some of the more trendy embroidery designs – especially if you're trying to attract youth into the world of surface embroidery – try Aunt Martha's iron-ons (google them – you can find them through all kinds of craft stores, chain stores, hobby stores, and the like), Colonial Patterns, and Sublime Stitching.