In an effort to keep this series of tutorials on the Goldwork & Silk Tudor-style Rose a little bit organized, I'm created an index page for all the related posts on this project. That way, if you want to come back to this project a little later on, you'll be able to find all the links in one convenient place, which I'll include under the Tips & Techniques page here on Needle 'n Thread.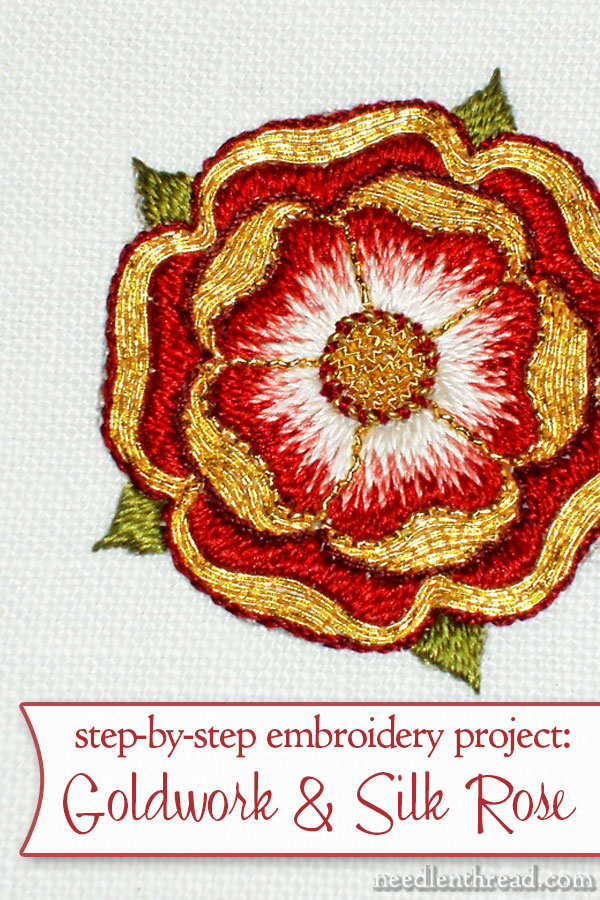 Below, you'll find links to each article in this step-by-step series on embroidering a Tudor-style rose in silk and goldwork:
Hand Embroidery Pattern for the Tudor-Style Rose
Part 1: Materials List, Set-up, and Satin Stitch
Part 2: Long & Short Stitch Shading on Inside Petals
Part 3: Adding Gold to the Outer Petals
Part 4: Couching Check Thread around the Inner Petals
Part 5: Outlining the Outer Petals with Soie Gobelins
Part 6: Filling the Inner Petal Tips with Gold Tambour Thread
Part 7: Goldwork & Silk Tudor-Style Rose – The Finish!
Considering the Scale of an Embroidery Project – this project in two sizes
Marian Medallion Project – the rose will be worked five times on this project, which you may also follow step-by-step
E-Book Available
You can find extensive step-by-step instructions for this project and for the entire Marian Medallion project in one e-book – The Marian Medallion Project: from Design to Delivery. All the information, materials, tutorials, tips, and techniques are conveniently collected in this one document, interlinked, referenced, and indexed. The e-book is packed full of all kinds of embroidery tips for undertaking a project like this, all in a convenient electronic format for easy searching.