Just a short little post today to share with you the embroidery pattern for this Tudor-style rose. I figured you may as well have the pattern if you want it, before I go step-by-step through my stitching process, right? There's a PDF version below, too, with four different sizes included.
If you've been reading along lately, you know already that I've already embroidered a sample of this design. It's worked in silk embroidery threads and goldwork (real metal) embroidery threads, but in fact, you can work the rose however you wish. If you worked it just in silk, for example, you could work all the petal turn-overs in straight satin stitch in a medium or light color used in the flower, and that would help establish the look of a turned-over petal, especially if the insides (flat parts) of the petals right under the turn-over are a little darker.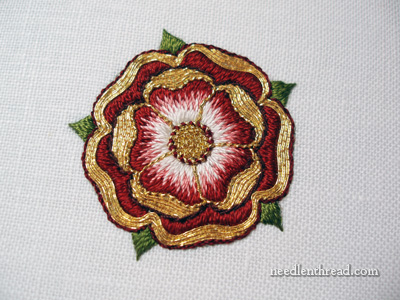 This is my finished version – perhaps not properly "Tudor" in its coloring, but it's actually an element that will be used on a larger piece of ecclesiastical embroidery, and not really meant to be The Tudor rose, proper.
The PDF version below has four patterns on it: the original size, which is about 1.5″ round, and then a 2″, 2.5″, and 3″ version.
Tudor-Style Rose Pattern for Hand Embroidery (PDF)
Hope it comes in handy!
I'll be writing a step-by-step stitching process on this in several parts, coming up later.
Feel free to check out my other free hand embroidery patterns here on Needle 'n Thread!