When I was finishing up my miniature embroidery piece a while ago, I ran into a little dilemma. The piece called for beads speckled here and there on the original design. I was going to sew some on… but…
… I forgot that the miniature embroidery piece was so much smaller than the original design was intended to be! The beads called for were Mill Hill Petites, which are size 15/0. They're relatively small, but they look huge on a miniature piece.
Not knowing too much about sizes of beads (I've not done a lot of bead embroidery – just used them as embellishments here and there…), I wrote off the beads entirely.
One day, though, I was perusing Robin Atkin's site, Beadlust, where you can see some drop-dead-gorgeous examples of bead embroidery. I left a comment mentioning my lack of teeny tiny beads, and Susan Elliott of Plays with Needles kindly responded and recommended Beadcats, an online bead store that features vintage beads that are … well… tinier than I ever thought beads could be!
Look. I am a downright weird-o when it comes to embroidery supplies. I was on a kick of sorts. I felt I lacked beads, that beads were something suddenly essential to any embroidery that I was ever to do again in my life, and that I had to have beads. Beads! LOTS of beads.
And now I have exactly that – lots of beads.
The sizes range from 16/0 – 24/0. Remember that Mill Hill Petites are 15/0. The higher the number, by the way, the smaller the bead (like needles… and wire).
Not knowing much about beads – that they are actually classified beyond just color, in jolly categories such as "greasy" or something to that effect – I felt obliged to try all different types and descriptions. Greasy beads, by the way, look eerily greasy. And little bags of teeny tiny black beads look eerily like tiny caviar. Opening the package and exploring the beads was an interesting experience!
But what amazed me, and what I want to get across to you, is the size of these beads. Mill Hill Petites, the common "little" seed bead you can buy at any bead-carrying craft store, hasn't got anything on these when it comes to being "petite"!
It's really hard to get across sizes online. In the photo above, the metallic pink bead looks remarkably large, and yet it is a 15/0 Mill Hill Petite. The blue is a 16/0 vintage bead. The black is a 23/0 vintage bead.
That black bead can get lost under your fingernail. It could be mistaken for a speck on a table. A speck of something really small, that is. Horton Hears a Who comes to mind here!
The black bead practically fits in the hole of the Mill Hill Petite. I'm pretty sure it would've fit, with a little manipulation.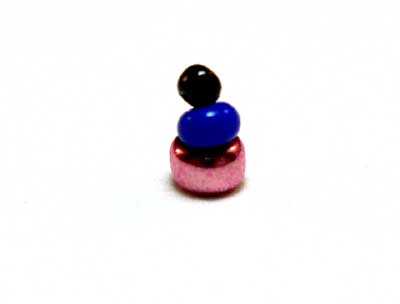 Guess what? It was really hard to stack those little guys up and get them to stay put. They had some sort of serious static charge running through them that made them want to dance around a bit!
Anyway, that was my adventure with teeny tiny itsy bitsy super-dee-duper small beads. Have I actually done anything with them yet? No. I'm not exactly sure what one does with such things that small. But I am sure they have a purpose, or they would have never been made! I look forward to the discovery of that purpose some day. I suppose I better do it while I'm still in my 30's… or my eyes may revolt!
Do you embroider or embellish with beads? If so, have you ever used beads in sizes 16/0 – 24/0? What do you use them for? Can you recommend any books? Can you recommend any websites with photos and ideas? I'd love to hear something about these intriguing tiny things!