When Ruth O'Leary contacted me about her taking an embroidery commission on a banner for Durham Cathedral, I was really intrigued about her banner-making plans. Since then, she has undertaken the commission and begun the work. And best yet, she's blogging the whole process!
If you haven't had an opportunity to stop by Ruth O'Leary Textile Arts, now would be a good time to do so, while she's still in the relative beginning stages of the St. Cuthbert's Banner.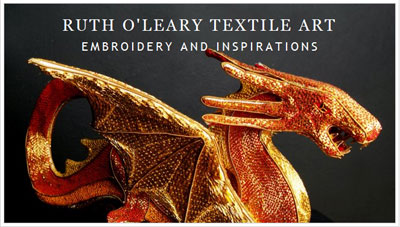 Of course, if you like goldwork, you should stop by just to take a look at her header on her blog. I love it.
Ruth has been commissioned to re-create the St. Cuthbert's Banner, a banner of which there is no surviving image, but which was described in detail some five hundred years ago in writing. From the written description, she is creating her version of the banner.
So far, on the St. Cuthbert's banner, you can see Ruth's fabric choices, the conceptual design, a mock-up, the appliqué process, and the first leg of the cross, which is worked in red velvet, with red satin pieces appliqued on to create the design. You can also see a very nice goldwork circle already finished. She also shows how she neatened the edge of the applique cross with couched gold Jap – all the steps being interesting and suspense-building components of the whole creative process behind this banner. I can't wait to see it finished!
This year, I agreed to make a banner for a church-related event that takes place at the end of October. Oh golly, October is coming up fast! While Ruth's banner is much more complex, much more artistic, and much more historically relevant to the church for which it is commissioned, mine is – at least in concept so far – relatively simple, and mostly appliquéd. The color scheme, though, is the same – red, white, and gold, which are typical (and glorious) liturgical colors. Though time seems to be somewhat scarce, I have to admit that watching Ruth's process inspires me to want to push through my banner project and make some headway on it!
You reckon I can manage it? Realistically speaking, I'm somewhat doubtful. And if I don't, that's ok, I suppose. I can still enjoy the whole banner-making process (and actually, I can enjoy it a whole lot more!) by watching Ruth's St. Cuthbert Banner unfold.
I hope you get a chance to check out her website and watch this historical re-creation come to life!
Enjoy!