Gold embroidery needles! A somewhat exciting concept, don't you think? The richness of gold, coating the outside of the needle for a beautiful and smooth finish – to make the needle better for stitching. This is the concept, anyway, but does it hold true?
Some embroiderers have told me that they stitch exclusively with gold needles because of allergies. They find that other needles tarnish quickly in their hands, or bother their skin. In these cases, they've found that gold needles are a good solution for them. But if you don't have skin allergies or reactions to regular steel needles, what is the advantage of stitching with a gold needle?
Most needles today are made out of high carbon steel that is stretched to the correct size, cut, sharpened, punched, and plated with nickel. Hence, folks with nickel allergies usually look for specialty needles that are plated with something else. That something else can be gold or platinum. Here, we're looking specifically at gold-plated needles.
According to various descriptions of gold needles (in retail shops, manufacturers websites, etc.), gold needles are superior to other needles and are resistant to corrosion from humidy and body oils. According to one website, "gold needles cost a little more than steel but they impart a real sense of quality to your needlework."
Available here in the US, the most common gold needles are made by DMC, which offers 18k gold plated embroidery and tapestry needles in various sizes. John James (made in England, but widely available in the US) also makes a line of gold needles, though I am uncertain of the range of gold needles they produce. I know they produce gold tapestry needles in sizes sizes 20 – 28, and petite tapestry needles in sizes 22 – 28. If you have a popular needle company in your own country and are interested in gold-plated needles, you might want to check to see if they produce any gold plated embroidery needles.
Now, about the needles specifically. Are they really "better"? Do they really "impart a sense of quality to your needlework"? (Um – logically speaking, I don't think that claim flies, but anyway…) They cost more, certainly. For about a dollare more than a package of six John James regular tapestry needles, you can purchase three John James gold plated needles. So they cost more than twice as much as regular needles. Incidentally, John James platinum coated needles cost about $2.50 more per package, and you get… 2.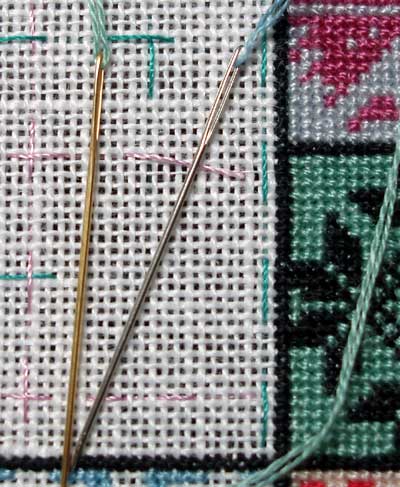 In the photo above, the needle on the left is a size 26 gold-plates tapestry needle (by John James). The needle on the right is a regular steel needle plated with nickel, John James, tapestry #26.
I started using the gold-plated needle because I was looking for a #26 needle, and I had a package of gold plated ones close at hand, so I grabbed 'em. I used this particular gold-plated needle in the photo above for several hours of stitching – probably six hours all told.
When I first started stitching with it, I did notice a different "feel" to the needle. Really! It feels different as it passes through the fabric. It is pleasantly smooth, and it almost seems "squeaky" smooth as it goes through the fabric. There's no resistence or anything, but there is definitely a different feel to it. It glides in a squeaky clean kind of way. (How do you describe how a needle feels??!)
So, away I stitched.
I really hadn't thought too hard about gold-plated needles before this particular incident of stitching. I have a few gold needles, but have never used them any length of time.
In the photo above, the needle on the left is the one I used for about six hours. The needle on the right is new from the package.
But, this is the thing – and I realize it may just be an individual difference in skin and body chemistry, so you can't take this as an absolutely "objective" review of gold-plated needles. After about six hours of stitching with the gold-plated needle, it started to feel "sticky" as it passed through the fabric, rather than smooth and squeaky. I had to push it through – it had stopped gliding smoothly.
On closer inspection, the wear on the coating was obvious. On the shaft of the needle, there were darker areas of wear, and, as you can see in the photo above, the shaft is dull rather than softly shiny.
I still like the initial feel of the gold needles, and I am going to use the other two. I'll try cleaning my hands a different way to see if that helps allay the corrosion of the gold finish.
But I have to admit, since I haven't experienced any allergy problems with nickel, or any corrosion problems with the standard list of needles that I use – John James, Richard Hemming (not my absolute faves, but they're ok), Bohin, and some Wendy Schoen needles – I probably won't make a habit of paying extra for gold coating.
That being said, I really do think I need to try platinum! Just for curiosity's sake!
What are your experiences with gold plated needles? Do you use them? Have you ever had corrosion issues? How about with regular nickel-plated needles? Any insights!
Have a terrific Friday!